JJ Yulo: Long Live (the) President
Our SPOT.ph blogger hails the return of the iconic Chinatown restaurant.
PRESIDENT GRAND PALACE RESTAURANT
746 Ongpin St., Binondo, Sta. Cruz, Manila
Tel. No. 244-5886
Ask any big Filipino family where they head to for Chinese food, and chances are that they will answer, "Chinatown." My family, unfortunately, is an exception. I haven't explored the area as much as I would've wanted, though I know for sure there is a myriad of excellent food choices if I just snooped around a bit.
I remember my first foray here very clearly - it didn't feel like I was in Manila. Signs were in Chinese, sidewalk fruit vendors were Chinese, and the heady aroma of 5-spice powder filled the air. Only when the jeeps belched their smoke was I dragged back into reality.
The President Grand Palace Restaurant is one of the most famous Chinese restaurants in the Philippines.
My first ever meal here some time in the late 90's was with a friend who insisted that we go to President. This is, of course, one of the most famous Chinese restaurants in the Philippines, where generation after generation have passed through their doors, feasting on a plethora of delights. However, by the time I got there, it had seen better days. The memory that stuck with me the most was the impressive stage at the back. Although it was still intact (it was where Chinese opera was once performed, or so I was told), the restaurant seemed a bit frayed at the edges, like a once favored shirt that you would wear all the time, much to your mom's chagrin, but one that had begun to lose its shape.
ADVERTISEMENT - CONTINUE READING BELOW
The food, at least on that fateful day, was non-descript. To be honest, it was just greasy, and most definitely not in a good way, indicative of opinions from others I've heard that the food had slipped a lot - so much so that when I exited through the front door, I never looked back. It's been a couple of years.
Then, just like that, I heard the grand dame had closed. What the real story was behind that, I didn't really know. Sad news, this, because although it didn't leave a lasting impression on my taste buds, I knew it was an icon in shaping Manila's collective palates for Chinese cuisine. Plus, it was a 30-year institution.
CONTINUE READING BELOW
Recommended Videos
Fast forward to present day 2010, where a gazillion Chinese options are littered all over the city, a lot of which are pretty good.
Thankfully, the downturn for the restaurant ended on a positive note. The daughter of the original owner decided to re-open a little less than a year ago or so, plus she married the son of the original head chef to boot. Now her husband is in charge of the kitchen.
I had no intentions of coming over until a good friend of mine told me I was missing out. Intrigued, I dragged some other people over on a rainy weekday night. I expected traffic to be nightmarish, but it seems the driving gods were looking down on me: we got there from Malate in around 10 minutes. Entering the familiar facade, I expected memories to flood in from my last trip there, and again I was proven wrong. It didn't look like anything I remembered- in fact, it was a whole new creature. The main chamber had sparkling chandeliers and little red lanterns hanging from the high ceiling, and the once prominent stage had gone completely. Even the rest room looked quite contemporary (read: spankin' brand new) and was even air-conditioned.
ADVERTISEMENT - CONTINUE READING BELOW
We met Ying Ying, the ringleader of the renaissance of President - a little firebrand of a woman who worked hard to make sure everything was just right, clearly the mark of someone who genuinely cared for the customer's welfare, and thus making all things good for the restaurant as well. Seriously, she flitted about like she was on Red Bull. Good vibes abound!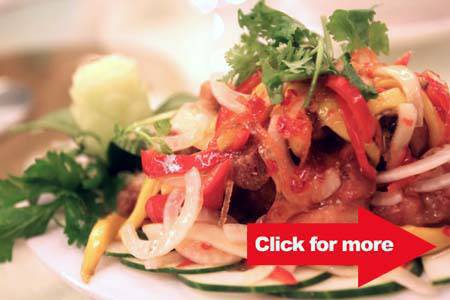 President Grand Palace Restaurant serves Chinese food classics. Click for more photos.
Though a restaurant does not live on good ownership alone (always a step in the right direction), it's a very clear message that there will be good things happening on the table. In my opinion, this is not the kind of place to expect elaborate dishes for emperors (though I'm guessing they could probably come up with that if that's what you wanted), but rather it's a venue for solid classics.
ADVERTISEMENT - CONTINUE READING BELOW
A soup came to open the party - a fish lip soup (P280) was as comforting as it gets. Thankfully it had good consistency, as it wasn't goopy thick, and was great with a touch of black vinegar. The old Chinese restaurant stalwart crispy salt and pepper squid (P350) was excellently seasoned and quite tender (and was that a hint of 5 spice I detect?) - a seemingly simple dish, but try finding one that won't give your jaws a workout. Fish Fillet Singaporean style (P350) were deep fried and doused in a sweet sauce of mangoes, onions, and red peppers - a welcome change from the usual suspect sweet dishes like sweet and sour pork, arguably the most ordered Chinese dish in the world (though one that is mouth wateringly delicious when done well.) Rock lobsters (locally known as pitik) were also fried up. These creatures, sometimes known as the "poor man's lobster" (though at P2,800/kilo, this is hardly for the poor Filipino man), were actually juicy and had deliciously sweet tasting meat. Dunked into some vinegar laced with chili, it was something that could give all other more expensive shellfish some serious competition.

One of their most popular signature dishes is eel (P1,000/kilo), cooked in a black bean and chili sauce (I remember this from my first time here - it was the only dish that really left any sort of impression on me). It's been said that people from all over come here just to eat this - something I can believe because it's a very interactive eating experience. Being a bit boney, one has to work a bit to extract the eel meat, at times Hoovering it a bit. The tender flesh, when mixed with the strong flavored black beans and that hint of sweetness and heat, is perfect with hot, steaming rice.
ADVERTISEMENT - CONTINUE READING BELOW

But my absolute favorite dish is President's oysters (P300 for a small order), served sizzling, and also in black beans and chili. It had taken on "wok hay" (the breath of the wok) or that fantastically tasty, smoky element of flavor that only a jet engine hot wok can produce. The tiny oysters had sides that had caramelized from the heat, producing all sorts of textures in your mouth--at times crunchy, at times juicy, mingling with savory black beans, and bits of pepper, and of course the underlying spiciness of chili sauce. I would go here just for this.
We ended our meal satiated, with my companions reminiscing of their lost childhood--of Sundays spent with their grandparents in Chinatown, almost always in the loving food clutches of the grand Presidents. I, on the other hand, felt a bit lost in all the revelry, because I had no rich memories of traversing this part of the city.
President has had its share of ups and downs in both food and service, just like any other restaurant. But it has survived decades of existence--a testament to its resilience against food trends. This was the food of the old school, staunch classics, the epitome of bygone years--and the restaurant itself, though decked out in new clothes, somehow still made one hear happy voices and clinking glasses and laughter from lauriats past.
After that meal, only one thing crossed my mind: I surely have to make up for lost time.
RATING: 3 out of 5 Spots ...


ADVERTISEMENT - CONTINUE READING BELOW
Share this story with your friends!
---
Help us make Spot.ph better!
Take the short survey
Load More Stories