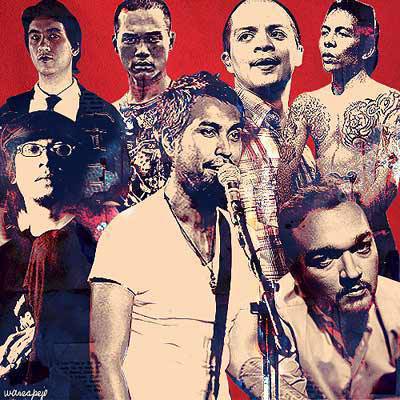 "Sexy" is such loose term--it can apply to a variety of relatively pleasing physical (and non-physical) attributes. What is sexy for one may not be considered sexy by another--it's all about taste, baby! In the annals of rock and roll history, the frontman, as he is aptly named, is more often than not the recipient of the most attention and adulation. Philippine rock is no exception. For the purposes of this list, "sexiness" is based on the following criteria: exceptional physical attributes, raw talent and musical genius, and last but not the least that "X-factor" that is so difficult to pin down with any one definition. Here are 10 of the sexiest Pinoy rock frontmen, in no particular order:
1. ELY BUENDIA (Pupil)
Front act: The frontman of seminal pop rock group The Eraserheads--now defunct with the exception of their unforgettable reunion concert in 2008--now handles vocals and songwriting duties for popular rock act Pupil.
ADVERTISEMENT - CONTINUE READING BELOW
G-Clef: In Buendia's case, simplicity is the mother of genius. His preference for simple chords, simple yet spot-on lyrics (i.e. "Nasaan Ka" from Beautiful Machine and "Disconnection Notice" from Wild Life), not to mention his memorable guitar licks from his Eraserheads days, and an innate brilliance for combining all these into a heady and largely compelling mix, is paramount to his musical aptitude.
G-Spot: Despite suffering recent health scares, Buendia is as sexy as ever. It is difficult to understand how this is even possible, but the man has managed to pull it off, losing none of his brooding Pinoy good looks, that sexy, aloof aura, and the enigmatic personality that anyone--male or female--would give their two front teeth to gain firsthand experience on. In fact, he even looks better than he did in the '90s. A round of applause for aging like fine, fine, fine wine is in order.
2. BASTI ARTADI (Wolfgang)
Front act: In the '90s, Wolfgang was synonymous with the heavier side of rock. Today, the band is still at it despite a slight change in the lineup, with a younger but by no means less talented drummer. Artadi leads the pack, and his voice has held up, ringing loud and true, even for younger generations.
G-Clef: Blessed with an impressive vocal range, Artadi is a virtual powerhouse onstage. His rapport with the audience stems from simple interaction; serious yet playful, he knows when to stop speaking and get on with the show--a technique that a few younger Pinoy rock vocalists could stand to learn. Artadi can rock it live, and with all the over-produced local music circulating, this is fast becoming a rare virtue. He is also quite the songwriter. An example of this performance meets songwriting skill is "Semenelin" from the album of the same name.
ADVERTISEMENT - CONTINUE READING BELOW
G-Spot: When Metallica came to the Philippines in 1993, the first thing I thought was: "My God! They look like Vikings!" This pretty much encapsulates Artadi's appeal. He looks larger than life onstage (and even off). Trading in his long, grunge locks for a more sedate--almost corporate--hairstyle, his simple all black get-up, complete with a black leather wristband is a startling (and pleasing) contrast to his obviously Spanish genes. He's got green (that sometimes look blue) eyes for crying out loud.
3. BAMBOO MANALAC (Bamboo)
Front act: Anybody, regardless of musical interest, would recognize Manalac, frontman for Bamboo, one of, if not the most, well-known local rock acts. The band endorses virtually every kind of product, from soft drinks to liquor to mobile phone service providers. They are visible in almost every conceivable form of media. Being their vocalist, Mañalac is usually at the forefront of every advertisement, and at times even alone.
ADVERTISEMENT - CONTINUE READING BELOW
G-Clef: Manalac was the former vocalist of Rivermaya, sharing the limelight with Rico Blanco, Mark Escueta, Kakoy Legaspi, and a number of other music notables. Manalac is a multi-awarded performer for his own attributes as well as that of his band. He's got amazing stage presence, and is obviously a seasoned performer.
G-Spot: Manalac seems like the kind of guy you'd bring home to introduce to your folks. What is sexiest about him though is the unwavering focus he displays for his profession. Sexy, too, is the seemingly private manner with which he conducts himself. Not a peep about him in local showbiz gossip columns, or disparaging remarks from fellow musicians. Power, pride, and privacy are tough acts to maintain, and he does so with aplomb.
4. MARC ABAYA (Kjwan)
Front act: Abaya first came into the scene as the vocalist of Sandwich, the band now fronted by former E-heads drummer Raimund Marasigan. Abaya is also a former MTV VJ (among other hosting gigs), acted in a local teleserye, and served as judge for Showtime and Pilipinas Got Talent. Today, he fronts local rock group Kjwan and dabbles in acting every now and then.
ADVERTISEMENT - CONTINUE READING BELOW
G-Clef: During his Sandwich days, people may have labeled him as "still wet behind the ears," but he quickly put naysayers in their place by virtue of his vocal prowess and intense showmanship. Abaya can also play decent guitar, and possesses good songwriting skills--the creative gene runs strong in his family being the son of renowned directors Manolo Abaya and Marilou Diaz-Abaya.
G-Spot: Is it the ripped body? Was it the nipple rings during his Sandwich days? Is it his earnest yet bad boy expression? Is it his obvious intelligence and eloquence? I believe it's all of the above. These coupled with his self-confessed geekdom (i.e. he has one of the most impressive action figure collections) make him sexy in this writer's book. I'm sure a lot of nubile college coeds feel the same.
5. FRANCO REYES (Franco)
Front act: No stranger to the local music industry, Reyes served as frontman for the now-defunct '90s Cebuano band Frank. Today, he is vocalist/guitarist for the band Franco, a "superband" composed of members from other notable rock acts, namely Urbundub, Parokya Ni Edgar, and Queso.
ADVERTISEMENT - CONTINUE READING BELOW
G-Clef: This guy has undeniable talent. To stand out in a group of exceptional musicians you can't be anything but. He has the ability to play the guitar while singing, without compromising either of his skills. It also helps that his backup band is so tight you couldn't slide a pin through them. Their self-titled album has been enjoying a considerable amount of success, and their videos enjoy substantial airplay on MYX, Channel V, and MTV Philippines.
G-Spot: If this were an ordered list, Reyes would definitely be in the top three. With his dusky skin and patrician features, coupled with a head of salt and pepper hair and a beard that would make the guys of ZZ Top finally get a trim without going for broke, Reyes, simply put, is one sexy (place obscenity here). He's also extremely fit despite being in his mid-30s. I've witnessed women go into semi-hysterics when he starts to sing, and with good reason.
ADVERTISEMENT - CONTINUE READING BELOW
6. LOURD DE VEYRA (Radioactive Sago Project)
Front act: Besides fronting the jazz-rock ensemble Radioactive Sago Project, De Veyra is a writer, poet, editor, newscaster, SPOT.PH blogger, and according to Wikipedia.com, activist.
G-Clef: With his kind of a repertoire, he could easily be referred to as a "Jack of all trades." However, the accompanying "master of none" is null and void when it comes to de Veyra who is multi-awarded and highly respected in all his fields. His musical versatility is evident in his many side projects. Among these are guest vocals for soul/hip-hop genius DJ Pasta Groove's debut release and Imago drummer Zach Lucero's solo effort Fall Crash Infect.
G-Spot: Two words: his voice. It is safe to say that this man possesses one of the sexiest voices in the local music industry: past and present. It will hold you in thrall and make you go gaga regardless of the fact that he does NOT sing. Chanting, monologue, poetry call it what you want, but it does the job. Oh, and try to pay attention to what he's actually saying--wit, humor, and a voice like his are a sexy combination. His unpretentious, cool demeanor is a major plus point as well.
ADVERTISEMENT - CONTINUE READING BELOW
7. KARL ROY (Kapatid)
Front act: Legendary in local music circles, Karl Roy has been a frontman longer than anybody else on this list (with the exception perhaps of Russell Eustaquio). He's fronted for bands like Advent Call, P.O.T., and Kapatid, and I wouldn't be surprised if there were to be something new up his tattooed sleeve.
G-Clef: During his peak, Roy, for this writer, was the best local performer out there. The voice, the moves, the style, and the charisma literally oozed out of every pore in his body. He was the Pinas's answer to Anthony Kiedis (Red Hot Chili Peppers), only with a better voice. He could out-funk anybody in the '80s and '90s, and give a lot of young upstarts a run for their money today despite major health scares.
G-Spot: Roy is one of the few Pinoy frontmen who possesses true style; not the contrived kind managed by a personal stylist mind you, but the kind that is innate. He could wear a yellow fishnet tank top, (which he has), dye his hair in every color of the rainbow, pierce his septum, tattoo his entire body, and pull it off--no questions asked. His charisma is such that he enters a room, and everyone is aware of his presence, whether they know who he is or not. The sexiest thing about Roy: his astounding tenacity to keep on rolling.
ADVERTISEMENT - CONTINUE READING BELOW
8. IAN TAYAO (Wilabaliw)
Front act: Erstwhile frontman of Cheese, more popularly known as Queso, and current frontman of hard rock band WilaBaliw, Ian Tayao is small but terrible. And when I say "terrible," I don't mean it in its negative connotation. Rather, he is the quintessential "badass," the kind that makes you want to thank God for bad boys. The world is a less boring place because of them, and Tayao is one fine specimen.
G-Clef: Tayao has great set of pipes. He's pretty versatile and can go from a growl to a croon in the course of a few seconds. He is also one of the greatest local performers I have ever seen. He throws himself into his performance 100 percent--be it in a small, crowded bar or Amoranto stadium--and you can bet you'll get your money's worth watching him in action. He is known to "purposely" fall during gigs, and jumps like he should be on the basketball court instead of onstage.
ADVERTISEMENT - CONTINUE READING BELOW
G-Spot: Tayao is on the small side, but you don't really notice this because he's blanketed in intricate tattoos and because he's fine-featured. He's got a lithe frame and an unassuming air about him. Remember how Cindy Crawford became the first female supermodel with an obvious flaw (her mole) that worked for her rather than against her? Well, Ian Tayao is the local male musician version. Plus, he's got c-o-o-l written all over him. (I mean this figuratively, though I wouldn't be surprised if it were tattooed somewhere on his body).
9. RUSSELL EUSTAQUIO (Tame the Tikbalang)
Front act: Speaking of badass meet "the baddest of the bad," Pinoy hardcore punk (Posers beware!) Russel Eustaquio, frontman of underground act Tame the Tikbalang, is now a fitness guru. Underground they may have been, but his musical flair and solid reputation have earned him managerial jobs in record labels like Polygram and EMI; Tame the Tikbalang is a band that even the most finicky Pinoy music lover wouldn't have the balls to put down.
ADVERTISEMENT - CONTINUE READING BELOW
G-clef: Real punk is not an easy genre to appreciate, much less to front. You've got to out-punk your audience, or you'll get your ass kicked. It's all about attitude, which Eustaquio's possesses a copious amount of. Coupled with great songwriting skills, and words that won't quit beating you (or the establishment) down, Eustaquio is one hell of a performer. I was fortunate to catch Tame the Tikbalang in Center for the Arts in 2009. These ears heard it, these eyes witnessed it: the man still has it, and I doubt he'll ever lose it, too.
G-spot: Fitness equals muscles. Muscles and a fully tattooed back and then some on a vocalist, plus a penchant for performing shirtless is the best thing that could ever happen to a female music lover (the drooling is a bit difficult to control though). Think Glenn Danzig minus the 'do (Eustaquio's also been likened to Henry Rollins). Oh, and he's got glasses, but he couldn't look like a defenseless dork even if he tried. "Punk's not dead," thanks in part to Eustaquio and his marvelous physique.
ADVERTISEMENT - CONTINUE READING BELOW
10. COWBOY SANTOS
Front act: Though not strictly a frontman, Cowboy Santos has fronted for bands like the Blue Rats and Tempestuous Jones (which he handles lead guitar for) on occasion. He also does back-up vocals for many of the acts that he plays for--be they spontaneous jams or a typical bar gig. He used to perform solo acoustic gigs at Sanctum way back. The son of the legendary Sampaguita, his talent certainly lives up to his bloodline.
G-Clef: Santos is an exceptional guitar player, and in terms of vocals, can definitely carry a tune. He specializes in the wicked blue blues. He's a leftie and wields a Tobacco Sunburst Les Paul. Besides Tempestuous Jones, Santos also plays lead guitar and backup vocals for the House Rockers, a band composed of rock veterans Charlie Y. and Dr. Ted, and of course, he's backed his mother in several of her performances. He's a great guitar player; good enough for me to have actually believed the urban myth that he's Eric Clapton's son.
ADVERTISEMENT - CONTINUE READING BELOW
G-Spot: Santos possesses a rare combination of model-esque good looks and height, and the rugged, easygoing appeal of someone who doesn't really care what he looks like. He is obviously Eurasian, and sports a longer version of the Renaissance's David's 'do. He's also appeared on billboards for Rustans's Salt and SmartBro. He likes the beach, which explains the perpetual tan and a body only a board sports enthusiast can possess. Sounds good, eh?
Art by Warren Espejo, rockers' photos from PEP.ph.
Share this story with your friends!
---
Help us make Spot.ph better!
Take the short survey
More Videos You Can Watch
Load More Stories