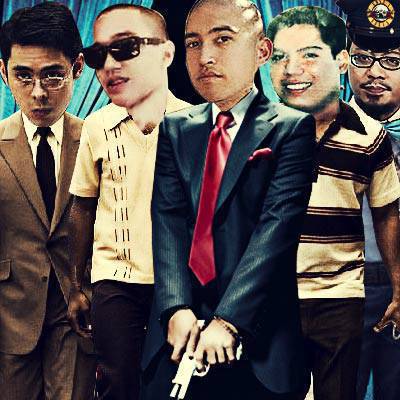 What were you doing when you were 23?
Me? I was ten pounds underweight, gainfully employed by a major daily, and occasionally experimenting with wonderful pharmacological substances other than Diatabs. Other than driving on the Skyway after massive amounts of tequila and irresponsible slamdancing in punk gigs, that's about the closest thing I've gotten to breaking the law. Well, that and illegally re-taping Air Supply albums. Which is why I'm always fascinated whenever I see some punk younger than me robbing banks and blowing up buildings. I am now 35 years old and for the life of me I still associate all that stuff with "grownups," like having your own checking account and paying real estate mortgage and taking your kid to Timezone.
Twenty-three isn't exactly a number you'd consider young. But for me, anyone less than 35 years of age is still a baby. Maybe it's because of the fact that I have a younger brother who, for me, shall forever be that kid I used to bully around and terrorize and forcibly send to the 7 Eleven to fetch liquor and cigarettes. I know it's weird, but I think of people like Manny Pacquiao and all the current champions of the UFC and the URCC--who are all younger than I am--as the "grownups."
ADVERTISEMENT - CONTINUE READING BELOW
At 23, Ivan Padilla was the leader of his own carjacking gang. His road to perdition when he was only 17. Come to think about it, when I was his age, he was only 11.
I've always looked at a boy's life as one long linear continuum linking that image of you as a baby in a cradle to that image of your cold, drying, badly made-up corpse in a coffin. Somewhere along that line would be connecting points from end to end: your father buying for you that Transformers action figure with the image of you attending your first PTA meeting at your son's school (Or the image of your very first clandestinely smuggled, dog-eared copy of Playboy to the image of your third wife or mistress)...At least that's the conventional narrative, which not everyone is fortunate to enjoy. Sometimes--no, correct that, oftentimes, shit happens along the way. Not all boys get to have daddies who buy them Transformers action toys. Or much less provide them with mint copies of Playboy. Many of them don't even have daddies, period. Or cradles.
I am no stranger to juvenile delinquency and criminal behavior. I have seen the best minds of my generation destroyed by madness--the meth-induced variety and, I suspect, Ace Vergel and Charles Bronson movies and Judas Priest cassette tapes. I have also seen very close friends--guys I grew up with--thrown in jail for shooting people in the face. What happened to them along the way I am not quite certain, although it may have started when they would figure in frat-related riots sparked only by suspicious staring. And yes, their moms loved them and their dads loved them and gave them copies of Playboy. But what makes me curious is this: at what point in their lives did they decide that, "Fuck yeah, let's do this." Between breaking a windshield with a baseball bat and pointing a gun at another human being's face lies a delicate line. What made them cross that line?
ADVERTISEMENT - CONTINUE READING BELOW
Recommended Videos
Except for the fact that they're young and they come from relatively well-off families, Padilla, Ivler, and the Alabang Boys do not really have anything in common. The Alabang Boys were merely entrepreneurs who peddled the wrong albeit admittedly delightful products. Ivler had been cursed with a tragic temper and 23-year-old Ivan Padilla while blessed with cojones the size of Araneta Coliseum, was gifted with an inversely proportional sense of intelligence (Why would you announce your next target on Facebook, for chrissakes?). Mark Dizon, the 28-year-old computer technician nabbed for the series of killings and robberies in Angeles, Pampanga, looks like he's just plain nuts. And, after the cops tracked him down after he posted a picture of his victim on Facebook, not very smart either.
It is obvious that none of them deserve our praise and respect. Gangstas, of course, especially those who have Al Pacino as Scarface tattooed on their skulls, may not exactly share this opinion. But media seems to have this perverse fascination with criminality and youthful good looks. I can't help but imagine desk editors giggling like little schoolgirls during news conferences (i.e. "Hmmm that Padilla boy ain't bad-looking.") Many of the commentaries lament how it seems such a waste. As if naman every young man whose does not resemble Joaquin Fajardo instantly becomes God's gift to society. Will they become architects? Engineers? Volunteers for the Free Legal Assistance Group and Gawad Kalinga? Doctors and nurses to the barrios? Or what they really mean by "waste" is that these young men ought to have been part of the ABS-CBN Talent Center?
ADVERTISEMENT - CONTINUE READING BELOW
First up, the names. "Alabang Boys," "Jason Ivler," "Ivan Padilla Carjacking Group" have that cool, somewhat deadly resonance. Can you imagine if it were "Michael Procopio Dansoy" or "Jhenmore John Quoritot Kidnapping Syndicate?" Or "The Navotas Boys?" If this were the '80s and early '90s, they'd be making action blockbusters directed by Ben "M7" Yalung or Jun Posadas, preferably starring a young Robin Padilla or Jeric Raval. Sadly, no one makes Pinoy action films anymore, so we have nothing to both glorify and condemn society's transgressors. Instead what we have are darkly lit, glacially moving indie films where all people do is stare at sunsets for three hours.
Ivan Padilla's last few minutes alive captured by TV Patrol
People have been shooting each other even way before Snoop Dogg, Tupac, and 50 Cent were born. But there will be people who will blame rap music, gangster culture, and violent video games--and, of course, the perennial scapegoat, drugs. But these things are the usual objects of a parent's wrath. Parents in denial, that is--parents who will not admit to their own lacking but instead divert the blame on the troubled kid's friends and the gory movies and Playstation games they enjoy. If an album or a video game exerts more influence on your child's mind, then you must ask yourself: what kind of a parent are you?
But if all else fails, blame Mom. Or the absence of mom. Padilla's is in the women's correctional after charges of drug trafficking. Ivler's, on the other hand, is a case of too much Marlene Aguilar. All this psychological voodoo about not being loved enough by mother is something I'm not qualified to talk about. Neither do I claim to have been raised by the most normal of mothers. "Normal" is a frighteningly subjective term (True, my mother never engaged in drug trafficking nor did she hide me in the basement away from the cruel eyes of NBI operatives. But she also used to line up--with lust in her heart---for the movies of Lito Legaspi, Ruel Vernal, and Rauol Aragon). I've known scores of guys with the crappiest, most irresponsible mothers turn out okay i.e. they did not grow up to be serial killers.
ADVERTISEMENT - CONTINUE READING BELOW
Then there's the matter that everyone can't help gushing about: they're pogi. Well, not exactly Candy centerfold material, but they do not look like Max Alvarado either. We've been so conditioned by popular culture to associate criminal behavior with thick beards, potbelly, and ogre-like faces that we tend to forget that the devil oftentimes hides behind pretty masks.
"Criminals coming from well-to-do families." What's even more infuriating is the implication of associating criminality with poverty. I do not deny that there are people in this world who will be desperate enough to slit your neck for a pot of rice and two cans of sardines. But you can't compare that with rich government officials who come from already obscenely rich families making unjust laws to further enrich themselves. Consider a hoodlum wearing a loose black Sean John shirt and a hoodlum in a seemingly respectable-looking barong. The slum-based petty felons you see on TV Patrol--with cheap tattoos, bleached hair, broken teeth, and in black sandos--all they want is your cellphone and your wallet. They are nothing compared to those well-scrubbed, and well-dressed graduates of expensive schools who become corrupt, top-level executives who rape and pillage the country's coffers. These are the criminals who ruin not just one or two lives, but the lives of millions, letting huge segments of the population wallow in poverty while they go on skiing vacations in Switzerland.
The gulf between reality and the online world is alarmingly widening. Ivler, instead of earning widespread opprobrium, earned an instant fan club. Padilla was one of his cheerleaders (And not surprisingly, there's already a Facebook fan page for Padilla with the motto "Young, restless, and dangerous" with "barhopping, drinking" listed under "hobbies"). This generation is so far removed from the real world that we have gotten to a point where we reduce each other to a mere Facebook profile. In the same way, everyone seems to think guns and shooting people in the face are cool because Counterstrike dampens the experience of violence. Wait till they hear up close the sound of .45-caliber pistol--no matter how much you turn up your Altec Lansing speakers, there is nothing scarier than the sound of actual gunfire. And it's not just because of the volume. It is not thrilling at all, especially if the bullet happens to graze their heads. Perhaps as a drastic kind of early gun-control training in schools, kids should be subjected to the simulacrum of a bullet wound, so that they know that each time they point a gun at someone, it is not the same as pointing a mouse at a digital blip on the computer screen. So they know how much it freaking hurts.
ADVERTISEMENT - CONTINUE READING BELOW
A sagely man once rhymed: "We are likely to impute/ Unlikely virtues to the cute." Let's see if you still find them cute once they hold a gun to your head. Let's see if you still find them cute if they shot your father in the face.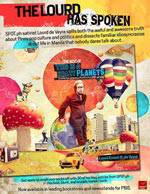 This is a Crazy Planets is available in newsstands, bookstores and supermarkets nationwide for only P195. For more information, click here.
Share this story with your friends!
---
Help us make Spot.ph better!
Take the short survey
Load More Stories