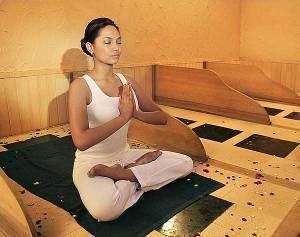 Looking for a new workout that leaves you relaxed and rejuvenated? Try the Ganban Detoxifying Yoga now being offered at the RO2 Beauty and Wellness Center on Jupiter Street, Bel-Air Village, Makati.

Ganban refers to Ganbanyoku, a Japanese method of body cleansing and detoxification that involves lying down and relaxing on a heated slab of rock. Also known as "bedrock bathing" or "stone bathing," the detoxification method is popular in Japan.
Now available at the RO2 Beauty and Wellness Center, the Ganban Detoxifying method is combined with Satya Ananda yoga. The 30-minute session includes meditation, stretching and doing basic yoga poses on heated stone slabs that radiate infrared rays and negative ions while the room temperature is at 35 to 45 degrees Celsius. The infrared rays and negative ions activate the body's perspiration system and increase the flow of oxygen to the brain, improving circulation and aids in eliminating waste and toxins. According to Ro Jimenez, proprietor of RO2 Beauty and Wellness Center, "It is the first of its kind in Manila, and we are hoping that more people will discover Ganban yoga."
ADVERTISEMENT - CONTINUE READING BELOW
As with any exercise, Ganban yoga will leave you energized yet is not as taxing. The room temperature will have you sweating buckloads during the session but Jimenez says, "It's called 'clean sweat' and is different from the sticky perspiration you get from doing strenuous physical activity." Tea is also served after the yoga session.

RO2 Beauty and Wellness Center also provides locker rooms and shower rooms for customers. A separate room called the Oxygen Bar, allows customers to inhale pure oxygen through a tube from an oxygen tank. A fifteen-minute Oxygen Rejuvenation session after doing yoga helps boost energy. The intake of pure oxygen at RO2 is regulated and may be part of a customized package bundled with the Ganban Detox Yoga sessions.

Starting August 6, Ganban Detoxifying Yoga sessions will be offered at an introductory rate of P2,950 per month for eight sessions with scheduled sessions on Mondays and Fridays at 10 a.m. to 11 a.m., Wednesdays at 6:30 p.m. and Saturdays at 2:30 p.m. Special group sessions are also available for a group of atleast eight people.
RO2 Beauty and Wellness Center is at 144 Jupiter Street, Bel-Air Village, Makati City. Tel. No. 750-0431, 499-9614, 227-4989.
Other services offered are Oxy Hair therapy, Body treatments (body scrub and massage), non-invasive slimming treatments, facial care, nail spa services, and hair and makeup.
Share this story with your friends!
---
Help us make Spot.ph better!
Take the short survey
Load More Stories