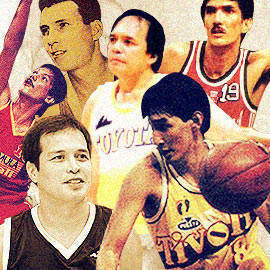 The Philippines is basketball-crazy. It goes without saying that choosing top 10 cagers for any sort of list is a tough task. It will surely be a subject of heated debates and violent reactions. But, hey, we just love stirring up the proverbial hornet's nest. SPOT.ph lists 10 Pinoy basketball players whom we miss seeing on the hardcourt. These cagers played the game extraordinarily well. (This list is in alphabetical order, based on the players' last names. For the record, the list could be longer--but the author was tasked to pick only 10.)
Allan Caidic shoots to win.
1. ALLAN CAIDIC (The Triggerman)
From playing in inter-subdivision leagues in Cainta, the 6"2' shooting guard/forward brought his game to University of the East (UE). In He holds the Philippine Basketball Association (PBA) record for most points scored (79) and most three-point shots made (17)in a game. He played for Great Taste, San Miguel, and Ginebra.
ADVERTISEMENT - CONTINUE READING BELOW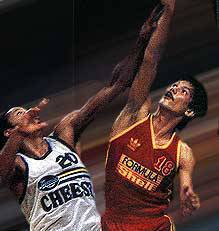 Philip Cezar in action.
2. PHILIP CEZAR (The Scholar, Tapal King)
He made his mark in the National Collegiate Athletic Association (NCAA) games as part of the Jose Rizal University Heavy Bombers. The 6"3' Cezar's ability to block opponents' shots earned him the moniker of "Tapal King." He earned his other nickname, "The Scholar," because sports pundits dubbed him as the best "thinking forward" in the league. He was part of the PBA's a spot in the All-Defensive Team from 1985 to 1988. He played for the Crispa Redmanizers, Shell Helix, Great Taste, and Ginebra.
ADVERTISEMENT - CONTINUE READING BELOW
Recommended Videos
Jerry Codinera talks shop.
3. JERRY CODINERA (Defense Minister)
The 6'5" Codinera started out as a player for the UE Red Warriors. He turned pro in 1988 and helped Purefoods win a number of titles. He succeeded Philip Cezar as the pro league's "Tapal King." In fact, he snagged the PBA's record for most blocks in a game (11). He also played for Mobiline and FedEx.
Ramon Fernandez appears in a 1990 Kaypee ad with Alvin Patrimonio.
4. RAMON FERNANDEZ (El Presidente, The Franchise)
He could very well be the Philippine version of the National Basketball Association's Kareem Abdul-Jabbar. Like Abdul-Jabbar, he brought finesse and elegance to the game. He is a quintessential basketball player with all the right moves. He excelled in all departments--scoring, rebounding, passing, blocking, and steals. This was considered "unusual" for a big man in the PBA. During his 19-year career, he played all five positions with ease. He helped revolutionize the game with his patented "elegant shot," a trademark one handed running shot. He played for Toyota, Manila Beer, Tanduay, Purefoods, and San Miguel.
ADVERTISEMENT - CONTINUE READING BELOW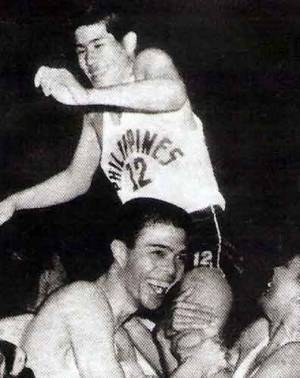 Danny Florencio is hoisted up by his teammates.
5. DANNY FLORENCIO (Daredevil Danny)
He started out as a University of Santo Tomas player. In the PBA, he was identified as a "slippery scoring machine." He was the go-to-guy of his team when the chips were down. Florencio was chosen as a member of the national team many times. He showed off his scoring skills in the Asian Games and the Olympics.
ADVERTISEMENT - CONTINUE READING BELOW
Robert Jaworski fires off his winning words.
6. ROBERT JAWORSKI (The Big J, The Living Legend)
Jaworski always played with an almost-manic energy. He brought his never-say-die spirit to Ginebra. At 6'1," he was not afraid of "getting physical" on the hardcourt. He was a pro cager from 1975 to 1998. That's 23 years in the game! Yes, that's part of the reason why he was called "The Living Legend."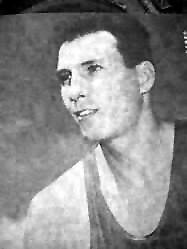 ADVERTISEMENT - CONTINUE READING BELOW
Carlos Loyzaga in his prime.
7. CARLOS LOYZAGA (The Big Difference)
Loyzaga was famous even before he turned pro. His exploits as a player for San Beda College in the NCAA had sports fans in a frenzy. This two-time Olympian and has led the Philippines to a third place finish (bronze medal) in the 1954 Fédération Internationale de Basketball (FIBA) World Championship in Brazil, the highest rank that any Asian nation has achieved in the quadrennial event.
Before he became a comedian, Benjie Paras was a never-say-die player.
8. BENJIE PARAS (The Tower of Power)
This former UP Maroons center played for the Shell Turbochargers when he drafted in 1989. He is the first PBA player to win the Rookie of the Year and Most Valuable Player awards in the same year, a feat that is still unmatched up to this date. He hung up his jersey in 2003. By then, he had amassed 10,322 points, 4,402 rebounds, 1,822 assists, 1,323 blocks, and 221 steals.
ADVERTISEMENT - CONTINUE READING BELOW
Alvin Patrimonio continues to be a showstopper.
9. ALVIN PATRIMONIO (The Captain)
The former Mapua Cardinal spent his entire 16-year PBA career playing for only one team, the Purefoods franchise. He helped his team win six titles--mostly All-Filipino crowns. Aside from his undisputed hardcourt skills, his charisma and leadership skills made him a priceless asset to his team.
Of course, Freddie Webb would also be great at hardcourt analysis. (His stint with sportscaster Joe Cantada starts at 0:41.)
10. FREDDIE WEBB (Fastbreak Freddie)
Watching Webb run the fastbreak was a joy to all basketball fans. He also had quick hands, perfect for quick steals. Webb was part of the national team in the 1972 Olympics. He played for the YCO Painters in the Manila Industrial and Commercial Athletic Association.
Art by Warren Espejo, photos from Hoopedia.
Share this story with your friends!
---
Help us make Spot.ph better!
Take the short survey
Load More Stories