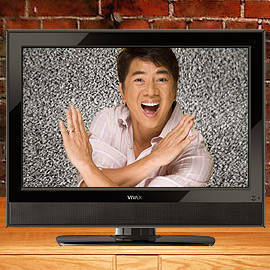 TV host Willie Revillame recently got flak for slamming and subsequently rescinding his contract with ABS-CBN, the same TV network that had built him up as a premier talent. This was the latest in the string of controversial in his life. While Revillame's haters hope that this is the beginning of his end, his fans are rooting for him to make a comeback. Pundits ask, "Just who does he think he is?" SPOT.ph plays pop profiler and attempts to answer that question.
Willie Revillame waxes poetic about the things that really matter, while showing off his posh yacht.
1. He started out as a sidekick. Revillame has Randy Santiago to thank for his showbiz career. Santiago, whom he met in 1986, took a liking to him and hired him as a sidekick. Though there's no psychological study about the "sidekick mentality," it's clear that sidekicks can be divided into two groups. There are those who are content to be sidekicks and those who aspire to be the main man. Santiago is now laying low, while Revillame is still in the news.
ADVERTISEMENT - CONTINUE READING BELOW
2. He's a graduate of the School of Hard Knocks. According to the information found in a fan's blog, Revillame grew up poor. He reportedly took on odd jobs as a jeepney maintenance boy and a barker. This probably explains why he has surrounded himself with the best things that money can buy--such as luxury homes, a yacht, and a Ferrari that proved to be "hot" in more ways than one.
3. He's an Aquarian. With January 27 as his birth date, Revillame is an Aquarian. Thus, according to Astrology Online, he is expected to be "friendly and humanitarian," as well as "contrary, perverse, and unpredictable." This may be the reason why he's had to explain himself to the Movie Television Review and Classification Board (MTRCB) several times. His earliest documented smackdown with the censors was in 1999, when he was one of the hosts of Magandang Tanghali Bayan. Along with co-hosts Randy Santiago and John Estrada, he was criticized for constantly spewing out vulgar jokes during the show's "Calendar Girl" beauty contest.
Foot-in-mouth disease? Willie Revillame objects to the insertion of a live broadcast of the late President Cory Aquino's funeral cortege during the August 5, 2009 episode of Wowowee.
4. He's not afraid to look stupid. Whether it's a calculated move or merely instinctive, Revillame is game for anything that will entertain his followers. He's even tried his hand at singing songs like "Ang Cute ng Pokemon," "Boom Tarat Tarat," "Buksan Mo, Papasukin Ako," and "Igiling-giling."
5. He's a Metal Rat. According to the Metaphysical Zone, Revillame, born in the first month of 1961, is a Metal Rat. This creature is "likely to be idealistic and intensely emotional." However, he may "cover up the intensity of his feelings by presenting himself as a happy and charming person, even though he is easily moved to jealousy, anger, and selfishness." Though Revillame presents himself as a clown, he's clearly got some demons to deal with.
ADVERTISEMENT - CONTINUE READING BELOW
Willie Revillame's decorating style for his mansions can be summed up in three words: "Spare no expense!"
6. He's a serious collector. In the January 2009 issue of YES, Revillame revealed to the magazine that he as four mansions, 11 luxury cars, and yachts. In an article examining the psychology of hoarding and collecting, writer Bridget Webber theorizes: "Hoarding is a fear-based activity, which stems from an individuals past history of experiences. These experiences may have left them feeling that they didn't have enough, or that they were in severe danger at one time and now crave security." It figures. Perhaps, Revillame still hasn't shaken off the memory of being an errand boy.
7. He's got commitment issues. Revillame has been married twice-first to actress Princess Punzalan and later to model Liz Almoro. Both marriages ended. Almoro accused him of verbal and emotional abuse. Revillame has also been linked to the likes of Miriam Quiambao, Ara Mina, Cristine Reyes, Phoemela Barranda, Valeria Concepcion, and Cheryl Cosim. Last year, when he was aksed if he's ever tie the knot again, he answered, "Di ko masabi. Dalawang marriages na ako. Baka 'yung pangatlo failure na naman. Siguro sa ngayon ganito muna ako."
ADVERTISEMENT - CONTINUE READING BELOW
8. He's verbally confrontational. Revillame's word wars with host Joey de Leon and showbiz reporter Jobert Sucaldito have been fodder for tabloid news. Clearly, "turning the other cheek" is not Revillame's style. He can't stand other opinionated people. In fact, he seems to thrive in televised verbal smackdowns.
Willie Revillame looks funny in a tuxedo.
9. He's got the masa's number. For all the criticism directed at him, Revillame is loved by the masa. Just how much do they love him? They didn't use him as a scapegoat for the February 4, 2006 Wowowee stampede at the ULTRA, where 74 people died. To many of his fans, Revillame will always be one heck of an entertaining "savior."
10. He wants to dip his finger in every slice of the pie. Like it or not, it's hard to miss Revillame's presence. Aside from his songs, the man has a scent named after him, endorses a clothing line, and hawks high-end watches. Soon, he'll even have his own building: the Wil Tower Mall. He'll surely have some cash coming in despite being axed from Wowowee, which he headlined since 2005.
ADVERTISEMENT - CONTINUE READING BELOW
Art by Warren Espejo, Revillame's publicity still courtesy of ABS-CBN.
Share this story with your friends!
---
Help us make Spot.ph better!
Take the short survey
More Videos You Can Watch
Load More Stories