L' Entrecote Manila
Unit A Bellagio 2 Forbes Town Center, Burgos Circle, Bonifacio Global City
Taguig City
Tel. No. 856-4858
Open 11 a.m. - 2: 30 p.m.; 6 - 11 p.m. daily
Exploring the Fort is fun. There's a lot of stuff going on here--buildings are coming up a mile a minute--though I really, really hope they leave space for open areas and parks so it won't be congested! All this also means that cafés, shops, and restaurants are sure to pop up as well.
Take Burgos Circle, for example.
The other night I was walking and spotted this pretty interesting shop: at the bottom, it was a very handsome barber shop--and I mean it looked really inviting to get a trim and a shave; on top, it sold b-ball shoes (oh, fine--kicks, as they're called), a lot of which are special edition. Very basketball/hip hop culture, and something at home in some urban zone, say, like Brooklyn. But Taguig?!
A few steps from that is this place called L'Entrecote. I owed some dinner in exchange for a favor, so I decided to take some friends here.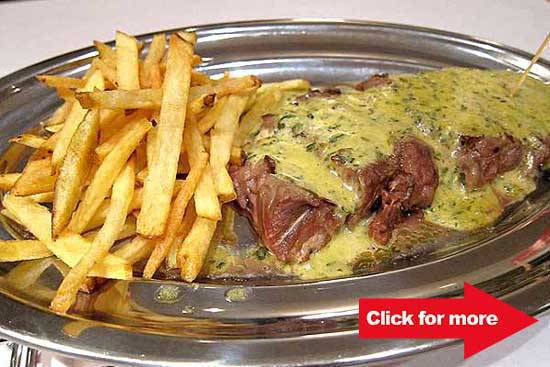 ADVERTISEMENT - CONTINUE READING BELOW
L'Entrecote's Steak Frites. Click for more photos.
The original L'Entrecote is a actually a chain of restaurants in Europe. I don't know if this is part of it (I don't think it is), but what they did do is follow the concept and menu to a T. Not a very hard thing to replicate, as L'Entrecote only serves one thing: steak frites (literally--steak and fries.)
The first of these kinds of restaurants opened before my parents were even born. The owner, an affable Swiss gent, says it started in Geneva, at a place called Café de Paris. As far as I know, places that serve steak frites are scattered all over the Europe. It is also classic French bistro food-- something you can find in any corner, much like a great burger joint in the States.
We ordered the "Geneva" menu. They start you off with a decent glass of red and some bread to get the appetite going.
Then comes a simple, but well composed salad of greens, cucumbers, cherry tomatoes and walnuts tossed in well-seasoned mustard vinaigrette. Refreshing and crisply fresh, its tartness is meant to open up your appetite even more. The cool thing is this is exactly the same kind of salad served in the European steak frites restaurants.
After the greens comes the main event--the steak, served on a metal plate, atop. But first, a note to everyone: we Filipinos are, undoubtedly, a carnivorous bunch. We also happen to love steak. The de rigueur cut over here is the rib eye. Fatty, luscious, and flavorful (mainly because it's fatty)--every menu in Manila that serves steak is bound to have a rib eye on it, and while we're at it, it'll probably be branded "Wagyu" or "Prime Angus" or something like that. Nothing really wrong with that, of course, as I enjoy some rib eye every now and then, but there are other decent cuts of beef that have much flavor and are basically ignored around here.
ADVERTISEMENT - CONTINUE READING BELOW
Recommended Videos
At L'Entrecote, they serve straight-up sirloin. Once upon a time, this was the most common cut you could find, and it was nice to be reacquainted with it. We ordered it medium rare. I was curious to see if the kitchen could pull it off--they were, after all, on a dry run as they've only been open a week--and cool enough, they did! The sirloin was obviously not prime beef, but it was flavorful, a bit chewy (but in a good way), and really--that was the point: you didn't need a Wagyu slab of cow to enjoy a decent steak dinner. Topped with a classic, herb filled butter sauce (some call it Café de Paris butter, named after the restaurant in Geneva), it's got solid flavor. Oh, and the fries were thin, crispy and delicious when eaten with the steak and the sauce altogether. The best part is they keep the fries coming. Yes, yes, fry lovers--you can drown yourself in potatoes over here.

Our set came with dessert. I had a real throwback of a dish--crepes suzette--which is your basic crepe with a butter and sugar sauce flambéed and flavored with orange juice and a liqueur, usually Grand Marnier. Classic French joints prepare this tableside, so you can ooh and aah at the flames and make "chancing" with your date. Over here it's served folded with some vanilla ice cream. Actually, this wasn't much to my liking (though admittedly I'm not a dessert guy), and I found it a bit too sweet. My friend had profiteroles with vanilla and chocolate sauce--a better alternative, and the traditional ending to steak frites, though the profiterole could've been a bit lighter. Our other companion had meringue with strawberry ice cream, which was a nice little ending, if a bit nondescript.
ADVERTISEMENT - CONTINUE READING BELOW

All in all, the "Geneva" set costs P1,190--if you factor in that you had a three-course meal and a glass of wine in a charming little room that could be in the center of Paris, it's not a bad deal at all. It's definitely a place to take a special date or to treat your folks. There's also a menu without the dessert for around P880--next time I visit I may just do this and find dessert or coffee elsewhere in the many cafes nearby. For the vegetarians, you can have the vegetarian menu, which is basically the salad and a cheese plate. But really--why would you bring a vegetarian to a place that specialized in steak frites, right?

L'Entrecote has a fun vibe going about it--the service is efficient, and the food is simple and solid. It's clear that the owner is trying his best to give you value for money--a bit of a rarity these days. I highly recommend it for an informal meal where you want a nice space to catch up with your friends.
RATING: 3 out of 5 Spots ...

Photographs by JJ Yulo.


Share this story with your friends!
---
Help us make Spot.ph better!
Take the short survey
Load More Stories