Profiling Gloria Macapagal Arroyo: 10 Things That Make Her Royally Unsinkable
SPOT.ph cases the former President-turned-congresswoman.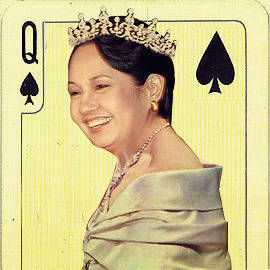 Gloria Macapagal-Arroyo, more popularly known by her initials "GMA," is a former First Daughter who became the President of the Republic of the Philippines under the controversial circumstances of EDSA II in 2001. Despite being flooded with criticism for snafu after snafu, GMA stayed afloat and held on to the presidency for nine years. Right after moving out of Malacanan Palace, GMA ran for Congress and won a seat as the representative of Pampanga's second district. It seems that this tenacious woman is determined to be a public servant as long as possible. In fact, she recently got criticized for sending her own letters Hong Kong and Chinese officials where she expressed her condolences for the eight tourists killed in the Quirino Grandstand hostage-taking.While she meant well, some critics dubbed her act as meddlesome. SPOT.ph plays pop profiler and cases the unsinkable Queen of Politics.
Gloria Macapagal-Arroyo is sworn in as the President of the Philippines on January 20, 2001.
1. She did not have an ordinary childhood. GMA was 14 when her father, Diosdado Macapagal, was elected as the country's ninth president. Sometime after that, a municipality was named after her: Gloria in Oriental Mindoro. It's a given that GMA was born rich--but how many other kids in her circle could boast about having a municipality named after them? Perhaps, this explains why she always seems so comfortable in seats of power. You never sense any reluctance in her.
ADVERTISEMENT - CONTINUE READING BELOW
2. She's a workaholic. In an article by Gulfnews.com correspondent Gilbert P. Felongco, retired police general Leandro Mendoza, who was GMA's Executive Secretary, said, "She works harder than the most hardworking soldier." He added that she likewise "demanded the best from everyone." In a Psychology Today article, Bryan E. Robinson, author of Chained to the Desk: A Guidebook for Workaholics, Their Partners and Children, and the Clinicians Who Treat Them, revealed: "Workaholics are out of balance. They don't have many friends. They don't take care of themselves. They don't have any hobbies outside of the office." Perhaps, GMA found a way to work around being a workaholic. After all, she was spotted trying to learn how to surf in 2005. Get a glimpse of her surfing form on the BBC News website. (Hers is the third featured photo.)
In 2008, the cameras kept rolling as Gloria Macapagal-Arroyo berated her staff for not getting everything ready for the taping of her press statement. In this video clip, a staff member could be heard exclaiming: "Naghahagis na s'ya ng laptop, eh." ("She's already throwing a laptop.")
3. She's a perfectionist with a short temper. GMA was dubbed as "mataray," as she was known for berating her staff or other government officials for not doing their jobs right. According to a Science Daily article, "In its pathological form, perfectionism is an unhealthy belief that anything less than perfect is unacceptable." However, it can also "drive people to accomplishments and provide the motivation to persevere in the face of discouragement and obstacles."
ADVERTISEMENT - CONTINUE READING BELOW
4. She didn't let domestic bliss stop her. GMA got hitched to husband Jose Miguel "Mike" Arroyo in 1968. She was only 21. They had three kids: Juan Miguel or Mikey (born 1969), Evangelina Lourdes or Luli (born 1971), and Diosdado Ignacio Jose Maria or Dato (born 1974). But she didn't put her intellectual and career growth on hold. She went on to get a master's degree in Economics at the Ateneo de Manila University in 1978 and a doctorate degree in Economics from the University of the Philippines in 1985. In this regard, you have to hand it to her for pulling it off.
5. She's a cunning linguist. In a country where regionalistic attitudes still prevail, it helps that GMA can speak several other Philippine languages aside from Filipino, such as Kapampangan, Ilokano, and Cebuano. Obviously, she used this to her advantage. She's also fluent in Spanish and, of course, English.
Gloria Macapagal-Arroyo gives her farewell address to the nation on June 23, 2010. (But she didn't exactly become Citizen Gloria after her stint as president.)
6. She's got an impenetrable mental bubble. In other words, GMA had perfected the art of deadma. Whether it's a coup attempt, an earthquake interrupting her speech, her Le Cirque meal being scrutinized, her son making a mess out of an interview televised on national TV, her husband accused of having a mistress, her family being labeled as corrupt, GMA seems tough enough to brush off every sensitive issue by saying nothing. At other times, she looks (to the public, at least) like she could care less. According to a MayoClinic.com article, "Denial is an unconscious coping mechanism that gives you time to adjust to distressing situations." The article further explains: "Being in denial for a short period can be a healthy coping mechanism, providing time to adjust to a painful or stressful issue. But denial has a dark side. Being in denial can prevent you from effectively dealing with issues that require action." In GMA's case, we do remember her owning up to and saying sorry for the Hello, Garci mess.
ADVERTISEMENT - CONTINUE READING BELOW
7. She's not a typical never-say-die nanay. Each time her eldest son, Congressman Mikey Arroyo, who now represents security guards and tricycle drivers, says things that infuriates the public, GMA does not come running to the rescue. We don't know what goes on between her and her first-born when it's just the two of them together--but it's obvious that she's got more chutzpah than he does.
Professor Winnie Monsod does the math on Gloria Macapagal-Arroyo's 72 foreign trips.
8. She's an Aries. GMA's birthdate is April 5, which makes her an Aries. According to Astrology Online, Arians are often "enthusiastic, confident, dynamic, and quick-witted." On the other hand, they can also be "selfish, quick-tempered, and impatient."
9. She's good with numbers. Economics is GMA's forte, which means she is good with numbers. People who are good at numbers are usually formidable strategists who can, well, pretty much dictate how things are run. This would explain GMA's carefully calculated maneuvers in her career as a politician such as implementing the hugely popular holiday economics. We have to admit, many of us loved that move and conveniently forgot other inconveniences because of it.
Gloria Macapagal-Arroyo's last state of the nation address in 2009.
10. She's a Fire Pig. Born in 1947, GMA is a Fire Boar or a Fire Pig. A Tuvy.com article contains this description of a Fire Pig: "This Pig is a Big Time Operator who makes things happen through his clever wit and well-rounded talents. They never rest on their laurels because they have an insatiable thirst for power. They know that once they sit still, someone will pass them by."
ADVERTISEMENT - CONTINUE READING BELOW
Art by Warren Espejo.
Load More Stories