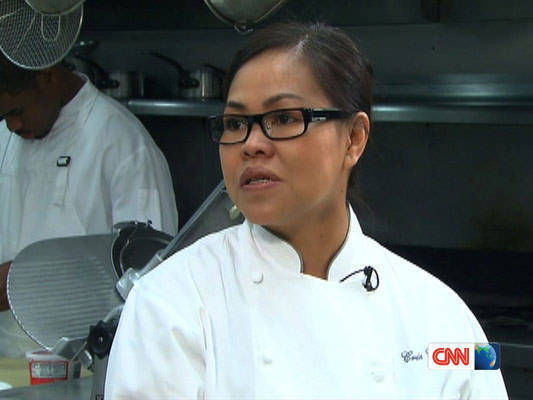 White House Executive Chef Cristeta Comerford
Starting September 1, catch CNNTalk Asia where Philippine-born Cristeta Comerford talks about her gastronomic journey, from cooking for her family at age 9, to becoming the head chef of the U.S. White House in her 40s.
The episode features the White House' first female executive chef who has cooked for America's First Families (such as the Clinton, Bush and Obama families), and the likes of Mexican President Felipe Calderon and Indian Prime Minister Manmohan Singh. Go inside Washington DC's most famous address with show host Hala Gorani as Comerford reveals the intricacies of preparing a White House dinner.

Asked about her most memorable experience at the White House, Comerford cites the Governors' Dinner last year. "It was (First Lady Michelle) Obama's first formal dinner at the White House. So, for me, it was very special because it was the start of our representation of her."
ADVERTISEMENT - CONTINUE READING BELOW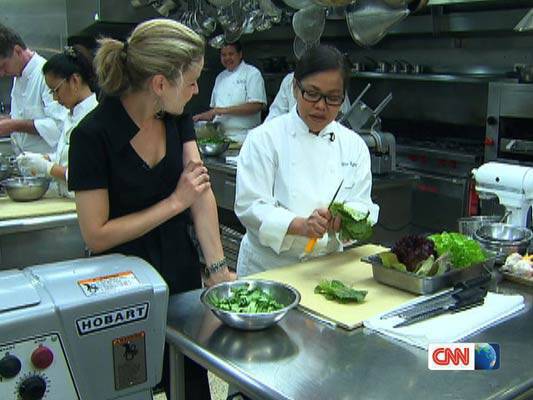 Cristeta Comerford talks to show host Hala Gorani about competing in Iron Chef America, First Lady Michelle Obama's healthy eating campaign, and the Obama family's favorite dishes.
The 48-year-old top toque traces her culinary beginnings to her mother's kitchen. When she was nine years old, she started to volunteer to prepare breakfast for the family--including her 10 siblings. "When I was in the third grade, I said, 'Mom, I'll take care of breakfast from now on, so you don't have to do it.' It was really something that I had enjoyed as a child but I did not really think it would be my career."

It was her father, a school principal, who pushed her to study the culinary arts. "I gave him the blank stare. Why should I go to a culinary school? I never really took him seriously. But you know, in retrospect, I guess father really knows best." After she immigrated to the U.S. in her early 20s, she worked for a couple of restaurants and hotels. She was later hired as an assistant chef in the White House under Bill Clinton's administration in 1995, and then promoted to executive chef in 2005 by then U.S. First Lady Laura Bush.

Retained by the current administration of U.S. President Barack Obama, Comerford says, "It's very humbling for me to be in this position right now, to serve the First Family. Coming from a third world country, to be here serving the most powerful man in the world is a big thing."

Catch the interview on September 1 (7:30 p.m.), September 2 (11:30 a.m.), September 4 (7 p.m.), September 5 (3:30 a.m. and 4:30 p.m.), and September 6 (2:30 a.m.). The interview will also be available online after the first airing. Photos courtesy of CNN Talk Asia.
ADVERTISEMENT - CONTINUE READING BELOW
Recommended Videos
Iron Chef America: Bobby Flay & Cristeta Comerford vs Mario Batali & Emeril Lagasse
Read SPOT.ph's interview with Cristeta Comerford in "Hail to the Chef."
Share this story with your friends!
---
Help us make Spot.ph better!
Take the short survey
Load More Stories