Top 10 Mascots Loved by Pinoys
SPOT.ph rounds up the characters that have brought us joy through the years.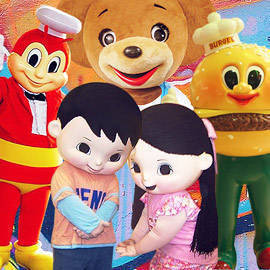 Dictionary.com defines a mascot as "an animal, person, or thing adopted by a group as its representative symbol and supposed to bring good luck" to an organization. SPOT.ph lists mascots--ranging from the bizarre to the timelessly cute--that most of us have come to know and love. For this list, we stuck to one mascot representative for each organization. We also excluded the mascots of sports teams. (The latter may very well be another list.)
Tigo in action.
10.TIGO
Kraft Foods' sporty tiger mascot promises to "bring out the tiger in you" with Tiger Energy Biscuits. Unlike real-life tigers, Tigo has no fearsome fangs or claws. He only snacks on (what else?) the biscuits that he represents. Instead of looking fierce, he always looks startled. And while the ad which had him duplicating the scene from the movie Rocky (complete with the theme song) was cheesy, Tigo may very well be growing on us.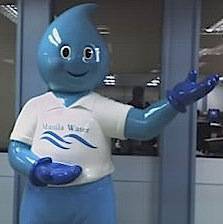 ADVERTISEMENT - CONTINUE READING BELOW
Patubig is all wet--and that's a very good thing.
9. PATUBIG
Talk about being literal. Manila Water's Patubig has a head that's shaped like a drop of water. The mascot usually appears when the water concessionaire launches community projects and pipe-laying programs. Last year, Patubig even joined the Miss Earth Philippines Foundation in setting up water fountains at school in Quezon City.
Kiko Meralco (center) is the star of Meralco's mascot line-up, the Liwanag Patrol.
8. KIKO MERALCO
Dressed as a Meralco lineman, Kiko Meralco is the star of the power company's mascot group. Kiko and his posse have been representing Meralco since 2005. Kiko is easily the most handsome human-looking (for lack of a better adjective) mascot. Unfortunately, his smooth dance moves won't let us forget that power rates always seem to be shooting up.
CONTINUE READING BELOW
Recommended Videos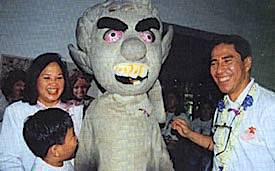 7. YOSI KADIRI
While most mascots are cute, the Department of Health came up with Yosi Kadiri--he with the tar-stained teeth and bloodshot eyes--for their campaign against smoking. Sadly, Yosi Kadiri was bumped off his mascot status in 2008, when he was replaced by a mascot called QuitsS--a mascot with a Q-shaped body, a white cap, and a broken cigarette stick. However, we still can't forget Yosi Kadiri even if want to.
ADVERTISEMENT - CONTINUE READING BELOW
Guyito proves that not all carabaos are for plowing farmlands.
6. GUYITO
According to a December 9, 2009 Philippine Daily Inquirer article, Guyito, their carabao mascot, started out as Kalabaw in cartoonist Jess Abrera's comic strip, A. Lipin in 1985. The article went on to explain, "(The carabao) jumped to Page One as the spokesperson with an opinion on the burning issues of the day. He would moo in approval or lock horns with a gallery of national figures without being taken too seriously." By then, the paper's editors called him the "Talking Kalabaw." On July 6, 1996, he officially morphed into Guyito, the mascot of the Junior Inquirer. In print, the witty beast helps relieve the burden of bad news with his sassy comments. In person, he does the usual mascot antics--he waves at his fans and looks cute. And, yes, he dances, too.
Burgee has the moves.
5. BURGEE
In the past, Burgee, Tropical Hut's mascot, wore green leggings. Back then, his slim legs belied his huge burger head. These days, Burgee has become more portly and is dressed in overalls. The only thing that's remained the same is his giant burger head. However, Burgee statues still feature the costume with the "leggings."
Eldar the Wizard hams it up for the crowd.
4. ELDAR THE WIZARD
Eldar the Wizard welcomed the public when Enchanted Kingdom, the theme park located in Santa Rosa, Laguna, opened in 1995. The bespectacled mascot, garbed in purple, is a lively old man with a white beard. Think of him as a supernatural Santa Claus.
ADVERTISEMENT - CONTINUE READING BELOW
This ad was shown in 2006, when Bear Brand celebrated its 30th anniversary.
3. THE BEAR BRAND BEARS
Considered one of the older mascots in the business, Bear Brand's bear mother-and-child tandem has become a sentimental favorite. The bears have been around since 1976 and nobody has evenr pointed out that the father of the baby bear is nowhere in sight. This proves that Pinoys can be liberal...when it comes to mascots.
Susy and Geno now have limited screen time. (They appear briefly at 0:21 to 0:22.)
2. SUSY AND GENO
In the past, Sustagen's mascot duo, Susy and Geno, drove kids into a frenzy during their school tours. For a time, kids collected Sustagen lids, which they used to get various Susy and Geno freebies. It is not clear when Susy and Geno's popularity started to wane--but those of us who once encountered them continue to remember them fondly.
Jollibee has always been the star of the show.
1. JOLLIBEE
No matter what Jollibee is doing--from goofing around with toddlers to engaging in a dance-off on the streets-- Filipinos simply cannot resist the bee with the chef's hat. From being your typical kiddie party mascot, Jollibee has gone on to become an international icon for Filipinos--what with Jollibee outlets all over the world.  The bee, who stars in his own TV show (Jollitown), has appeared (albeit briefly) on Glee. Jollibee is undeniably one of the most recognizable mascots in the country.
ADVERTISEMENT - CONTINUE READING BELOW
Special mention:
Ronald McDonald does his thing.
RONALD MCDONALD
Though he started out as an actual clown--and the actual clown still appears--McDonald's now has a mascot in a clown suit. No word yet on whether the clown-suited mascot creeps out kids as much as the actual clown.
Art by Warren Espejo, photos from wwww.fcap.globalink.org (Yosi Kadiri), www.winterleafward.multiply.com (Patubig)
Share this story with your friends!
---
Help us make Spot.ph better!
Take the short survey
Load More Stories