John Mayer Live In Manila: Covered In Rain
The rains couldn't stop fans from watching the singer who makes heartbreak sound beautiful.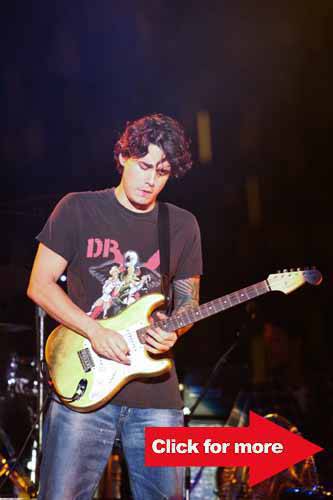 John Mayer played to a rain-drenched crowd on October 1. Click for more photos.
Not even a torrential downpour could stop fans of John Mayer from trooping to the Mall of Asia Concert Grounds on October 1 to see him in the flesh. It may have taken an entire decade for him to make his way to Manila, but he when he finally did, whether or not you were a fan as early as high school or as recently as "Heartbreak Warfare," you were willing to stand under the rain just to see this man perform live.
Opening the concert was Aiza Seguerra (whom Mayer later says thanks to--"Ey-za," he says) who sang covers of The Corrs' "Runaway," Seal's "Kiss From A Rose," Rizal Underground's "Bilanggo," Kim Carnes' "Bette Davis Eyes," and Eraserheads' "Huling El Bimbo." She also sang an original song "Akala Mo." Midway through her set, she joked that she'd try to finish fast because she knew the people were really there for Mayer.
ADVERTISEMENT - CONTINUE READING BELOW
The moment Mayer came onstage, the crowd's screams echoed the simultaneous shower of rain. Dressed in a faded band shirt and loose jeans, he started with a guitar solo before launching into "Vultures," a song from Continuum, his third studio album. Mass frenzy continued to ensue as he sang the familiar opening lines of "No Such Thing," one of the first songs of Mayer to be played on radio station NU 107 10 years ago.
In his movie phone voice, Mayer said to the sea of umbrellas and raincoats, "I hope you're having a good time despite the rain," causing even more screams from the audience. Mayer switched guitars for almost each song he played. Next on his set list was "Perfectly Lonely" from his latest album Battle Studies. The rain continued to pour heavily but his fans didn't care, singing along to Mayer, who sounded exactly like he does on his records. Next was another guitar solo, "Ain't No Sunshine," where he grooved to the beat, eyes closed on his trademark "guitar face." After his cover of the Bill Withers song, he introduces David Ryan Harris, whose voice was amazing. Harris sang a few lines of Lewis Taylor's "Lucky" before Mayer played the intro to "Slow Dancing In A Burning Room" from Continuum. There must have been some tears in the audience, but we will never know for sure-- it was still raining pretty hard.
CONTINUE READING BELOW
Recommended Videos
After a drum solo by Keith Carlock, Mayer performed "Waiting On The World To Change" also from Continuum. Playing the first few notes to "Stop This Train," he stopped abruptly, then started on "Daughters" (from Heavier Things) before he asking the audience what they wanted to hear. He then decided to play "Stop This Train." The rain finally stopped and the crowd near the stage chanted "Mizuno! Mizuno!" referring to a huge golf umbrella blocking the audience's view of Mayer. Mayer heard it and asked, "What are you guys chanting?"
ADVERTISEMENT - CONTINUE READING BELOW
With the umbrellas finally closed up and put away, Mayer charmed the audience, saying, "I can finally see all of those pretty faces" before taking his acoustic guitar and singing the first few lines of "Your Body Is A Wonderland," every line of which the audience sang along to. Songs from his current album Battle Studies were next: "Who Says" (changing the some cities in the lyrics to "Manila" much to the amusement of the crowd) and "Heartbreak Warfare." The rain resumed but not strong enough for people to open up their umbrellas again. "Gravity" started with another guitar solo from Mayer drawing cheers from the crowds. When he stepped back from the mic and let the audience sing a few lines, he came back to say "you sound awesome." He switched to a ukelele and performed "Do You Know Me." During the guitar solo, he sat down by the edge of the platform for the drums and continued playing his tiny guitar showing off his crazy guitar skills.
He switched to another guitar before sharing, "I gotta sort of encapsulate the ten years that its taken for me to get here. So let's go back, all the way back. I wrote this song in 1999, released it in 2001. It goes like this..." causing mass hysteria as he begun"Why Georgia."
Mayer said Manila was the very last stop for their tour so the audience should give the band extra love. He ended with "Half Of My Heart" with a sample of Journey's "Don't Stop Believing" played in the middle of the song. He said, "Thank you, Manila. I'll be back sooner than you think." We weren't sure if he meant he was coming back to Manila or was just referring to his encore, a beautiful performance of "Edge of Desire."
ADVERTISEMENT - CONTINUE READING BELOW
The 15 songs Mayer played still weren't enough for fans who waited 10 years (where were "Love Song For No One," "Neon," and "Back To You?") but seeing John Mayer live despite the undesirable weather conditions was still worth the long wait.
Photographs by Macy Alcaraz and Niña Sandejas.
Share this story with your friends!
---
Help us make Spot.ph better!
Take the short survey
Load More Stories