Even the Ugly Fall in Love
Our SPOT.ph blogger on a film from 9th Spanish Filmfest: "There is an audience for heartwarming ensemble comedies about ordinary people."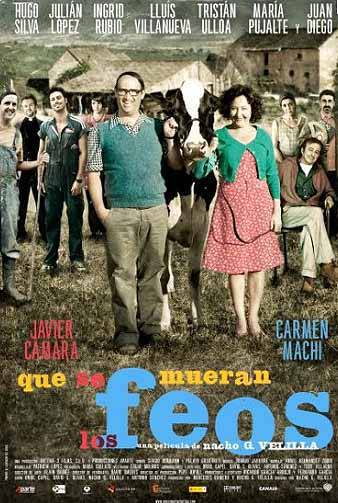 The dry spell is over! Finally, something to watch that's not a Hollywood blockbuster (in 3D) or another cheese ball romantic comedy with a stupid title.

I went to the 9th Spanish Film Festival and caught Spanish director Nacho Vilalla's Que Se Mueran los Feos (To Hell with the Ugly), a cute little comedy about ugly people falling in love. Imagine that.



Eliseo (Javier Camara) is lonely bachelor/cow farmer whose dream is to study music at the conservatory. He lives on the farm (in the beautiful Aragon countryside) with his elderly mother and the simpleton farm hand Bertin (Julian Lopez). Aside from milking cows and running a butcher shop, Eliseo plays trumpet in a band with his buddies: a henpecked professor (Lluis Villanueva), the village Casanova (Hugo Silva), and a cool priest (Tristan Ulloa--who could be Ewan McGregor's dungis Spanish cousin). His friends tease him for his desperate moves with women, but all Eliseo wants is to find someone to love him and his comb-over, spectacles, and limp. One day his absentee brother's wife Nati (Carmen Machi) arrives at the farm. She's a middle aged woman who has lost a breast to cancer and her husband to a younger woman. But Nati is full of life--running around the farm flinging mud at Bertin, singing at the top of her voice when a cheesy song like "Eres Tu" comes on the radio. Spanish actress Carmen Machi is supposed to play an ugly character but we forget it, bathed in her irrepressible warmth. Meanwhile, Eliseo is not really ugly, he just likes to believe the worst about himself all the time. Flawed as they are, Eliseo and Nati fall in love. Rather, they hook up one night at the hotel after winning second place at a decidedly non-romantic cow show. Elated and filled with energy from their bovine victory, both of them are laughing like teenagers and flirting pretty heavily for ugly folks. But in this quirky romantic comedy, even the plain fall in love. It's nice to see for a change.

Another thing nice to see was the audience. The screening was sold out (but I got a great seat thanks to the super helpful festival staff--you guys are fab), it was a packed house on a Saturday afternoon. Everyone laughed at the jokes, everyone went "awww" at the right moments, everyone seemingly paid attention and appreciated this foreign language film about the odd romance of a lonely cow farmer and a middle aged separada. Great, I thought, the audience is really into this movie. There is an audience for heartwarming ensemble comedies about ordinary people. Imagine that!

(I wonder: where the hell is this great audience when you want it? If this movie were a locally made film done in a contemporary Philippine context--would anyone watch it? If we cast let's say Dennis Padilla as a lonely pig farmer from Batangas and Eugene Domingo as the jilted Manila matrona--would anyone care?)

Anyways. My favorite part of the movie is rediscovering this song. In the movie, Nati says wistfully, "I always wanted to be the 'you' in this song." Me too, Nati. Me too.

Straight from Eurovision, 1973. Those outfits!
ADVERTISEMENT - CONTINUE READING BELOW


***
Que Se Mueran los Feos is screening on October 8, 12 midnight and October 9, 7 p.m., Greenbelt Cinemas. It is part of Pelicula/Pelikula the 9th Spanish Film Festival presented by Instituto Cervantes Manila. Go early, the tickets sell out super fast!


CONTINUE READING BELOW
Recommended Videos
Share this story with your friends!
---
Help us make Spot.ph better!
Take the short survey
Load More Stories