Borgy Manotoc joins showbiz, GMA's plunder case + more lowlights
Borgy Manotoc embraces showbiz, GMA's life goes on, and more lowlights.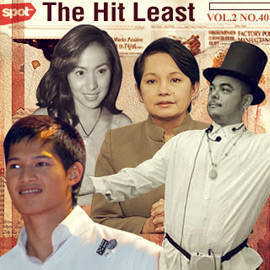 1. METRO MANILA NAMED AS ONE OF THE WORLD'S 10 WORST PLACES TO DRIVE IN. Tell us something we don't know.
2. DRUNK MAN STABBED DEAD AFTER HECKLING OTHER SINGERS IN VIDEOKE BAR. Albert Einstein said, "Only two things are infinite, the universe and human stupidity...and I'm not sure about the former."
3. LOCAL OFFICIALS NAMED IN JUETENG EXPOSE DENY ALLEGATIONS. Surely, you don't expect them to admit to it.
4. PRESIDENTIAL SPOKESPERSON EDWIN LACIERDA SAYS P-NOY'S GOV'T IS NOW FOLLOWING A STRAIGHT PATH. A straight path to where?
5. TEACHERS HONORED ON WORLD TEACHERS' DAY--BUT MANY PINOY TEACHERS REMAIN OVERWORKED AND SEVERELY UNDERPAID. Compliments are great--but our teachers need cash.
6. BORGY MANOTOC JOINS SHOWBIZ, WILL TRY HOSTING FIRST, SAYS, "MY TAGALOG IS STILL NOT SO GOOD." Call, Rafe Bartholomew and ask him to teach you how to speak Tagalog.
7. FORMER PRESIDENT-TURNED-CONGRESSWOMAN GLORIA MACAPAGAL-ARROYO FILES COUNTER-AFFIDAVIT ON HER PLUNDER CASE. If we can't get her, then we might as well cheer her on as she goes through the motions. (GMA, FTW!)
8. IN THE WAKE OF HIS "DAMASO" PROTEST, CARLOS CELDRAN GETS DEATH THREATS. Looks like "Damaso" has a rabid posse.
ADVERTISEMENT - CONTINUE READING BELOW
9. KRIS AQUINO AND HER SONS STRICKEN WITH HAND-FOOT-AND-MOUTH DISEASE. And the bad joke writes itself.
10. CRISTINE REYES PLAYS A DOWN-ON-HER-LUCK LASS WHO HAS TO WORK AS A FARMHAND AND, LATER ON, A MAID IN THE PRIMETIME TELENOVELA, KRISTINE. If your hired help has better skin--and looks better than you--be suspicious, be very suspicious.
CONTINUE READING BELOW
Recommended Videos
Share this story with your friends!
---
Help us make Spot.ph better!
Take the short survey
Load More Stories