Petrang Kabayo: A Good Comedy is the Best Medicine
Is the 2010 remake with Vice Ganda better than the campy classic with Roderick Paulate?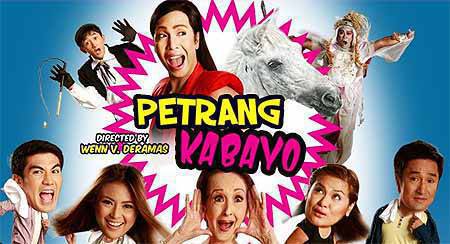 I heard Vice Ganda made it to the cover of Reader's Digest. Awesome! Speaking of which: this week, let's take a look at the mythology of Petrang Kabayo--a leggy, aggressive, and ultimately unhappy gay man who turns into a horse every time he's bad.



In Petrang Kabayo, Peter (Vice Ganda) is a super sarcastic son of a bitch in this remake of the '80s/'90s Roderick Paulate camp classic. Actually, I take that back. He's not really a son of a bitch--his adoptive mother, Donya Biday (Eugene Domingo) is a kindhearted Ilocana matron who takes Peter from the streets and treats him as her own son. Too bad he grows up to be the bitch himself and succeeds in making himself generally hated by everyone around him. Peter is really quite awful: he turns horses into tapa and eats it for breakfast, he shouts at his yaya, and he spies on the hunky farm hands bathing outdoors. But deep inside--as we learn through a super long flashback sequence--Peter is unhappy because his abusive father (John Arcilla) refused to acknowledge his son's sexual orientation and roughed him up. If you want to be sensitive about it, this movie is really the journey of Peter into Petra, from a sexually fragile nagdadalaga gay boy to a tough ass fag in boots and hair extensions, like poor Maximo Oliveros as a thirty-four-year-old drag queen with an abusive past. There are already so many layers to that story but just to keep it interesting, here s the hook: Peter turns into a horse when he's mean.
ADVERTISEMENT - CONTINUE READING BELOW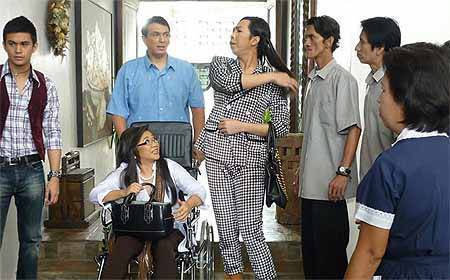 CONTINUE READING BELOW
Recommended Videos
Vice Ganda stars in Viva Films' remake of  the '80s/'90s camp classic of the same title.


In all honesty, I cannot tell you any more because I fell asleep somewhere in the middle of this Viva Films comedy directed by Wenn Deramas. Mind you, everyone else around me was laughing, high school students, senior citizens, young families, middle aged women--they were digging the flat sarcasm and silly gags. When I woke from my power nap, Petrang Kabayo's curse had been broken with a kiss on the lips and an avowal of love from a man. Good for you, Peter/Petra. I did not laugh once throughout this movie but I've learned that even horses have feelings--as I'm sure the animal rights activists will agree. I hope no horses were hurt during the course of the shooting.

In fairness to them, it's really hard to do a comedy. A good one requires more than a series of sketches with caricatures, slapstick, bad wigs, and hokey special effects. Sometimes a real life situation makes good comedy, as it does in Kasal o Sakal (directed by Johnny Reyes): a middle-aged man (Oscar Keesee) marries a young woman (Rebecca Quintana) and his own twenty-something son (Hector Reyes)  unwittingly marries his middle aged mother-in-law. This 1964 movie (part of the SOFIA series of "Overlooked Films, Underrated Filmmakers") has all the classic ingredients of a situation comedy but mainly there's the great comedienne Chichay playing a lonely middle aged woman who finds herself a boy toy and marries him. And while the pacing of Kasal o Sakal belongs to a different era, the social politics and battle between the sexes are familiar. Also, it's funny, in a squirmy kind of way, when Chichay sits by herself in a night club--garbed in a little black dress like Audrey Hepburn from Breakfast at Tiffany's--she looks up at Hector Reyes and sparks fly.

Why don't they make comedies like that anymore?
ADVERTISEMENT - CONTINUE READING BELOW
Check to see where the movie is showing.
Photographs from Viva Films.
Share this story with your friends!
---
Help us make Spot.ph better!
Take the short survey
Load More Stories