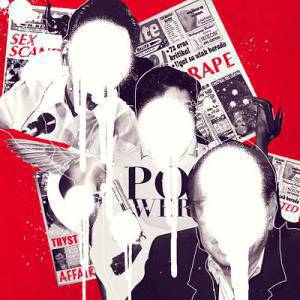 Sex and politics make a volatile combo. Sex itself is already a risky topic--and it becomes more so when politicians are involved. SPOT.ph lists 10 political sex scandals: some are unfounded-but-persistent rumors, some are also "open secrets" nobody has dared confirm, and others: brutal acts that had the public gasping in disbelief.
The young Charito Solis (in black skirt and white blouse) was action king Fernando Poe Jr.'s co-star in 1961's Sandata at Pangako. A year after the film came out, Solis had to deal with sordid rumors linking her to Manila mayor Arsenio Lacson.
A Manila mayor's X-rated cause of death
According to the article published in the FAMAS awards microsite discussed an issue that had hounded actress Charito Solis: "In 1962, what could be considered as the biggest unfounded rumor of her career struck: she was having an affair with Manila mayor Arsenio Lacson. On April 15, 1962, Lacson died [of a heart attack] in his hotel suite. Rumor mills churned out that he was with Charito Solis and actually had the heart attack while in the heat of lovemaking." The story was never verified--but the rumor has some staying power. Lacson--who served as Manila mayor from 1952 until the year he died--had a street in Sampaloc, Manila named after him and two statues of his likeness placed in Santa Cruz and Roxas Boulevard.
President Ferdinand E. Marcos' vocal prowess was reportedly showcased for the benefit of actress Dovie Beams.
The singing president betrayed by his American inamorata
ADVERTISEMENT - CONTINUE READING BELOW
Maharlika, a movie about the war exploits of President Ferdinand Marcos, began shooting in the Philippines in 1969. American actress Dovie Beams was tapped to play the hero's love interest. The movie came out in 1971. According to Charles C. McDougald, author of The Marcos Files, Beams went to the press and divulged that she had recorded her so-called encounters with Marcos. He allegedly sang the Ilocano folk song "Pamulinawen" to her during one of their sessions. The story might have been true. Then again, Marcos supporters pointed out that Beams was probably just desperate for attention.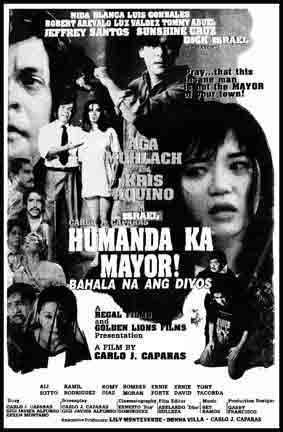 This 1993 movie directed by Carlo J. Caparas was said to be loosely based on the tragic events that happened in Laguna that same year. Dick Israel played the monster mayor--bad hair and all. The half-baked film did nothing for the case. But its tagline nails it: "Pray...that this insane man is not the mayor of your town."

Town mayor and his goons murder college students
In 1993, Antonio Sanchez, the mayor of Caluan, Laguna was arrested for masterminding the rape-slay of University of the Philippines-Los Baños student Eileen Sarmenta, as well as the murder of her boyfriend Allan Gomez. Sarmenta was brutalized by the mayor and his men--namely George Medialdea, Ziolo Ama, Baldwin Brion, Luis Corcolon, Pepito Kawit, and Rogelio Corcolon. In 1995, Sanchez and his men were each sentenced to seven life imprisonment terms and were ordered to pay the respective heirs of Eileen Sarmenta and Allan Gomez P700,000 as additional indemnity. In July this year, Sanchez was caught with one kilo of shabu inside his cell at the Maximum Security Compound of the New Bilibid Prison. According to a Pilipino Star Ngayon report, NBP director General Oscar Calderon revealed that Sanchez was suspected of selling P1.5 million worth of shabu (methamphetamine hydrochloride) to his fellow prisoners. The drugs were found concealed inside a statue of the Virgin Mary during one of NBP's random checks. It seems seven lifetimes in jail may not be enough to punish this monster.
Former Zamboanga del Norte congressman Romeo "Nonong" Jalosjos has always claimed to be innocent.
Congressman nabbed for corrupting a minor
GMA News Research documents this case in "The Conviction of Romeo Jalosjos." Zamboanga del Norte congressman Jalosjos was accused of raping an 11-year-old girl in 1996. He was arrested on January 17, 1997. In December that year, the Makati Regional Trial Court Branch 62 found him guilty of two counts of statutory rape and six counts of acts of lasciviousness. He brought his case before the Supreme Court (SC), but it affirmed his conviction. While he was an inmate at the New Bilibid Prison (NBP), Jalosjos managed to run for re-election and win in the 1998 and 2001 elections. He served as Zamboanga del Norte's congressman until the SC upheld his conviction with finality in 2002. He was sentenced to two life imprisonment terms. But, in 2007, the two life sentences that the SC originally handed down as penalty for Jalosjos was commuted to 16 years by President Gloria Macapagal-Arroyo. In December that year, Jalosjos walked out of prison and flew to Dapitan City, Zamboanga del Norte. He had mistakenly thought that he was legally free to go. However, his release order had not yet been officially approved. So, he went back to the NBP in January 2008. By 2009, Jalosjos was free again. Given these circumstances, one can't blame people for asking how the ex-congressman pulled it off.
ADVERTISEMENT - CONTINUE READING BELOW
In an I-Witness interview, TV journalist Sandra Aguinaldo cites socialite Rosemarie "Baby" Arenas' controversial quote, which she read in Mirror magazine. When Arenas was asked if President Fidel Ramos would raise her hand to endorse as a candidate for congresswoman of Makati, she allegedly replied, "He could raise my legs." (See the highlighted words in the video at 2:42.)

The commander-in-chief's special friend
In 1993, when President Fidel V. Ramos was relatively new in office, there were rumors that he and socialite Rosemarie "Baby" Arenas had a relationship. In fact, in an I-Witness interview, journalist Marites Vitug said that Arenas was known as "The Hidden First Lady." Vitug and journalist Glenda Gloria, in their article "Past Relationship Impinges on Present Affairs of State," wrote: "Arenas, a wealthy former beauty queen and fashion model is said to have had a relationship with President Ramos. At least two persons close to Ramos have asked him about this and they say the president dismissed it as part of the past, a tacit admission of the liaison. Similarly, Jose Almonte, national security adviser, once referred to it as 'something that happened in the past...a matter between two persons.' Aides of the President as well as Cabinet members we interviewed consider the relationship common knowledge." Rumormongers also alleged that Arenas and the president had a love child (supposedly a son). To this day, Ramos has never said anything about the subject. Amelita "Ming" Ramos, his wife, has never talked about it either.
President Joseph "Erap" Estrada's love life is complicated--what with several partners aside from his legal wife.
All the playboy president's women
If other presidents took great pains to hide their illicit hookups, President Joseph "Erap" Estrada gamely acknowledged that he had other families besides his legal one. In 2000, when Estrada was still president, journalist Shiela Coronel of the Philippine Center for Investigative Journalism, wrote "Erap and Families," an article that discussed how "Estrada is unable to explain the lavish lifestyle of his wives and children." In it, Coronel revealed that Estrada had "at least 11 children by six women and some other rumored mistresses." She likewise added: "To begin with, Estrada does not explain how he can support four households in such grand style. Apart from the First Lady Luisa Ejercito, Estrada has long-term relationships with three other women: former actress Guia Gomez, with whom he has a son, 31-year old Jose Victor or 'JV'; one-time starlet Laarni Enriquez, with whom the President has three children, the oldest of them, 15 years old; and ex-model Joy Melendrez, a Pasig policeman's daughter who has borne Estrada a son." This year, when Estrada was running for president again, it was revealed that Estrada had one more offspring. For the record, his legal wife, Dr. Loi Ejercito (who had also served as senator), and his three children by her have reportedly accepted the situation. Though this set-up may seem screwed up, it's already deemed "normal" by practically everyone. Isn't that "shocking" for a predominantly-Catholic country?
ADVERTISEMENT - CONTINUE READING BELOW
Soldier-turned-politician Gringo Honasan has many fans.
Soldier-turned-senator seeks refuge in lady friend's home
In November 15, 2006, Honasan, who was suspected of being involved in the planning of the Oakwood Mutiny, was nabbed in the wee hours of the morning at the townhouse supposedly owned by a lady named Ingrid Ramos in Greenmeadows in Quezon City. Philippine Daily Inquirer's Juliet Labog-Javellana, in her article "Lay off Ingrid, Gringo allies urge probers," wrote: "Ramos, said to be in her early 40s, is a native of Cebu City, according to Senior Supt. Jose Jorge Corpuz, the chief of the Criminal Investigation and Detection Group in Cebu. Simeon Antolihao, barangay captain of Cabancalan, said Honasan was a regular visitor at the house rented by Ramos at the Emerald subdivision in Mandaue City when he was still a senator. He said village residents considered the couple 'live-in partners.'" At the time, the public saw video clips of Honasan being captured. He was caught on camera with his pants partially off him after he jumped from the townhouse's second floor window. Honasan, with his feet bleeding from his failed attempt to escape, was later brought to Camp Crame. The scene looked pretty bad--but Honasan just waited for it to blow over. His strategy worked, as he was elected senator again in 2007.
The Chavit Singson-Che Tiongson story beats any telenovela.
Whip-wielding politico hurts common-law wife and her new love
Rachel "Che" Tiongson and Luis "Chavit" Singson became a couple when the former was still in her teens. He was a little more than 30 years older than her. After 17 years of being common-law partners, during which they had five children, things went sour and they reportedly split up. On August 22, 2009, Singson allegedly barged in on Tiongson and her new love. Singson proceeded to physically harm them. Acording to a PEP report, Tiongson was whipped by Singson (using a latigo he usually used on his pet tigers). Tiongson also told PEP that her boyfriend Richard S. Catral, a 38-year-old former marketing man for the ABS-CBN Foundation, was blindfolded, tied, and tortured for two hours by Singson's bodyguards. She added that Singson even took photos of a naked Catral (which Singson subsequently showed to his friends). Despite this, Singson believed that he did only what he was supposed to do. "Mabait pa nga ako, hindi ko sila pinatay (I was kind, I didn't kill them)," he quipped in his interviews. Tiongson later withdrew the charges she filed against Singson and they made peace. Tiongson said she did it "for the sake of our children." The incident clearly didn't affect Singson's political career. He's once again the governor of Ilocos Sur.
Vice president Jejomar Binay owns up to his transgression.
Candidate for vice president admits to having an affair
While campaigning for the May 2010 elections, stories about Binay's past affair came out. Photos of him with an unnamed woman circulated. In a GMANews.TV report by Andreo C. Calonzo, Binay said: "Nangyari po iyon. Hindi ko po itinatanggi. Pero humingi na ho ako ng patawad sa aking asawa (It happened. I am not denying it, but I already asked for forgiveness from my wife)." What shocking about this? The man actually owned up to it!
ADVERTISEMENT - CONTINUE READING BELOW
Is Patrick dela Rosa's story different from the tale of the tape?
Actor-turned-politician accused of rape

According to an Inquirer.net report, former 80s "bold star," Patrick dela Rosa, 45, who is now a member of the Oriental Mindoro Provincial Board, was arrested on October 8 for supposedly raping "Roxanne" (not her real name), a 20-year-old college student. CCTV footage from the Regalia Tower in Cubao, Quezon City made the rounds. It showed Roxanne and another woman confronting Dela Rosa in the driveway of the condominium after the alleged rape took place. In an ABS-CBNNews.com report, Roxanne claimed to have rejected a P2.5-million offer from Dela Rosa. She also denied asking for P5 million from Dela Rosa. Meanwhile, in a TV Patrol World report, three witneses who had previously supported Roxanne's claims have recanted. Dela Rosa is, as expected, denying that he raped Roxanne. The case is still under investigation.
Share this story with your friends!
---
Help us make Spot.ph better!
Take the short survey
More Videos You Can Watch
Load More Stories