Eulogy for NU107: There is a Light That Never Goes Out
Our SPOT.ph blogger mourns the once radical station's noble 23-year run and quotes Neil Young: "it's better to burn out than fade away."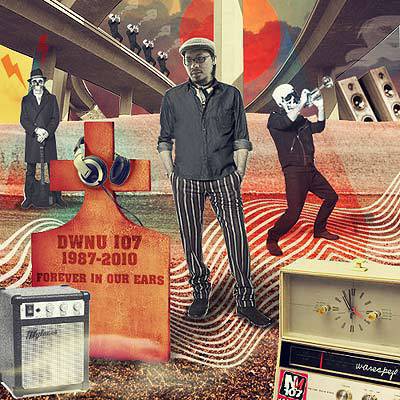 "St. Kevin taught me how/ John the boxer is braver now/ Phil the captain of the cause/ fight you fight for what is yours/ what is yours." China Crisis' "Highest High" was the first song I heard on NU 107. This was in 1987. At the time I had no idea who was singing it. As a high school freshman, I thought, "Who the hell is John the boxer?" I was intrigued. This sounded radically different from all the other songs about boxers that I've heard. Or from most songs for that matter (The only other one was by Simon and Garfunkel). The accent would have been familiar to those who listened to Spandau and Duran Duran. But the music was something else: the jangly guitar that would not quit, the synths beaming with a distinct sheen. It sounded like its immediate aim was not to please the way other songs seemed to, with their bright, pretty, and desperate pleads for melody. This song sounded like it came from another place, another dreamier, more airy soundscape. If you were weaned on WKC and MRS, this was another sensibility altogether, one that was many, many kilometers away.
ADVERTISEMENT - CONTINUE READING BELOW
That the station was on the far right on the dial of our old Sanyo karaoke machine made it easier to find, but also gave it a kind of forbidden edge. More songs followed, each one more throat-grabbing than the previous: "The people who grinned themselves to death/ They smiled so hard they failed to take a breath..." There was something about flaming swords, blisters in the sun, punctured bicycles on a hillside desolate, two rivers running, simple props to occupy time, when routine bites hard, Christine the strawberry girl Christine, whispers to a scream, two rivers running, this is absolute reality, the killing time unwillingly mine, I remember soldiers sitting next to me riding on the metro, in a chamber of hellos, you will never see you will never see Graceland, your gravity won't let me go, I'm a dream and you're fading away...
CONTINUE READING BELOW
Recommended Videos
Then the names, brimming with such surreal poetry: Sisters of Mercy. Joy Division. The Mission. Wild Swans. Dead Milkmen.  Modern English. Xmal Deutschland. Gang of Four. Aztec Camera. The Alarm. Lotus Eaters. Siouxsie and the Banshees. Wire Train. Icicle Works. This was a new hemisphere. The music was such that it was impossible to go back listening to the same things again. It was like a coven, an addiction that led to other addictions, musical and otherwise. See, it was more than just the music. Impatience was the general temper of that time. To an increasingly bored generation, this was a sort of wakeup call.  Some of us grew our hair long, oftentimes in a single wavy length that covered the eyes and ear; some wore shoes that had two-inch soles, dual buckles, and a patch of leopard-printed fur. Some of us went further and discovered music that was way darker, angrier, more dangerous and occult. Some of us also never left. To begin with, sometimes it was more than just music-it was also a mental state, one you could revisit over and over again without injury to pleasure and authenticity.
ADVERTISEMENT - CONTINUE READING BELOW
Cris Hermosisima a.k.a. DJ Cris Cruise says, "So let's do this for the last time. It's a minute before 12... This has been NU 107, the Philippines' one and only Home of NU Rock. We are signing off."
This is to give a noble salute to NU 107, which, for most of the adult lives of several generations, has been the only radio station that played music that directly mattered to them. Look, I'm 35 years old; NU has been operating for 23 years. For much of my adult life, there's always been a rock radio station (off-air only during Lent). Many of us might have taken issue with it over one point or another-playlists, tastes, and, well, playlists especially, which we many of the snobs and geniuses among us live to nitpick ("too commercial," "sellout," "mainstream rock," "why are they not airing the demo of my band The Ragnarok Boyz?" "Creed for chrissakes?" etc). The NU107 of 2010 was not the same NU 107 of 1987, granted. But what we are not appreciating is the fact that it would have been easier for the lives of the people behind the station to play Air Supply and Michael Learns to Rock 24-7, or just about a more marketable, saleable repertoire for that matter. What we're also forgetting is that a huge chunk of the OPM playlist in most FM stations right now are songs by bands-all of which got their start on NU.
We may have questioned the inclusion of many bands and even more songs. But for every Creed played, there will be a Fugazi or some Pavement (although the ratio would be tragic), or some Clash or Squarepusher thrown in during one of their specialty programs. Myrene Academia, NU 107's coolest DJ ever, proposed that the last song before the station signs off for good should be Soundgarden's "Big Dumb Sex," which contains the chorus, "Yeah I know what to do/ I'm gonna f*ck you/ F*ck you!" That's about the closest thing we'll have to a dirty finger.
ADVERTISEMENT - CONTINUE READING BELOW
This is-was-- NU107, the Home of New Rock. Referring to it in the past tense still saddens me. I, too, used to have issues with its playlist, though very few and middling; thanks to the fog of years (and the onset of the mist of wisdom, whatever that means). But the fact it was the only one of its kind on the airwaves. It's the only one with the balls to hang on to an all-rock playlist for the past 23 years. It is narrow-minded to regard it as the "mainstream" or "establishment"-in an industry where it is too tempting to play Britney Spears and Lady Gaga. Every time it decides to stick to playing something with a power chord it is not making money. It's been a corporate social responsibility for far too long. Sooner or later it would inevitably kowtow to fundamental realities-the economics of advertising revenues, changing demographic, competition from new technology, etc . Neil Young said it's better to burn out than fade away. Twenty three years is definitely a noble run.
Talk has it that the station will be taken over by the same company that operates Energy FM-which imposed on the national consciousness the phrases "Hi Panga!" "Joke, joke, joke," and "Meh ganun?!!" Look, I'm rock and roll, but this is just too rock and roll for me. To those about to rock, we salute you, but good luck finding a place in the airwaves that'll  play your stuff.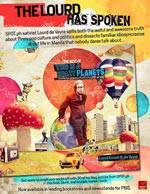 ADVERTISEMENT - CONTINUE READING BELOW
This is a Crazy Planets is available in newsstands, bookstores and supermarkets nationwide for only P195. For more information, click here.
Artwork by Warren Espejo.
Share this story with your friends!
---
Help us make Spot.ph better!
Take the short survey
Load More Stories