Profiling Manny Pacquiao: 10 Things That Made Him Destined to be a Champ
SPOT.ph finds out what groomed the champ for greatness in and out of the ring.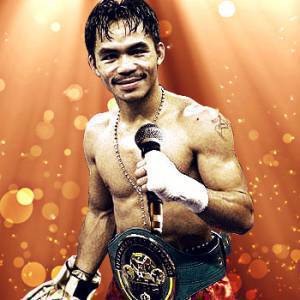 Emmanuel "Manny" Pacquiao is hailed for being "the first boxer to win world titles in seven different weight divisions." It's no surprise that he's become the champion of all things Filipino. He's captured the imagination of the whole country--as well as the rest of the world. So, whether he likes it or not, the public has chosen him as a representative of the whole country. (Who doesn't love a winner?) SPOT.ph plays pop profiler and lists the things that make Pacman a champ (or, at times, otherwise) in and out of the ring.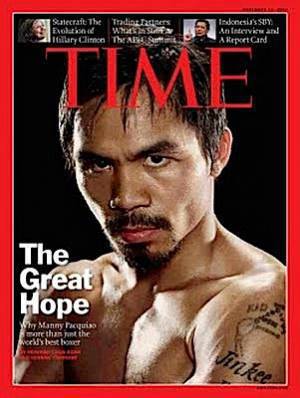 Manny Pacquiao on the cover of TIME's November 2009 issue.
1. He's a Sagittarius. According to ZodiacTraits.com, the male Sagittarius is "somewhere between priest and clown" and "is always on the move with his heart on his sleeve." He treasures freedom and friendship. On the flip side, he can be "arrogant and pompous." Pacquiao certainly has his funny side and seems to be friendly to everyone. Though he has the right to brag about his achievements, he's remained relatively levelheaded.
ADVERTISEMENT - CONTINUE READING BELOW
2. He's a dog person. Pacquiao loves his Jack Russel Terrier so much that he named him "Pacman." According to the findings of Sam Gosling, a psychologist at the University of Texas at Austin, people who love dogs are "agreeable extroverts." They want to be liked so they go out of their way to please those who matter to them. Pacquiao is obviously very generous to his family and friends.
Manny Pacquiao at the Wild Card Gym in Los Angeles in 2009. Controversial Hollywood actor Mickey Rourke joins the fans who are there to see him in training.
CONTINUE READING BELOW
Recommended Videos
3. He's a Guardian. Among personality types documented in the Myers Briggs personality test, Pacquiao would probably be classified as a "Guardian." Guardians, who are likely to be athletic, are known for being "practical, traditional, and organized." They're "not interested in theory or abstraction unless they see the practical application" and they "like to be in charge."
4. He grew up too fast. Pacquiao was only 14 when he left his home in General Santos City and decided to make a living in Manila. Since it was only his mother, Dionisia, raising a brood of six, there wasn't enough money. Pacquiao dropped out of high school and did odd jobs to help out. According to a TIME magazine article, his mother was against Pacquiao's plan to go to Manila. But there was nothing she could do. Pacquiao, it seems, has always been a man of action--even when he wasn't of legal age yet.
ADVERTISEMENT - CONTINUE READING BELOW
Manny Pacquiao plays with Pacman the dog.
5. He loves his mother. In her article, "Of Men and Their Mothers: Challenging Freud's Theory," Patricia McBroom of the University of California at Berkeley, observes that men are pressured "to reject closeness with their mothers in order to achieve manhood." Pacquiao no longer needs to prove his masculinity. This must be why he gamely shows his affection for his mother, Dionisia, who is now a celebrity in her own right. Pacquiao spend for his mom's 60th birthday party , which had a curious debut theme.
Manny Pacquiao at the Wild Card Gym in Los Angeles in 2009. Controversial Hollywood actor Mickey Rourke joins the fans who are there to see him train.
Manny and Jinkee Pacquiao were a great team when they appeared in the now-defunct Extra Challenge's Thailand series, where they competed against other celebrity couples.
6. He has a shrewd wife. Pacquiao met and married his wife Jinkee before he made his fortune. It seems he got lucky in love. Jinkee is also known for being a very shrewd caretaker and manager of his earnings.
7. He has a great number. Using the numerology application on PaulSadowski.com, we got Pacquiao's life numbers based on his full name, "Emmanuel Pacquiao." We got the following results: "[Your number is 5.] This means you can do so many things well. The tone of the number 5 is constructive freedom, and in your drive to attain this freedom, you will likely be the master of adaptability and change." However, "if there is too much of the 5 energy in your makeup, you may express some the negative attitudes of the number. Your restless and impatient attitude may keep you from staying with any project for too long. Sometimes you can be rather erratic and scatter yourself and your energies."
ADVERTISEMENT - CONTINUE READING BELOW
Manny Pacquiao's kids get ready for his homecoming.
8. He's an indulgent father. Pacquiao is a great provider to his four children: Jimuel, Michael, Princess, and Queenie. Perhaps, this is his way of coping with the fact that his own father, Rosaleo, abandoned him and his siblings when they were young. Pacquiao has since made peace with his father. However, the latter stirred up some controversy of his own when he was suspected of being involved in illegal gambling in July.
9. He's been linked to other women. As his fame grew, Pacquiao was linked to a number of other women. A few years ago, Joanna Rose Bacosa, a waitress and spotter in billiards halls in Malate, Manila, claimed that she and Pacquiao had a love child (a son). She even sued him for support--but, according to GMANews.TV, the court junked the case. Actresses Ara Mina and Krista Ranillo were also linked to Pacquiao. Ranillo's case proved to be the most controversial, as Pacquiao's wife Jinkee expressed her displeasure over the rumors. Actress Gina Aalajar, whose ex-husband Michael de Mesa had also been linked to Ranillo, weighed in via Facebook. Alajar allegedly wrote: "If I am Jinkee Pacquiao I will not give up Manny. Krista Ranillo is not at all worth it!" For his aprt, Pacquiao managed to evade the controversy.
The Manny Pacquiao-Krista Ranillo issue was the talk of the town.
10. He's an Earth Horse. Born in 1978, Pacquiao is an Earth Horse. According to Simple-Chinese.com, he's supposed to have "extremely good people skills" and "take great pleasure in helping others." This would explain why Pacquiao has opted to also become a politician. Though pundits say that his being the congressman of Sarangani province is the worst move he ever made, Pacquiao seems sure that being a politician is also his calling. Meanwhile, he hasn't quit his day job yet. For the first time in history, a Filipino congressman is slated to fight in the boxing ring. Pacquiao will take on Mexican Antonio Margarito on November 13 (the fight will be broadcast on November 14 in the Philippines) at the Cowboys Stadium in Arlington, Texas.
ADVERTISEMENT - CONTINUE READING BELOW
Art by Warren Espejo, Pacquiao photo screen capture from Zimbio.com and TIME magazine cover screen capture from www.time.com.
Share this story with your friends!
---
Help us make Spot.ph better!
Take the short survey
Load More Stories