New PH tourism slogan "Pilipinas Kay Ganda" fails to impress tourism industry, netizens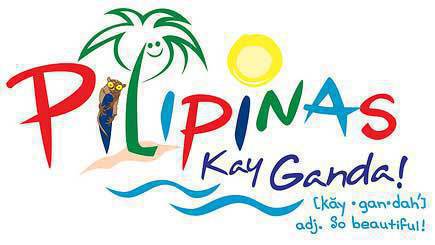 Screenshot from GMANews.tv
The new tourism slogan of the Philippines "Pilipinas Kay Ganda," launched on November 15 to replace the old "WOW Philippines" slogan and to boost the country's tourism campaign, failed to impress representatives of the local tourism industry, says PhilStar.com.
Federation of Tourism Industries of the Philippines Inc. (FTIP) President Alejandra Clemente told PhilStar.com that "the slogan did not ignite much excitement. Maybe they rushed in coming out with a new brand. But what we need is something that would create a great impact." She added that the old slogan "WOW Philippines" is still remembered because it had an "impressive" start for its campaign.
The Presidential Communications Operations Office said the new slogan was designed to "hopefully generate renewed interest of foreign visitors to the country." The DOT told GMANews.tv that the new slogan and colorful logo shows "both the tropical scenery and the happy smiles of our people. A cute tarsier, a marsupial endemic to the country, highlights our unique and playful character." GMANews.tv corrected the DOT statement: that the tarsier is a primate and not a marsupial. The DOT also said that using "Pilipinas" exudes the "renewed pride and hope that we're feeling. In a report by PhilStar.com, DOT Secretary Alberto Lim said that the vernacular was used "to express national pride and rise above the competition."
ADVERTISEMENT - CONTINUE READING BELOW
GMANews.tv reports that the new slogan and accompanying website www.beautifulpilipinas.com were much criticized online after the launch. In the morning of November 16, "the website was taken down for an overhaul."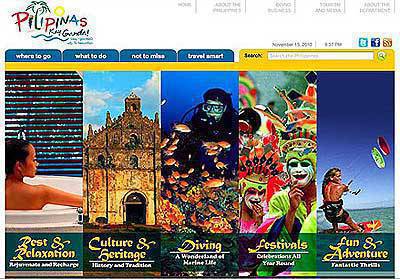 Screenshot of the www.beautifulpilipinas.com homepage from www.thepoc.net
CONTINUE READING BELOW
Recommended Videos
Performance artist and activist Carlos Celdran has also expressed his disapproval on the new slogan over his Facebook and Twitter accounts. His Facebook status read, "does NOT like the new "Pilipinas Kay Ganda" DOT slogan for tourism. It would work for local Filipinos but um. foreign tourists will say "What the **** does that mean?" HELLO???!! Let's all #HelpDOT come up with a better slogan before it's too late. Seriously, Secretary Lim. WTH?" Celdran's other post read, "will be going to the DOT bloggers launch later on at 6PM to give them a piece of his mind about the lame new slogan "Pilipinas Kay Ganda". I certainly hope other bloggers do the same."
ADVERTISEMENT - CONTINUE READING BELOW
DOT Undersecretary for Planning and Promotions Vicente "Enteng" Romano III responded to the online criticisms through his Twitter account. On November 16, he Tweeted: "#helpDOT tnks for pointing out problem with http://beautifulpilipinas.com. Will move to another name. Will also correct typos." He also told GMANews.tv via email that the site will have a new address because there is an existing pornography website with the same address. He added that the website will "hopefully" be republished in three to four weeks.
Romano and Celdran also exchanged Tweets. On November 15, Celdran posted: "says Fine! I will apologize for all the ragging I did today on #HelpDOT re: PKG. SORRY. I know. My humor is sharp. But hey, this admi is all about openness and consultation yes? Trust me, Bertie Lim and Enteng Romano have a great sense of humor :o) I'm pretty sure we're cool." The same day Romano replied: "@carlosceldran thanks carlos for d apology, even as others say, u don't hv to. Appreciate it. Need all support we can get."
For more on this story, log on to GMANews.tv, PhilStar.com and the Presidential Communications Operations Office website.
WOW Philippines commercial: WOW meant "Warm Over Winter" and "Wealth Of Wonder," among other things
Share this story with your friends!
---
Help us make Spot.ph better!
Take the short survey
Load More Stories