Dagim: Into the Woods
The directorial debut of Joaquin Valdes starring Marc Abaya has beautiful visuals and great acting, says our SPOT.ph blogger.
Joaquin Pedro Valdes is 26 and it shows in his filmmaking. His first full length feature Dagim brims with youthful energy: it's brash, stylish, and a bit disjointed almost like a music video. The story of two brothers Jun (Martin del Rosario) and Diego (Samuel Quintana) whose father goes missing, Dagim traces their descent into the heart of darkness-or up the mountain and into the forest of Panimdim. Lured by the beautiful and mysterious girl Lila (Rita Iringan), Jun and Diego are led into the lair of Pido (Marc Abaya) and his brothers, a bunch of Lost Boys who live like savages, getting  high on pot and wrestling in the mud. Jun is seduced by this strange brotherhood-like Lord of the Flies but instead of an island, a foggy and hellish tropical forest reminiscent of Apocalypse Now. But Diego knows better: he can feel things lurking in the forest, and he wants to go home. The charismatic Pido takes Diego under his wing and soon it is Jun who wants to escape and Diego who becomes increasingly savage.



Dagim is an ambitious retelling of the aswang story, a deconstruction that deviates from the traditional there's-a-mananaggal-at-my-window scenario. I love Marc Abaya's Pido, a psychotically charming very macho male coven leader-instead of the usual aswang cliché: beautiful woman by day, aswang by night. (By the way, congratulations to Marc for winning Best Supporting Actor for his role in Dagim.) The film feels contemporary in everything from cinematography, editing (Dagim won the Best Editing award too), and musical score. (The banging soundtrack by Ado Ortiz is awesome.) The visuals are dizzyingly beautiful, shot by Japanese cinematographer Takeyuki Onishi. The cinematography does justice to the production design by Leeroy New, brilliant, dark and disgusting-exactly Leeroy's style.
ADVERTISEMENT - CONTINUE READING BELOW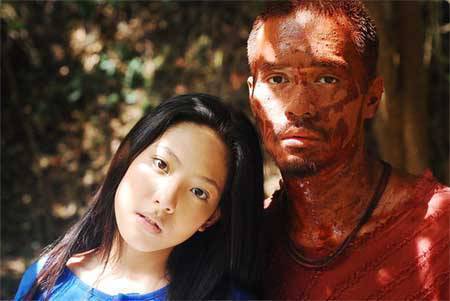 CONTINUE READING BELOW
Recommended Videos
Marc Abaya and former child pop star Rita Iringan play Pido and Lila in Joaquin Pedro Valdes' first full feature Dagim
Indeed, when I'm faced with all this taste and talent, watching all the blood and gore (and pretty good prosthetics) isn't such a chore.

Joaquin Valdes shows promise and I am looking forward to his work.

***

Catch the HD screening of Dagim! Cinema One Originals festival at the Shang Cineplex on November 16, 8 p.m.
Photographs from the Facebook page of Dagim
Share this story with your friends!
---
Help us make Spot.ph better!
Take the short survey
Load More Stories