Top 10 Bibingka in Metro Manila
It's bibingka season! Here, our top picks for the prized Pinoy delicacy.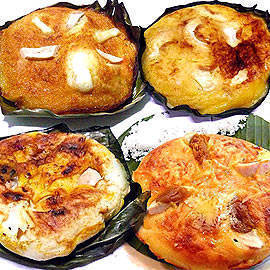 Bibingka may be available year round these days but it reclaims its special significance when December rolls in. Stalls serving the traditional Filipino rice cake during the Christmas season have become a part of the tableau during the traditional nine-day dawn masses. Clay ovens warm up the cold early mornings as families crowd the stalls for their share of this delicacy (and its partner, the purple-hued puto bumbong) after the mass.
Made from a batter of galapong (glutinous ground rice), eggs, sugar and coconut milk, the bibingka is placed on a banana leaf-lined pan and baked in a clay oven with coals underneath and on top of a metal cover. The bibingka is topped with kesong puti (native white cheese), itlog na maalat (salted duck's eggs), butter, and sugar depending on the recipe of the cook and it's served with grated coconut.
The name "bibingka" is similar to the Indian dessert bebinca from the state of Goa. The latter is made with flour, coconut milk, sugar, egg yolks, ghee or clarified butter and almonds. Aside from Goa, the bebinca is also common in Macau and East Timor, all of which, like Goa, were Portuguese colonies. Aside from the name, both cakes are similarly cooked with heat on top and bottom. But unlike the Philippine bibingka, the Goan bebinca is a layered dessert wherein each layer must be cooked first before the next one is added (like the way we cook our sapin-sapin). Their bebinca is made with flour instead of glutinous rice though a nineteenth century Indian cookbook lists rice flour as an ingredient.
ADVERTISEMENT - CONTINUE READING BELOW
In The Oxford Companion to Food which mentions the cuisine of Goa, Alan Davidson remarks that food accounts from Goa always mention bebinca but without direct connection to the Filipino bibingka. Historian Rachel Laudan traces the trail of the bibingka to Goa but in the above Indian cookbook it's called "Bibinca dosee, or Portuguese Cocoanut Pudding." I suspect that the common denominator is the Portuguese influence and each country added its own take on it.
Still, we cannot discount the fact that like our biko, the term bibingka may also be Chinese in origin. Anthropologist E. Arsenio Manuel, as mentioned in The Governor General's Kitchen, relates the rice cake's name to its root word "bi," which in Romanized Mandarin (Pinyin) means "unripe grain."   Bibingka is also used in naming other rice cakes such as bibingkang cassava and bibingkang malagkit.
CONTINUE READING BELOW
Recommended Videos
A good bibingka is one that is fragrant with the scent of banana leaves and rice, tender but firm and moist, fluffy and "maumbok" or "matambok." The flavor is a harmony of sweet (sugar, butter) and savory (salted eggs and kesong puti), like a choir singing a Christmas carol. To some, the little burnt edges complete the bibingka experience.
Here are some of the best places where you can satisfy your bibingka craving in Metro Manila.
10. Lourdes Church
Corner of Kanlaon St. and N.S. Amoranto Ave. (formerly Retiro), Sta. Mesa Heights, Quezon City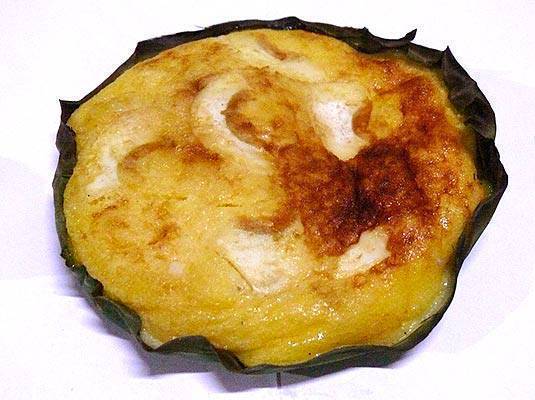 ADVERTISEMENT - CONTINUE READING BELOW
On the side of Lourdes Church in Retiro is a row of bibingka stalls. About six bibingkahans await parishioners with their delicacies, each with their own recipe. Some of them may be mediocre, flat, and enlivened with yellow food coloring, so your best bet is to look around first before settling on a stall. All stalls sell their goods at P35. The ones I tried were made at Marlon's toward the end of the row-salted egg slices were neatly strewn on top while the rice dough is tastier and just sweet enough compared to Yolly's (recommended to me by a tout) which was almost like a bland pancake.
9. Sweet Tomato Grill
G/F St Luke's Medical Center, #279 E. Rodriguez Sr. Ave., Baranggay Kalusugan, Quezon City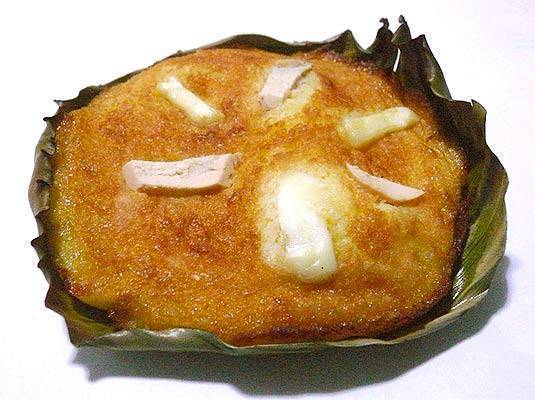 The Bibingka Deliciosa (P130) at St. Luke's Sweet Tomato Grill is best for those with a super sweet tooth. With an even golden brown on top and a positively moist texture, the taste reminds me of a cassava bibingka. But for the price and name, I wish there were more kesong puti and salted eggs than the six strands sprawled on top.
ADVERTISEMENT - CONTINUE READING BELOW
8. Bahay Bibingka
G/F Robinsons Place Manila, Ermita, Manila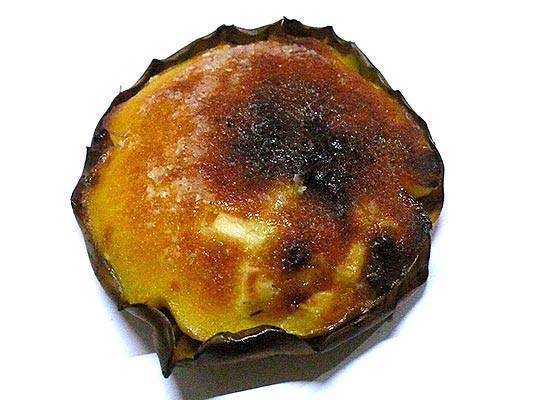 Bahay Bibingka is originally from a bibingka maker in Lipa City, Batangas founded in 1901. Their version is a choice of kesong puti or itlog na pula (both at P39 for a cake 3.5" in diameter). It is best to snack on this bibingka while in the premises (or at least within 30 minutes) so the top-generously brushed with sugar-remains crunchy and the cake warm.
7. Ferino's
SM Mall Of Asia, 1st Level Central Business Park Bay Blvd. Bay City, Pasay City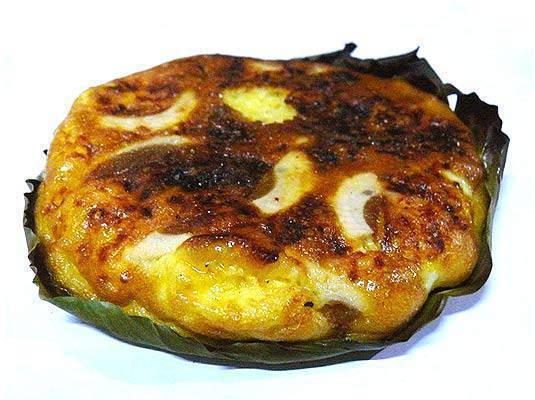 ADVERTISEMENT - CONTINUE READING BELOW
A seasoned staple in the bibingka scene, Ferino's has a number of branches all over the metro though most stalls sell only one or two varieties. Originating from the recipe of Mang Ceferino and his wife Aling Tinay Francisco, the brand started in 1938 in Tondo, Manila. My favorite branch is the one at Gilmore where the bibingka resembles a fluffy pancake with a soft, moist texture and just the right sweetness. The menu at this outlet offers the basic Bibingka Special (one fresh egg is mixed into the galapong, butter and sugar). But if you want to make it fancier with the addition of more eggs or toppings of white cheese and salted eggs, Ferino's has assembled a lesson on superlatives by naming these extra-special variations "super," "king," "extra super," and "extra king."
6. Waray-Waray Bibingkahan
Market! Market! Fort Bonifacio Global City, Taguig (across J&C Fruit Stand)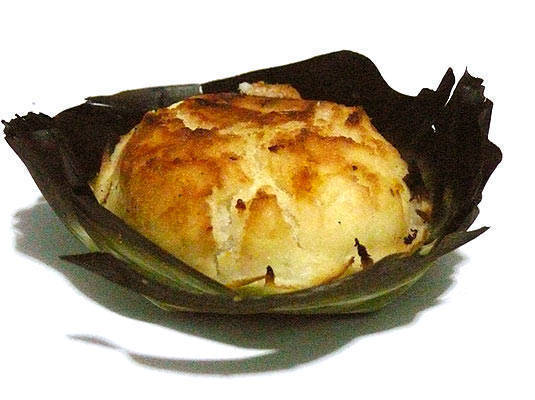 The deceptively plain-looking Waray-Waray bibingka with salted egg (P21, 3" in diameter) at Market! Market! is surprisingly good. The cake is moist, translucent and as pale as a puto. Still, its taste and scent are truly bibingka-from the burnt leaf to the rice. This no frills bibingka is compact enough for a quick, satisfying snack. Should you decide to bring it home, it still tastes great after two hours in transit. The clear, sweet flavor of the rice is emphasized in this bibingka with no butter or sugar to compete or add richness.
ADVERTISEMENT - CONTINUE READING BELOW
5. Juanchito's
G/F A. Francisco Realty Bldg., No. 83 Katipunan Road, White Plains, Quezon City
Tel. 439-8877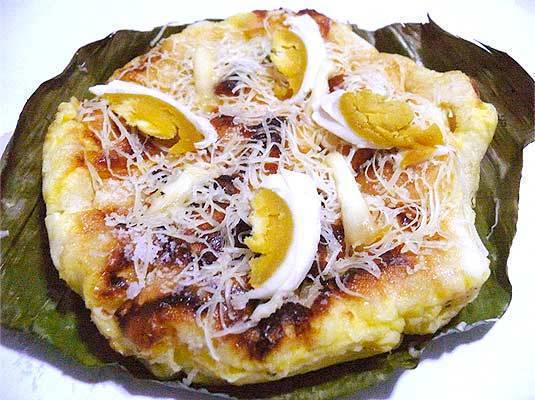 Unlike the traditional clay oven and coals, the Juanchito's bibingka is pugon-baked, like pan de sal, so the texture is firm and fluffy, almost cake-like, and a little bit dry.  Margarine and grated cheddar cheese add a rustic charm to this cake and makes it smell good as well. Their basic bibingka is called Super Star (P95) with salted eggs, grated cheese and niyog while the Super King (P105, pictured) has all the works plus small slices of white cheese. The old location of Juanchito's used to be along U.N. Avenue in Manila.

4. Andok's Litson Manok
1331 MH del Pilar St., Ermita, Manila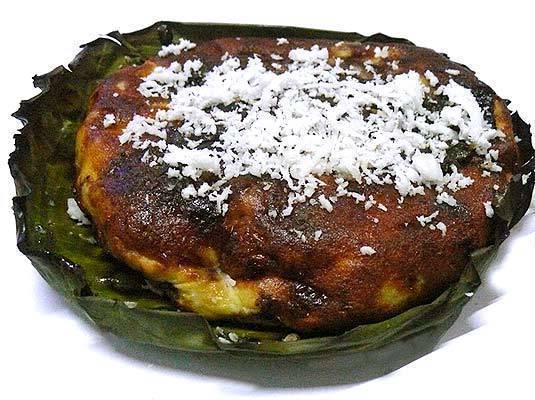 ADVERTISEMENT - CONTINUE READING BELOW
Andok's bibingka was a real surprise. It wasn't love at first sight-the top was too burnt looking from being reheated in the oven. Perhaps it was also because the top was brushed with butter, sprinkled with white sugar and tossed with a bit of muscovado sugar which darkened it some more. But when I took this fluffy, fragrant find home, I was rewarded with a moist and chewy rice cake with interesting folded layers and a very generous sprinkling of salted duck egg slices within the batter. I love how the salt and the sweet brought out the best in this bibingka. Best value for money at P49 for a 6" diameter cake. The Andok's bibingka seems to be available only at branches with a dining area.
3. Mangan
G/F Pedro Gil Wing, Robinson's Place Manila, Pedro Gil St., Ermita, Manila
Tel. 400-4784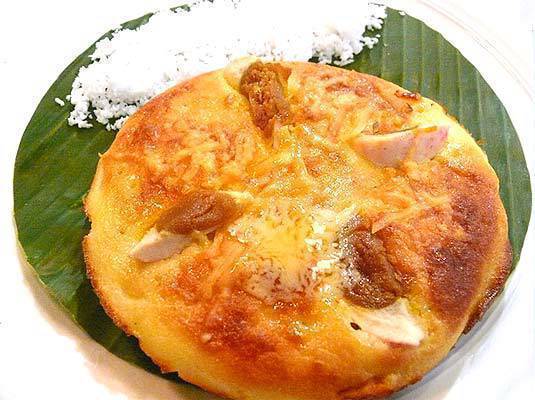 The bibingka at Mangan (P100) has a beautiful golden brown top and a dollop of butter in the middle which melts quickly as you attempt to take a photograph.  Since it's a restaurant-style, perfectly-molded bibingka, there were no burnt edges or banana leaf clinging at the bottom. The taste and sweetness are as delicate as it looks. The texture is smooth, soft and creamy. Compared to the tangy white cheese, I chose grated queso de bola as a topping which when baked, forms a deliciously salty lattice work on top.
ADVERTISEMENT - CONTINUE READING BELOW
2. Felymar Special Bibingka
1830 Rizal Avenue, Sta. Cruz, Manila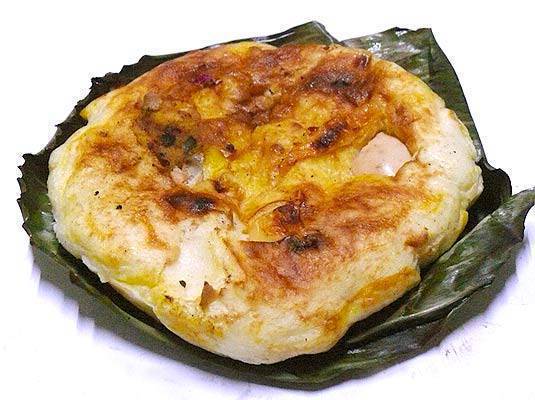 Felymar's bibingkas are known to sell like hotcakes, partly because they are served piping hot and are cooked while you wait. The cooked bibingkas are kept in a Styrofoam icebox and dispensed with precision just as soon as you make your choice out of the five variations available-from Special (P35) to Super Special (P70). Felymar builds on the cake's rice flavor, tasting almost delightfully like a puto with the addition of margarine and regular cheese. Still, the piece de resistance lies at its inner core. In between the batter, the cook cracks open a fresh egg then pours another layer of batter. So when the whole bibingka is cooked, so does that egg. When you cut through the cake, the egg looks like it's suspended inside like a fossil in crystallized amber. There's a couple of wooden tables for dining in cowboy style if you have the time, can stand the heat, and don't mind the crowd.
ADVERTISEMENT - CONTINUE READING BELOW
Tip: The best and fastest way to get there is via the LRT. Get down at the Tayuman Station and in the direction going to Baclaran, traverse the carinderia row and watch out for the Felymar's signboard. It opens late in the afternoon (around 3pm onwards).
1. Cafe Via Mare
Landmark Department Store, Ayala Center, Makati; G/F Greenbelt 1, Paseo de Roxas St., Makati; Serendra Piazza, Taguig;  2/f Landmark Trinoma, Trinoma Mall, EDSA corner North Ave.
Tel. 817-9720 (Landmark); 893-2306 (Greenbelt 1); 856-5944 (Serendra)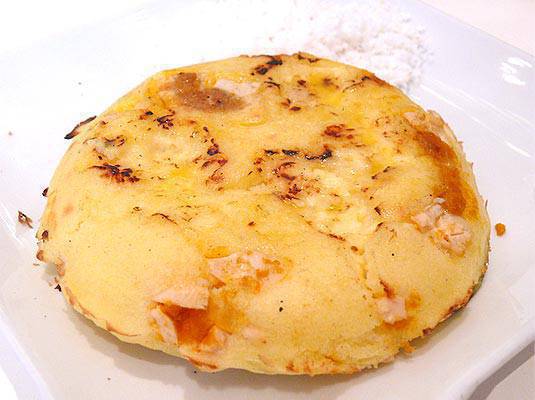 The Via Mare bibingka with Laguna cheese and salted duck egg (P115) is a favorite amongst the more refined bibingka variety. Craters of white cheese, egg slices and melting butter mark its pale top. Like the Mangan bibingka, the banana leaf has been thoughtfully removed so you don't have to slice through the leaf. The texture and flavor are delicate which again captures the nuances of good quality galapong. The Laguna cheese lends not only a chewy and milky character to the cake but also that mix of salt and tang characteristic of real kesong puti. There are burnt grill marks at the bottom of the cake which contributes much to the flavor of the bibingka. This is the bibingka to indulge in as thanksgiving and celebration of the coming holidays.
ADVERTISEMENT - CONTINUE READING BELOW
---
Help us make Spot.ph better!
Take the short survey
Load More Stories