Tweets of the Week: Liz Uy, Aubrey Miles, Kris Aquino + more
Liz Uy on love and goodbyes, Aubrey on her Twitter haters, Kris on independence, and more!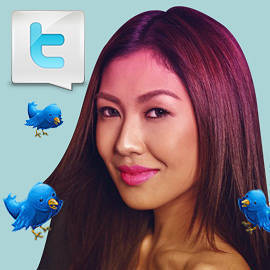 Liz Uy
Liz Uy, Presidential stylist:
- Excited for thanksgiving dinner tonight with friends! ♥ you, what are you thankful for?
- What you do defines who you are OR who you are defines what you do.
- Be yourself. Especially, do not feign affection. Neither be cynical about love; for in the face of all aridity and disenchantment...
- ...it is as perennial as the grass.
- This is our last goodbye,I hate to feel the love between us die,But it's over, Just hear this and then I'll go,You gave me more to live for
Aubrey Miles, actress and Survivor Philippines Celebrity Showdown finalist:
- Ang ASAR TALO...
- sa twitter boring pag walang kontrabida kaya i won't block my haters.go lang ng go..parang survivor lang yan
- Is just happy to be where I am.no complains no hang ups basta happy ang buhay at may libre pang papa Troy why not!!
Kris Aquino, TV host and actress:
- Learning a lot from being on my own. I thrive when I have my independence but I need the responsibility of caring for my 2 sons to keep me grounded. I love new challenges & I can now just relax & release when I see that some things & some people aren't for me. I've learned the hard way that life can be easy- it's just a matter of our choices.
Bianca Gonzalez, TV host:
-i hate this. north korea and south korea striking each other. NO TO WAR, please!
- i hate this. i guess christmas season traffic has officially begun. it is seriously driving everyone crazy!
- i have my ten lucky pick lotto tickets in hand! 600M is just insane! good luck to us all!!!! :)
- hmm.. i'm getting scared with how huge the lotto jackpot is! i hope no hocus pocus happens!
- happy thanksgiving!!!! not everything goes the way we want it to, but there is so, so, so much to be thankful for. ♥
- i'm with mariel right now!!!! after sooo long!!!! we just keep shouting and laughing!!!! sooo happy!!!! :)
- for those asking, mariel is doing great! she's very happy, she'll be back to work soon after a couple of meetings! she's super blooming! :)
ADVERTISEMENT - CONTINUE READING BELOW
KC Montero, TV host:
- Dont play with you meat #soundsdirtyonThanksgiving
- just spead the legs wide open and stuff it in. #soundsdirtyonThanksgiving
- how long will it take after you stick it in? #soundsdirtyonThanksgiving
- Its a little dry do you still want to eat it? #soundsdirtyonThanksgiving
- how long do I beat it before its ready? #soundsdirtyonThanksgiving
- tying the legs together keeps the inside moist. #soundsdirtyonThanksgiving
- I only eat legs or breasts #soundsdirtyonThanksgiving
- time for a little dark meat. #soundsdirtyonThanksgiving
- you put the whole thing in your mouth? #soundsdirtyonThanksgiving
- can you pour some gravy on my bird #soundsdirtyonThanksgiving
- look how big that bird is! #soundsdirtyonThanksgiving
CONTINUE READING BELOW
Recommended Videos
Rhian Ramos, actress:
- Random thought.. I hope some person who bought just one ticket wins the lotto.. It'd be nice to believe in fate
Ramon Bautista, comedian and filmmaker:
- nung monday tumaya ako sa lotto, maski isang number walang tumama e. Dahil kaya nanalo na ko ng stove sa xmas party namen dati?
- para mas appealing sa kalalakihan, tawagin nalang nila ang facial na pa tune-up ng muka
- "Surely you cant be serious?" sumagot sya "I am serious. And dont call me Shirley!" kaya pala trending si Leslie Nielsen :(
- being an action star in LA http://bit.ly/evSZLX thank you @JannelleSo :)
James Jimenez, Comelec Spokesperson:
- just when I realized I dint have any Korean friends, the Northeners pick a fight. I don't know how that wld be ironic, but it feels like it.
- Maybe I'll make friends with a korean here. The smoke suckers make the place look like an alien nursery tho. LOL http://plixi.com/p/58826378
- no one really wants a war. and even the belligerent ones are counting on the "good" guys to step away from the brink if it comes to that.
- bullies know they can get away with all sorts of crap coz the good guys are bound by their self-appointed rules of conduct not to push back.
- i feel like the clash between theists and atheists is (a) escalating and (b) apparently ignoring theist faiths other than christianity.
- I used to have trouble differentiating steve martin from #LeslieNielsen. No it's easier. One's dead, the other isn't.
ADVERTISEMENT - CONTINUE READING BELOW
Carlos Celdran, performance artist and Manila tour guide:
- is more of a Rizal dude than a Bonifacian but nevertheless, HAPPY BIRTHDAY Andy! Read up on his life here. http://fb.me/PteZcgpU
- thinks Manila must be perhaps the most romantic city in the world. It seems everyone on the street is pregnant.
Atom Araullo, TV reporter:
- Wala paring panalo sa lotto? Sige na nga, tataya na ako nang matapos na.
- Salamat sa mga nagtweet, di ko na kayo maisa-isa. I had a great time in UKG, but now i shall have a better time sleeping in on weekdays :-D
- How can a budget cut not be a budget cut? Di ba pag binawasan ang state subsidy ng SUCs cut ang tawag don? Odd logic from some senators
- Sad day for comedy RT @nytimes: Leslie Nielsen, Actor, Dies at 84 http://nyti.ms/gPwYvH
Quark Henares, singer and filmmaker:
- you know, now that the LOTTO pot's the highest it's been ever, i'm starting to believe the rumors that GMA used to steal from the LOTTO.
- Ok I'm watching ely buendia and raimund marasigan do saturn return onstage.I did not expect to see such perfection today.
Artwork by Warren Espejo. Photo courtesy of Liz Uy.

Share this story with your friends!
---
Help us make Spot.ph better!
Take the short survey
Load More Stories