10 Movies to Watch This Month
<em>The Next Three Days</em> starring Russell Crowe and Elizabeth Banks, the third <em>Narnia</em> installment, and highly anticipated Metro Manila Film Fest entry <em>Rosario</em> all hit the big screen this month.
What movies will hit the big screen this month? SPOT.ph lists 10 flicks to watch for. (Opening dates subject to change without prior notice.)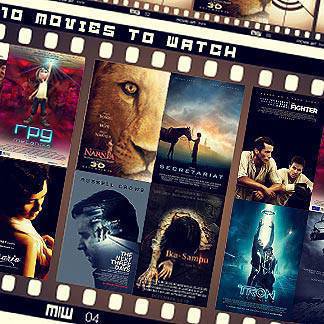 1.    The Next Three Days
Genre: Drama, Crime, Romance
Running time: 122 min.
Director: Paul Haggis
Writers: Paul Haggis, (screenplay), Fred Cavayé (screenplay), and Guillaume Lemans (screenplay)
Stars: Russel Crowe, Brian Dennehy, Elizabeth Banks, Jason Beghe, Liam Neeson, and Olivia Wilde
Synopsis: The happy life of married couple John (Russell Crowe) and Lara (Elizabeth Banks) turns upside down when Lara is accused of murder and goes to prison.  Three years into Lara's sentence, John tries everything to prove his wife's innocence and to keep his family together. After their appeal is denied, Lara becomes suicidal while John decides that the only solution is to break his wife out of jail.
Opens on: December 1

2.    Secretariat
Genre: Drama
Running time: 123 min.
Director: Randall Wallace
Writers: Mike Rich, William Nack (novel)
Stars: Diana Lane and John Malkovich
Synopsis: The film is based on the novel Secretariat: The Making of a Champion By William Nack. Secretariat tells the story of the 1973 Triple Crown winner, housewife, and mother Penny Chenery (Diane Lane). She agrees to take over her father's Virginia-based Meadow Stables even though she lacks horse-racing knowledge. Chenery manages to make her way into the male-dominated world of horse-racing with the help of veteran trainer Lucien Laurin (John Malkovich).
Opens on: December 1

ADVERTISEMENT - CONTINUE READING BELOW
3.   Ika-Sampu
Genre: Horror, Suspense
Running time:Not available
Director: Macky Derpo
Writers: Andy Andico, Macky Derpo, and Marie Labuga
Stars: Eddie Garcia and Boots Anson-Roa
Synopsis: Ika--Sampu tells the story of Nicole de la Vega, a descendant of a rich hispanic family that lived in the Philippines in the 1800s, who decides to go after a mansion that she says she inherited. This mansion, rumored to house a hidden treasure, has been in her dreams for nine years. And as time passes, her dreams become more and more grotesque.
Opens on: December 1

4.    Monsters
Genre: Drama, Sci-Fi, Thriller
Running time: 94 min.
Director: Gareth Edwards
Writer: Gareth Edwards
Stars: Scoot McNairy and Whitney Able
Synopsis: Six years after an alien invasion causes a new life form to appear in the U.S. and in Mexico, a journalist (Scoot McNairy) decides to escort his boss' daugther (Whitney Able) out of an infected zone in Mexico to the safety of the U.S. border.
Opens on: December 1

5.    The Chronicles of Narnia: The Voyage of the Dawn Treader
Genre: Fantasy, Adventure
Running time: 115 min.
Director: Michael Apted
Writers: Christopher Markus (screenplay), Stephen McFeely (screenplay), Michael Petroni (screenplay), and C.S. Lewis (novel)
Stars: Ben Barnes, Skandar Keynes, Georgie Henley, and Will Poulter   
Synopsis: Lucy (Georgie Henley) and Edmund Pevensie (Skandar Keynes) go back  to Narnia with their cousin Eustace (Will Poulter). There, they meet Prince Caspian (Ben Barnes) and travel across the sea aboard the royal ship Dawn Treader. Along the way, they encounter dragons, dwarves, merfolk, and a group of lost warriors.
Opens on: December 3

ADVERTISEMENT - CONTINUE READING BELOW
6.    Frozen
Genre: Drama, Thriller
Running time: 93 min.
Director: Adam Green
Writer: Adam Green
Stars: Shawn Ashmore, Emma Bell, and Kevin Zegers
Synopsis: Three snowboarders are stranded on a chairlift on their last run. As the night approaches, they realize that they have been left hanging high above the ground with no way to go down. The trio start to suffer from frosbite and hypothermia and seek desperate measures to survive.
Opens on: December 15

7.    Tron Legacy
Genre: Sci-Fi, Action
Running time: 127 min.
Director: Joseph Kosinski
Writers: Edward Kitsis (screenplay and story), Adam Horowitz (screenplay and story), Brian Klugman (story), and Lee Sternthal (story)
Stars: Jeff Bridges, Garrett Hedlund, Bruce Boxleitner, Olivia Wilde, Michael Sheen, and James Frain
Synopsis: Sam Flynn (Garrett Hedlund), a rebellious 27-year-old, is haunted by the mysterious disappearance of his father Kevin Flynn (Jeff Bridges), a man once known as the world's leading videogame developer. When Sam investigates a strange signal sent from the abandoned Flynn's Arcade--one that could have come only from his father--he finds himself pulled into a world where Kevin has been trapped for 20 years. With the help of the fearless warrior Quorra (Olivia Wilde), the father and son embark on a life-or-death journey across a visually-stunning digital universe created by Kevin himself, which has become far more advanced with never-before-imagined vehicles, weapons, and landscapes and a ruthless villain who will stop at nothing to prevent their escape.
Opens on: December 17

ADVERTISEMENT - CONTINUE READING BELOW
8.    Rosario
Genre: Drama, Romance
Running time: Not available
Director: Albert Martinez
Writer: Elmer Gatchalian
Stars: Jennylyn Mercado, Dennis Trillo, Sid Lucero, Yul Servo, and Isabel Oli
Synopsis: The film tells the story of Rosario, a young and liberated woman in the 1920s who has just arrived from New York. While spending her vacation at their hacienda, she meets and falls in love with Vicente, an older man who manages the tobacco plantation owned by Rosario's family. When Rosario's father finds out about his daughter's affair, he sends her to a convent. Rosario manages to escape and elopes with Vicente to Manila where they start a family. Her life starts to crumble when Vicente becomes ill with tuberculosis and she is lured to commit adultery.
Opens on: December25

9.    RPG Metanoia
Genre: Animation, Adventure, Family Drama
Running time: Not available
Director: Louie Suarez
Writer: Louie Suarez
Stars (voices): Zaijian Jaranilla, Mika Dela Cruz, Aga Muhlach, Eugene Domingo, and Vhong Navarro
Synopsis: The film tells the story of Nico, a shy and timid boy who finds courage and affirmation during his afternoon online gaming sessions. It is in the virtual world called Metanoia that Nico gets to play a hero, thanks to his avatar Zero, a vagabond traveler.
Opens on: December 25

10.    The Fighter
Genre: Drama
Running time: 115 min.
Director: David O. Russell
Writers: Scott Silver, Paul Tamasy, and Eric Johnson
Stars: Mark Wahlberg, Christian Bale, and Amy Adams
Synopsis: The Fighter tells the story of boxer "Irish" Micky Ward's early years in the ring and his brother's role in training him for professional boxing in the mid 1980s.
Opens on: Opening date to be announced

ADVERTISEMENT - CONTINUE READING BELOW
Artwork by Warren Espejo.
Load More Stories