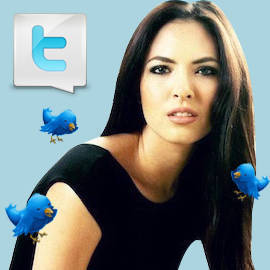 Maggie Wilson
Maggie Wilson, beauty queen and actress, on her pre-nup video, which now has over 75,000 views
- RT  @jasonmagbanua Hot! http://fb.me/vinK5eyI
- Thank you to THE JASON MAGBANUA and THE XENG ZULUETA RT @jasonmagbanua: 20k views in two days. Nice! Vimeo.com/17231058
- My fiancée is the sweetest... He made me deconstructed lasagna for my 3am snack!! Yum!! :)
- Damn, really?!! Awesome! RT @xengzulueta: @jasonmagbanua @nosliweiggam @vconsunji our 'lil home made video has reached 44k views I hear! ☺
- Just got my PRE-NUP photos by Doc Marlon.... Oh boy!!! Hahahaha!!
- All credits go to our fabulous producer @xengzulueta and our amazing director @jasonmagbanua for our PRE-NUP video! :) awesome wedding gift!
Solenn Heussaff, model, VJ and Survivor Philippines Celebrity Showdown finalist, on her new contracts and the Survivor finale:
- Almost done with work at sofitel then off to sign a contract in tomas morato . I am also now part of the MCA universal family! :)
- off to V taping then going to sign to officially be a kapuso ;)
- My color is yellow :) I think I have a good feeling of who might win....well see later if I'm right. Good day evryone!
- Backstage Waiting for technical rehearsals to start! http://twitpic.com/3ccprp
- thank you so much Solenistas for the support and being there last night and for the presents ;)
- for those asking: Elma,Jon,Aira voted for aki to win, Aubrey and Moi voted for Ervick, and Michelle and Ahron voted for me.
ADVERTISEMENT - CONTINUE READING BELOW
Aubrey Miles, actress and Survivor Philippines Celebrity Showdown jury member:
- Is excited for Tom.if I'm out I'm out but I know I played the game.win or lose I know I deserve to be where I am now.dream come true,tnx
- Thank you guys so much for the support..I guess they are not ready for a player like me,what can I do.move one move on,not meant for me hehe
- bitterness move on move on..go away go away come again another day hahaha
- ayoko gumising bukas ng umaga na ibinigay ko ang titulo ng 1st pinoy celeb sole survivor sa alam kong may mas deserving pa.no regrets.
- Sa mga Hindi maka get over sa survivor ,try ur best to move on.Kung Kaya ko Kaya mo din.chikahan at good vibes nalang il tweet u back pa
Bianca Gonzalez, TV host:
- this time last year, toni, mariel, luis, and i were in the thick of planning our weekly secret kris kringle! aaw, i miss our weekly bonding.
Lea Salonga, theater actress and singer:
- Just found out that The Scottsboro Boys will be closing on Dec. 12. WHAT THE F*CK IS WRONG WITH BROADWAY? A SHOW LIKE THAT SHOULDN'T CLOSE!
- @tellyleung I blame mass media and shortening attention spans. Not to mention lack of arts support in the US. Come to Asia instead.
Veejay Floresca, designer:
- Done fitting with the Song Bird Ms Regine Velasquez! Grabe!! She's soooo blooming! ☺
- Haaay!! I love Regine Velasquez! She's super nice and humble! ♥ such a pleasure working with her! ♥
- I got a sneak preview of Ms Regine Velasquez wedding gown and all I can say is I'm excited to see her walk the aisle! ☺ I'm a fan! ☺
- Maria Venus Raj 22 Philippines wearing Floresca ☺ Nude body con jersey dress. ☺ http://twitpic.com/3d63o4
- Just want to share the good news. Last night I was informed that I was nominated for an award. Ang saya! Win or lose, happy pa rin ako! ☺
CONTINUE READING BELOW
Recommended Videos
Carlos Celdran, performance artist and activist, on the Gay Pride Parade 2010:
- is off to Quezon City to march for tolerance.
- just won MR. PRIDE 2010 at One Love In Quezon City. Wild!!
- is giving you shots of today's Pride March. One Love 2010 in Quezon City. It was "fabulous" to say the least. The biggest in it's history in the Philippines apparently. http://fb.me/FgIwsPIK
- was reading many messages at One Love today. Some strong, some subtle, some political, and some pretty hilarious. So glad the QC government is so progressive as to sponsor this LGBT rally. The coordination with local government is commendable. http://fb.me/Km1K3ndZ
- is saying this now. Quezon City is now the bar to beat. QC Cool. I wish all local governments can take note from this progressive part of Metro Manila. Check out this photo of my FB friend Chris. Condoms for all. Amen. http://fb.me/MWIiPctZ
- had fun with the haters. We should make a collection of these shots. Apparently, there were less Christian fundamentalist haters this year spewing venom at One Love 2010. God bless them. Felt kind of bad for them actually. One girl looked TRULY frightened. http://fb.me/yLwFjOmw
- loves the lesbians. Sigh. http://fb.me/PL0XgLzO
- sees that being queer can be a bug. Literally. It was especially heartening when Mayor Herbert "Bistek" Bautista (the former um.. Urkel? of the Philippines) talked about the alarming rise in HIV infections and acknowledged the need to address these issues. Go QC Go. http://fb.me/CSUBNooG
- s giving a final shot from One Love. Pride March 2010 in QC. Well done, everyone. It was a hoot. And thanks for making me win MR. PRIDE 2010! It's an absolute honor. (fans my face with my hand). http://fb.me/LLQ2W9kN
ADVERTISEMENT - CONTINUE READING BELOW
Jim Paredes, singer and songwriter, gives his predictions for 2011:
- Pediction 2011--A baby will be conceived via wi-fi. There will be paternity issues because no password was used.
- Prediction 2011- Condoms will be made oversized in response to 'hip hop' users.
- Prediction 2011--Global Warming will cause the NPA to become the NPV--New People's Navy
- Prediction 2011--Kapamilya and kapuso will merge and become 'Kapusila' and take its aim on ABC 5.
- Prediction 2011--Panfilo Lacson will be arrested while hiding inside Marlyn Aguilar's basement.--JOKE!
- Prediction 2011--CBCP will finally allow condom use----as long as the tip is cut.
- Prediction 2011--Mayweather will FINALLY consent to fight with Paquiao--Dionesia Pacquiao that is.
- Prediction 2011--Glutathione will be so popular that our new slogan will be "Pilipinas Kay Puti". Binay will throw a fit!
Gabe Mercado, comedian:
- What's the big deal with NASA's discovery anyway? I've known quite a few women arsenic fueled women in my life.
- Just because magaling kang humirit, that doesn't mean you'll be good at improv.
- It's common knowledge that improv is a great training ground for solo comics.
- But it's also true that solo comics who have not had improv training often fare miserably when they try their hand at improv.
- While I love Improv Everywhere as much as anyone, what they do is meticulously scripted and prepared way in advance and not really improv.
Ramon Bautista, filmmaker and actor:
- panahon ng pagiisip ng mga panregalong gugustuhin ko pag di nagustuhan ng mga pagbibigyan
ADVERTISEMENT - CONTINUE READING BELOW
Artwork by Warren Espejo. Photo from Maggie Wilson's Twitter page.

Share this story with your friends!
---
Help us make Spot.ph better!
Take the short survey
Load More Stories