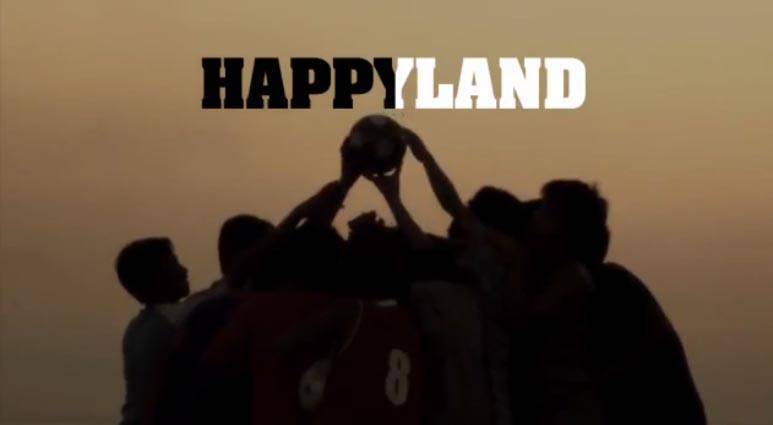 Jim Libiran's Happyland is the first full-length film on football in the country
Suddenly it seems like we care about football in the Philippines-especially after the Philippine football team made headlines by winning against Vietnam and Myanmar at the AFF Suzuki Cup this week. People are excitedly talking about "the state of Philippine football."  As the Azkals head to the semi-finals, there's a growing wave of support and enthusiasm for football in this basketball-obsessed country.  There is a lot of bad news out there but there's a joyful antidote in knowing that your team is winning-it's a nice high, isn't it?
I hope this newfound football fever will open our consciousness to what's going on in Tondo. They play football down there, too. In Jim Libiran's new film Happyland, an old Spanish priest (Father John Andreau) and a young coach (Peter Amores) teach kids football to keep them out of trouble. Ismail (Mo Ibrahim) is a good Muslim boy, student, local basketball star, and hauler of coal. Ramil (Joseph Anthony Cerdeña) is a petty thief who spends his days snatching bags and cell phones on the streets of Manila. Along with a bunch of other boys--tough kids who sniff glue to forget their hunger pangs--on the field they forget their miserable lives and play their hearts out. They learn team spirit, cooperation, and discipline even if they play without shoes and run amongst the discarded bed springs and abandoned tires. Libiran, a Tondo boy himself, brings us to the heart of his old hood. He calls it "Tondo in high def:" his visually exciting version of the city's largest and oldest slum area, home to the urban poor, beautiful sunsets, gangsters, rappers, and now the future football stars of the Philippines.
ADVERTISEMENT - CONTINUE READING BELOW
Watch the trailer
Jim Libiran is an irrepressible story teller and his enthusiasm for this film is contagious. I sat down with him one afternoon and his great kwento about how he made Happyland, laced with laughter and many expletives, is an amazing story. "I get this energy from the sense of ownership from the project," he says. "There has to be a dream," says Jim. When he heard about the barefoot football players of Tondo, he realized one thing: "We need a (football) school, a success story, and we need an inspiring film."
Along with producer Mitchelle Moreno, they assembled a production staff of talented young people in the independent movie scene (among them Trinka Lat who used a whimsical kind of upcycling for the production design of this film). Then Jim was faced with a question. "I had to ask myself-do I teach professional actors who to play football? Or do I teach football players to act professionally?" Because Jim likes to "use reality packaged as fiction" he began an acting camp for the Tondo boys and cast them in the film along with seasoned actors from theater.
"It's inspired by the theater of the oppressed," he says, referring to the movement of community theater spearheaded by PETA in the 1970s and 80s. Much of the story is directly from real life vignettes, and the games were shot unrehearsed with six Red digital cameras. Happyland was shot in nineteen days. Most of the funding came out of Jim's pocket and despite the tight funds, there was camaraderie and generosity on the set. "We had wheatgrass juice from a sponsor and halo-halo treats. The mood of the set will set the mood of the shoot," says Jim. This mood translates into a film imbued with Tondo's frenetic energy, but instead of poverty porn, it focuses on friendship, determination, and hope. After watching Happyland you believe that these boys have a future.
CONTINUE READING BELOW
Recommended Videos
And then in post production, part of the footage was lost and Jim Libiran found himself with no choice but to re-shoot. It was an expense he could barely afford. To date, he needs three million pesos to finish the film's post production. "I may be the only director asking for donations on Facebook," he jokes. Despite the setback, he knows that everything is an experiment and Libiran is willing to forge new paths. "We want to build the audience, encouraging them to become part of the film, go guerilla-a road tour!" says Jim. He plans to bring Happyland on a nation wide tour of schools to screen the film and teach football to the students. "We're developing the audience as we go along," he says. Using social networking and crowd funding, Jim Libiran hopes to raise enough to finish the film completely. The response is increasingly better and a supportive force gathers around Happyland.
The struggle continues, as it always does. But perhaps the growing popularity of football in the Philippines will contribute to the success of Happyland. If those kids-raised in the slums and destined for a life of destitution-are now athletes/actors, surely anything is possible. "Walk on water," is what Jim Libiran says.
***
You can be a part of it! You can help! Learn more from http://www.savehappyland.com. For more information, see http://www.facebook.com/HappylandMovie
***
On Saturday, catch SOFIA's December film in the "Overlooked Films, Underrated Filmmakers" series: "Gaano Kita Ka Mahal" directed by Butch Perez.  The screening is free. See you at the CCP Tanghalang Manuel Conde at 2 pm.
ADVERTISEMENT - CONTINUE READING BELOW
Photos from Happyland Facebook page.
Share this story with your friends!
---
Help us make Spot.ph better!
Take the short survey
Load More Stories