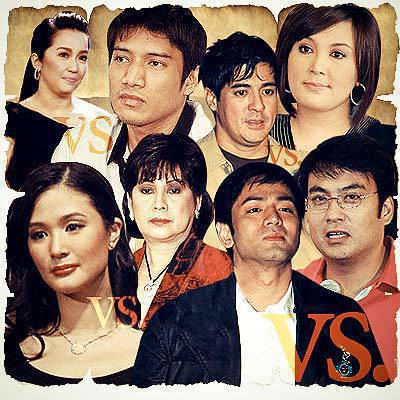 Mariel vs. Toni. Annabelle vs. Heart. Cristine vs. Sarah. 2010 was a big year for breakups--marriages, friendships, or otherwise--in the entertainment scene. For this list, we deemed that a tiff with a friend or a long-time partner outweighed a verbal skirmish with a non-relation, and based rankings on depth of the relationships that suffered, plus the degree of heated words exchanged, and if there were lawsuits (or the possibility of lawsuits) involved. In showbiz, as in real life, it's very difficult to get embroiled in a fight. One way to avoid it is-as this list will reveal-don't keep a Twitter account!
10. Annabelle Rama vs. Heart Evangelista
Skip to the 6:00 mark for Annabelle Rama's Chika Minute interview
Their Connection? As her manager, Annabelle was instrumental in reviving Heart's career after the young star's exodus from ABS-CBN. Annabelle brokered high-profile projects such as GMA soaps Full House, Asero, and Luna, plus the film Mano Po 6 which gave Heart an MMFF Best Supporting Actress trophy.
The Tiff-ing Point: Last October 21, Rama announced her disappointment with Heart who, in Annabelle's words, was "junking" her after only one-and-a- half years of partnership.
The Last Straw: In a Tweet posted the following day, Heart stood by the decision not to renew. "Contracts are meant to end and not renewing is something the other part is not happy about," she reasoned. Meanwhile, Rama said, "Masama ang loob ko sa kanya. Masamang-masama. Kumita talaga siya sa akin," Annabelle told the press. Heart's mother, Cecile Ongpauco, also issued a statement asserting that Heart has always been managed by her family.
ADVERTISEMENT - CONTINUE READING BELOW
The Word War: "Well, I'm sorry, Heart. Hindi ka sisikat. Diyan ka na lang," Rama said. In response to Cecile Ongpauco's Tweet, Annabelle Tweeted back on October 23: "I jus read d statement ng nanay ng trying hard(?) young actress. Sabi nya since nag-start ang anak nya sa showbiz sya na raw ang manager, kaya pala di sumikat 3yrs pakalat-kalat sa greenbelt, walang kumukuha as in patay na ang career, sinusuka na sa ABS(-CBN)."
In the End... it was Heart who apologized. She explained that she just wanted to follow her parents' wishes. Interviewed on QTV-11's "Tweetbiz" a month later, a teary-eyed Heart said, "I'm really, really sorry about this. I tried my best you know. I love my job and I'm thankful for everything... Hate na hate ko talaga ng away. Masaya akong tao, e."

9. Bong Revilla vs. Hayden Kho

Watch this Chika Minute video on the Bong vs Hayden feud
Their Connection? Unlike the other subjects in this list, Senator Bong Revilla and Dr. Hayden Kho were never friends.
The Tiff-ing Point: When Hayden's video scandal broke out in the middle of 2009, Senator Bong delivered a privilege speech and called for the revocation of Hayden's medical license which, upon the request of Katrina Halili from the Professional Regulation Commission, eventually happened.
The Last Straw: On the talk show "Paparazzi" Hayden described Senator Bong as "narrow-minded," - a trait that the senator admitted to in an official statement issued two days later. Bong said, "Makitid talaga ang isip ko pagdating sa tama o mali." The public official also took a jab at the former doctor's new endeavor by saying "No amount of perfume could ever take away the stench of (Hayden's) dirty deeds."
CONTINUE READING BELOW
Recommended Videos
The Word War: On November 17, the actor-senator called Hayden a "pervert of the highest kind" and "a predator who has no conscience" in his speech, while Kho tweeted: "Mr. Senator, when was the last time you looked in the mirror not to fix your hair and to put on makeup but to reflect? Does anyone here agree that Mr. Senator represents you and your ideals as a person and as a Filipino?"
In the End...The feud was revived last month when the Senator was asked to comment on Hayden's new perfume line.  The lawmaker replied that Filipinos "have such a short term memory... I just hope that at the end of the day, everybody gets what they deserve."  The Pasig Regional Trial Court has exonerated Hayden. On December 14, it dismissed Katrina Halili's complaint against the ex-doctor for lack of evidence.  


8. Kc Concepcion vs. Mariel Rodriguez vs. Toni Gonzaga
Watch Toni Gonzaga's interview on The Buzz

Their Connection? Toni Gonzaga and Mariel Rodriguez hosted Pinoy Big Brother from 2005 to 2009, and collaborated weekly on E-Live. In an interview with Manila Bulletin, Toni once described her friendship with Mariel as "tried and tested."
Meanwhile, Mariel was the fourth celebrity guest to appear on KC's (now defunct) daily morning show, Simply KC. Mariel told Boy Abunda on The Buzz in September 26, "I have no issue with KC at all... Ang galing n'ya... I respect her."
The Tiff-ing Point: According to Pinoy Parazzi, Toni supposedly learned from fellow ABS-CBN artist Anne Curtis that Mariel referred to the PBB host as "duling." When confronted by Toni, Mariel was said to have been tongue-tied.
ADVERTISEMENT - CONTINUE READING BELOW
Mariel's tiff with KC began when Rodriguez appeared on Concepcion's show and tabloids reported that Mariel was overheard talking negatively about KC. Rumor had it Mariel questioned why KC was given a solo talk show and implied that KC's "Megastar" mother may have had something to do with it. Still, other rumors cited that Mariel said that KC was imitating her hosting style.
Watch Mariel Rodriguez's tearful interview on The Buzz
The Last Straw: At the Kokey @ Ako presscon, Toni admitted that she wasn't speaking to Mariel.  The singer/actress/host refused to elaborate but said: "It's hard to pretend that I'm okay."
Meanwhile, KC said that Mariel's charges against her reached her through different informants. "Not just from one person," she emphasized.
Meanwhile, Mariel defended herself and said: "The truth shall prevail. Less talk, less mistakes." But Mariel's credibility had already been adversely affected, and it didn't help that her falling out with both Toni and KC were happening simultaneously.
Luis Manzano,Vice Ganda and other stars comment on the Mariel-Kc-Toni fight on The Buzz
The Word War: After Mariel declared to Boy Abunda on The Buzz that she loves Toni and she has never betrayed any friend, Toni remained unmoved.  A stoic Toni offered the following theory as to why these negative issues were happening simultaneously
In the End...The good news now is that Mariel and Toni have resumed communication. Recently, Toni happily revealed on E-Live that Mariel sent an SMS to congratulate her on the success of My Amnesia Girl. Toni said, "Oo, nagtetext-text na kami. Binati rin niya ako noong premiere night."
ADVERTISEMENT - CONTINUE READING BELOW
Meanwhile, on a recent telecast of E-Live, KC said it was time to let bygones be bygones, especially since KC and Mariel's common friend, Toni Gonzaga had earlier expressed readiness to reconcile with Mariel. KC said, "If (Mariel) is saying na wala siyang sinabi, then (it's) all good with me."


7.  Marian Rivera vs. Bela Padilla
Chika Minute documents the Marian-Bela reconciliation

Their Connection? In the soap opera Endless Love, Bela Padillla, 19, played Yumi, the fiancée of Johnny portrayed by Dingdong Dantes, and therefore the rival of Jenny which is portrayed by Marian Rivera, 26. Dingdong is Marian's ka-love team and real-life boyfriend.
The Tiff-ing Point: Rumors about Marian tormenting Bela came out a few months into the show, with GMA's prized star Marian allegedly pissed at neophyte actress Bela for pressing her breasts on Dingdong's chest every time there was a hug scene.
The Last Straw: Bela's manager Claire dela Fuente recounted what her distressed ward had confided on Juicy. Claire said that a jealous Marian allegedly cornered Bela inside a bathroom and said nasty things.
The Word War: Dela Fuente said, "Pinagduduro niya si Bela at sinabi na, 'Ang pangit-pangit mo. Ang tingin mo mai-insecure ako sa 'yo?... 'Ang landi-landi mo... Marami pang iba [na sinabi] actually," said Claire.

In the End...The feuding camps finally came face-to-face in a closed-door meeting arranged by GMA Network execs. It was GMA SVP Wilma Galvante who revealed that the matter had been settled. "Okay na sila pareho," Wilma told the press. "Professional naman silang dalawa."
ADVERTISEMENT - CONTINUE READING BELOW
But images taken by TV crews at the meeting were, uhm, telling. Upon entering the boardroom, Wilma had one arm each on Marian and Bela's waists like a mother trying to reconcile two fighting kids. The artists purposely avoided eye contact. The war may be over but it will remain deeply etched in Bela and Marian's memories.


6. Sharon Cuneta vs. Aga Muhlach
The Buzz on the Sharon-Aga feud
Their Connection? Sharon Cuneta and Aga Muhlach's first project together was 2003's Kung Ako Na Lang Sana, which received plenty of good reviews. Among the best things that came out of the movie was Sharon and Aga's friendly bond. Even after filming, they still called each by their screen alter egos "Ems" and "Enteng."
The Tiff-ing Point: A follow-up movie was supposed to happen soon after, but as the years passed and Aga kept making films with other leading ladies (i.e., Claudine Barretto, Angelica Panganiban, Anne Curtis), the Megastar supposedly developed "tampo" towards the actor.  As Philippine Star columnist Ricky Lo said in Startalk TX, Si Sharon, feeling niya nai-ignore siya ni Aga."
The Last Straw: Lo also revealed on Startalk TX and in his Funfare column that last August, Sharon had called Aga to invite him to watch her "MegaDrama" concert. The actor did not attend the concert but cheered Sharon on, saying "Basta galingan mo." When Sharon saw Aga and wife Charlene Gonzalez at the concert of Ai Ai delas Alas (Aga's co-star in the sitcom Malay Mo Ma-Develop) the singer-actress allegedly felt bad.
ADVERTISEMENT - CONTINUE READING BELOW
The Word War: Onstage at Ai Ai's concert, Sharon pretended not to know Aga when Ai Ai mentioned that he was in the audience. "Sino ' yon?" the actress said.  This incident recounted in Ricky Lo's November 22 column sparked discussion in and out of showbiz.
In the End...On November 27, Aga, a resident of Alabang, visited Sharon in her home in Pasig. That meeting went very well - a fact that was verified by Charlene and Sharon, herself. Sharon told the press during the launch of her new perfume line, "Basta nag-usap na kami (ni Aga). Ayos na kami." In a recent interview on TV Patrol Aga said, "I'm always willing to work with her and she knows that."


5. Gretchen Barretto vs. Angelica Panganiban
Angelica Panganiban explains her Tweets on The Buzz

Their Connection? Angelica Panganiban admitted on The Buzz that she and Gretchen Barretto did not know each other well.
The Tiff-ing Point: When Gretchen told SNN that she was sad that her Magkaribal co-star Derek Ramsay was going away on a vacation to South Africa, she said playfully, "Hihintayin ko 'yung mga kuwento niya. Pictures na lang! Hihintayin ko ang mga pictures niya. Solo picture ha."
The Last Straw: Addressing Derek, Gretchen said, "Gusto ko ikaw lang. Walang iba." Derek's travel companion was no other than his girlfriend, Angelica Panganiban.
The Word War: That night, Angelica posted two Tweets believed to be directed at Gretchen. One read, "Totoo nga.. Nakakaloka pala talaga. Oh well... Mukhang d ka masaya.. Goodnight.." and "Tarrrraaaayyy!!! Single ka teh? : )"
ADVERTISEMENT - CONTINUE READING BELOW
Asked to clarify, Angelica told The Buzz that she is letting the people decide whom she was addressing.  Angelica added she was willing to share vacation photos "Pero walang solo. Puro double," she said wryly.
Gretchen was as lighthearted as ever when The Buzz sought her for a follow-up interview. The 40-year old actress said her request was just a joke. Pressed to comment on being given pictures -"double" but not "solo" - Gretchen answered in mock seriousness, "Oh my God, how painful! I'm so depressed. Very ouchy talaga."
In the End...Angelica said sorry to Gretchen via a live interview with Boy Abunda on The Buzz two months later and Gretchen accepted her apology.  The two finally met on the set of Magkaribal in a meeting brokered by Derek. Angelica told SNN that she was impressed by Gretchen's vibrant personality. Gretchen, meanwhile, sent this SMS to the show: "Humility is what Angelica has taught me. I see Angelica's beauty inside and out."
Another happy ending to this story: former "magkaribal" Angelica and Gretchen will co-star in an ABS-CBN teleserye.   


4. Kris Aquino vs. James Yap
Kris Aquino on her break up with James Yap on The Buzz, Part 1
Their Connection? Queen of All Media Kris Aquino met PBA Most Valuable Player James Yap in early 2005 and they wed in July of the same year. Two years later, Kris gave birth to their son, James Aquino Yap.
The Tiff-ing Point: From 2005 to 2010, the couple weathered other storms, including conflicts over Kris' heavy work schedule (which prompted the cager to leave the conjugal home for a day), and James's supposed closeness with a basketball fan named Mayen Austria.
ADVERTISEMENT - CONTINUE READING BELOW
James, who was Kris' constant escort, was conspicuously absent at a charity event that Kris attended in Cebu. Days later, on the June 27 telecast of The Buzz Kris disclosed that after years of trying, she had given up on their marriage.
The Buzz documents the Kris Aquino-James Yap love story and break up
The Last Straw: In an interview with Boy Abunda in July, Kris hinted at the last straw that caused her to call it quits but remained vague about details. She only revealed that it happened on April 26. "I will forever keep between the two of us," she said. "May nasabi sya sa galit namin sa isa't isa siguro nung panahon na yun, na nasaktan talaga ko at yun ang nagpatunay sakin na this is not the man to be, and this is not the man I want to stay with because dinadamay na nya ang three years old na bata na dapat protektahan naming dalawa (Baby James)," she said.
On August 9, the actress-TV host filed for annulment. Her petition included depriving James of visitation rights to their son (denied), and reverting Baby James' last name to Aquino.  James' camp retorted with a request for a gag order to inhibit Kris from talking about the case in media (approved).
The Word War: In an interview with Boy Abunda, Kris addressed James: "Mom was so good to you. 'Wag mo nang idamay ang mom. Nakikiusap ako kasi nananahimik na ang Mom sa langit. And if you also love Mom, don't bring her into this."
ADVERTISEMENT - CONTINUE READING BELOW
In the End... Despite legal battles, Kris and James are not just talking again but have become friendly towards each other.  Case in point: when co-star Diether Ocampo was unavailable to shoot, Kris requested James to be actor's body double in the scene where she had to embrace Diether's character. James obliged.
Still, Kris rules out any possibility for reconciliation, but acknowledges that being friends with her ex is "a nice feeling." Asked on The Buzz if she would do anything differently, Kris' reply was quick and precise. "I wouldn't have allowed him to go to Belo. Doon talaga nagsimula!"

3. Cristine Reyes vs. Sarah Geronimo
Cristine Reyes attacks Sarah Geronimo on Twitter
Their Connection? Sexy actress Cristine Reyes and singer-actress Sarah Geronimo both co-host the Sunday variety show ASAP XV. Reyes' boyfriend, actor Rayver Cruz, was previously linked to Geronimo. He recently told The Buzz, "Totoo pong minahal ko si Sarah. Nirerespeto ko naman po ang desisyon ng mga magulang niya, at alam ko naman po talagang bawal pa. So, ako na lang din po mismo ang lumayo." ("I did love Sarah. But I respected the decision of her parents. I know she is not yet allowed (to enter a relationship, presumably). So I kept my distance.")
The Tiff-ing Point: Geronimo allegedly told actor John Prats after Cruz performed during an ASAP XV rehearsal earlier this month, "'Pag magaling sumayaw, habulin ng mga babaeng sexy (Men who dance well are sought after by sexy women)." Cruz later admitted that it was he who relayed what Geronimo said to Reyes, who vented on Twitter.
ADVERTISEMENT - CONTINUE READING BELOW
Sarah Geronimo reacts to rumors that her fans are mad at Rayver Cruz on The Buzz
The Last Straw: Reyes posted a series of hate Tweets on December 12, starting with "I AM SO PISSED RIGHT NOW!" She did not directly name Geronimo as the subject of her Tweets, instead repeatedly mentioning "Drama Princess" and "Idol." Geronimo last starred in the teleserye iDOL. Read Reyes' dozens of Tweets here.
The Word War: Some of Reyes' rabid Tweets:
- nakikipaghiwalay sayo Ikaw ang habol ng habol! Alam mo yan! Alam mo ang TOTOO!!! Sa microphone m pa sinabi para marinig lahat ng artista!
- wag na wag mong sasabihin na ako ang naghabol dahil alam nating lahat na Ikaw ang halos mamatay sa kakahabol! alam mo yan!
- pakabait ng image mo Hindi nila alam Grabe ka Lang umarte! Nagpapatanggal ka ng artista sa asap kasi Di mo kaya makasama! Arte mo!
- I'm so sure magddrama na naman yan. paawa effect. very talented. beat actress! Grand slam! mabuhay ka IDOL! bow ako sayo
In the End...Geronimo has kept mum all throughout this controversy but her handler Anna Dasig answered Reyes' tweet barrage on December 12. "nagbibiruan lang sila ni john pratts kanina..ewan ko kung bakit kailangan mong mag react ng over ng ganito? Relax ka lang! Alamin mo muna kung ano ang punot dulo bago ka magreact ng ganyan." ("Sarah and John Prats were just joking around. I don't know why you have to react this way. Relax! You should know the root of the issue before you act this way.")
ADVERTISEMENT - CONTINUE READING BELOW
Reyes refused to accept Dasig's explanation. Instead, the actress told the handler to rebuke Geronimo, not her.
Later, the Megastar Sharon Cuneta, who is friends with Geronimo, said she talked to Cruz. She declined to say exactly how their conversation went, saying, "Ang point lang ng buong conversation is, babae kasi si Sarah, 'yong sana may proteksiyon. (What it came down to was that Sarah is a woman; she should be given protection.)"

2. Claudine Baretto  vs. Angelica Panganiban
The Buzz dissects the Claudine-Angelica feud
Their Connection? Claudine Barretto and Angelica Panganiban, both homegrown stars of ABS-CBN were co-stars in the kiddie program Ang TV and the teleserye Iisa Pa Lamang. Claudine, 31, had told PEP that she treated Angelica, 23, like a younger sister. "Inalagaan ko 'yan since she was nine years old. She was there on my wedding. Imbitado siya sa binyag, we invite her to our house..."
The Tiff-ing Point: It wasn't likely that Angelica would be the unnamed traitor that Claudine angrily referred to in a series of 21 tweets posted from August 4-5. On August 25, Claudine disclosed to PEP that Angelica was spreading rumors about her having an affair with a certain Martin Castro - a common friend of her husband Raymart Santiago and Angelica's boyfriend Derek Ramsay. Claudine added that she was also not pleased to learn from friends that Angelica had badmouthed her sister Gretchen for giving Derek expensive gifts.  (However, by then, Angelica and Gretchen had become friends. See item no. 4.)
ADVERTISEMENT - CONTINUE READING BELOW
In the same interview, Claudine also told PEP that she was going to file charges against Angelica and was, in fact, choosing one among three lawyers to handle the case.
The Last Straw: On September 3, a final demand letter was sent to Claudine. Aside from ordering her to immediately stop making further false accusations and damaging remarks, the letter also revealed how Claudine verbally threatened Angelica with words straight out of a teleserye script:  "Papatayin kita. Wawasakin ko mukha mo. You don't deserve to live. Suntukan tayo ngayon na."
The Word War: Claudine Tweeted,  "Tweethearts ano b dapat gawin sa traydor na kaibigan na walang magawa sa buhay kundi siraan ako, asawa ko, kaibigan ko" "baka masunog pag pinag pray over!!! but i'll try!!! itago nalang natin sya sa pangalang -----!!!" and "Just pray that Karma will visit him/her anytime soon...)
In the End...Nothing was heard from either camp afterwards. Claudine's manager, Shirley Kuan, was reported to have initiated talks with Mr. M and Star Magic head Mariole Alberto. As if to finally put the issue to rest, Claudine's husband, Raymart Santiago, spoke up when Startalk TX chanced upon the couple at the wedding of actress Jenny Miller. Raymart said, "Matagal na... actually matagal na iyon kumbaga, sana tapos na."


1. Willie Revillame vs. ABS-CBN
24 Oras report on Willie's exit from ABS-CBN

Their Connection? Drummer/sidekick-turned-TV host Willie Revillame headlined ABS-CBN's noontime program Wowowee for 5 ½ years.

The Tiff-ing Point: During that time, Willie and the network went through several trials: the 2006 ULTRA stampede that claimed the lives of 71 people, 2007's Wilyonaryo controversy wherein the show was accused of deceiving contestants about their prize money, and, in 2009, Willie's on-air criticism about the station airing a live feed of former President Cory Aquino's wake during the show's "Igiling-giling" portion. The last incident led Willie to take a leave from Wowowee.
ADVERTISEMENT - CONTINUE READING BELOW
The Last Straw: On May 4, 2010, Willie was ready to sever ties with his Kapamilya. He threatened to resign if the network would not fire The Buzz host and DZMM commentator Jobert Sucaldito, whom Willie felt had been overly critical of Wowowee. About a week later, Willie, who had been absent from his hosting assignment, submitted a letter to his ABS-CBN bosses requesting to be released as a talent of the network.
The Word War: Willie said on air, "Tinitira ako sa diyaryo ng Jobert na 'yan. Tahimik lang ho ako... Nananawagan lang ako sa management ng ABS. Huwag n'yo naman pabayaan na tinitira 'yung show natin. Mamimili na kayo. Kapag 'yan hindi n'yo tinanggal, ako ang magre-resign dito sa Wowowee."
In the End...What followed was a series of talks between ABS-CBN and Willie's side to have the host return to a revamped Wowowee or to a new TV show. But these negotiations fell through.
By October 23, five months after his exit from ABS-CBN, Willie Revillame resurfaced on TV 5 with a new program entitled Willing Willie. It premiered and is still on air in spite of cases filed against ABS-CBN, which include a P468-million counterclaim damage suit against Willie for breach of contract and a P127-million copyright infringement case against Willie and his staff.
With Willie's passion and drive, we wouldn't be surprised if his battle with ABS-CBN will find its way to SPOT.ph's 2011 list of showbiz fights.


Share this story with your friends!
---
Help us make Spot.ph better!
Take the short survey
Load More Stories