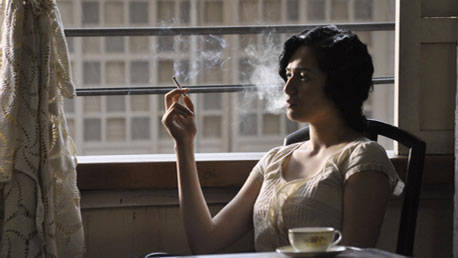 Jennylyn Mercardo stars as Rosario
Manny. Oh, Manny. I think of Eugene Domingo's Kimmy Go Dong Hae taking an important phone call, saying Manny, oh Manny. I love that Mr. Pangilinan threw his money at the ailing film industry to make a lavish period film dedicated to his lola, Rosario Herrera (not to be confused with the stylist) the first woman ever convicted of adultery on these adulterous islands. Sounds epic right? It is, kind of. I guess we all have an ancestor hanging out somewhere in the family tree whose life is biopic-worthy.
But not all of us have the power to make an expensive, glossy film about it. Directed by Albert Martinez and produced by Cinemabuhay and TV5, Rosario has been touted as a "groundbreaking film," which I'm not entirely sure about, but has certainly infused fresh capital and renewed interest in local movies. The numbers are in and it shows that a period drama like Rosario cannot compete at the box office with the inane comedy/fantasy/horror franchises which are churned out yearly by whoever makes them, but it has drawn the attention of an audience that would normally ignore a Pinoy movie. If people are taking about it and watching it-isn't that the real win?
ADVERTISEMENT - CONTINUE READING BELOW
Watch the trailer
Jennylyn Mercado plays the young mestiza beauty raised on a tobacco hacienda owned by her father (Phillip Salvador wearing a great big fake moustache, oye). Fresh from her trip to New York, Rosario is saucy and liberated, smoking cigarettes, and looking like a glamorous flapper girl even in broad day light. She seduces Vicente (Yul Servo), her father's trusted employee (they are found in the haystack, que horor). She gets sent off to a convent for her bad behavior, and flees the convent to elope with Vicente, who, years later, contracts tuberculosis and rejects her.
Yearning for love, Rosario begins an affair with a mechanic (Dennis Trillo, who is pitch perfect in this role) and then is caught by the miraculously cured Vicente who sues her for adultery. They are convicted and sent to exile in Hong Kong. She bears another son, Hesus, played by veteran actor Dolphy (who won Best Supporting Actor at the predictably controversial and ultimately ridiculous Metro Manila Film Festival for this role). Years later, the couple and their son return to Manila and live at an old boarding house where their marriage eventually falls apart. Abandoned and alone, Rosario's life is miserable as she craves forgiveness for all her sins. When salvation comes in the form of Carding (Sid Lucero), another man with another promise, Rosario decides to walk away from her adulterous lifestyle and raise her son in peace.
It's a full plot. So full in fact, that the movie is two hours long and could have certainly used fifteen minutes less of those ponderous fancy shots of Rosario smoking and long drawn out conversation scenes with acting from the School of Overacting. But that's the cannon, I guess. Anyway, the production design by Joey Luna (who also won an award at the MMFF) is so distractingly detailed and beautiful that you almost won't notice how long this movie is. Also, it's full of cameo appearances by Filipino actors of the 1980s (Lito Pimentel, Tonton Gutierrez, Bing Loyzaga, Rita Avila) that lends a very showbiz insider feel. Everything from cinematography to costumes to musical score is extravagant and polished-Rosario was obviously made in a Hollywood frame of mind. (Even with all the musical talent available here, did they have to outsource the music from a young Taiwanese composer who works out of Hollywood?)
CONTINUE READING BELOW
Recommended Videos
Cinema now is so much more than Hollywood, but the local audience is still very much oriented that way, which is just the way it is. Movies are generally made for entertainment and Rosario is quite entertaining. The actors pull off fine performances, especially the two young swains in Rosario's life: the seducer, Dennis Trillo (who looks like a good boy gone bad) and Sid Lucero's younger man, who is just perfect. Jennylyn Mercado shows promise in this role, although she doesn't quite fulfill that promise. Still, I look forward to her future work. Mr. Martinez, who is known for his work as an actor, deserves some recognition for pulling off a big budget period biopic. Maybe another film financed by Manny...
It all comes back to him, doesn't it? Rosario's story would have languished like a skeleton in a closet if not for Manny, Oh Manny.
P.S.
The beauty editor in me cannot help it: I was really noticing the makeup in this film. Apparently Laura Mercier (the brand, not the actual makeup artist Laura Mercier) did the makeup for Rosario. They got the super thin half moon eyebrows, pale face, smoky eyes, and red lips down pat. Although I really wonder why Ara Mina, playing a lady doctor, was made up to look like a silent film star as she calmly tells Yul Servo he has tuberculosis. Sorry, but I laughed.
Also, I was a bit distracted by Jennylyn's padded bra. The silhouette of the twenties was much less constrictive, they were coming out of the corsets-for-centuries phase and Coco Channel was pushing sportswear for women. Those flowing flapper dresses were meant to be worn bra-less. Oh well.
ADVERTISEMENT - CONTINUE READING BELOW
P.P.S.
Happy Holidaze everyone!
Click here to view movie schedules for Rosario.Photo from www.rosariomovie.com
Share this story with your friends!
---
Help us make Spot.ph better!
Take the short survey
Load More Stories