The Toilet Paper: Enough of This Sh*t
"Show me a filthy public restroom and I'll show you a society where discipline and order have broken down, says our SPOT.ph blogger.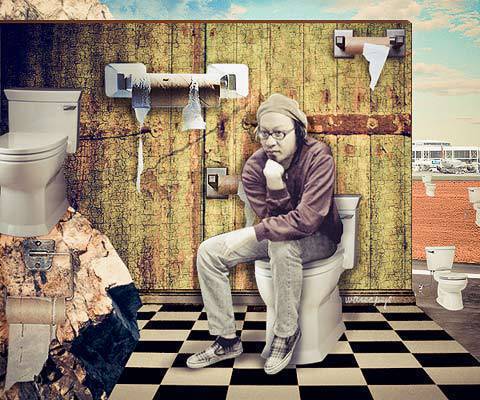 The public toilet-along with sidewalks, other public spaces and certain soap operas-is a metaphor for the state of a society. (Then again, I'm always saying that some thing or other is a metaphor for something). Show me a filthy public restroom and I'll show you a society where discipline and order have broken down.

The toilet is a reflection of the hygienic state of a household or an establishment. Especially for restaurants. A chef once said, "If this is how they treat their restroom, I'd hate to imagine what happens in the kitchen." Agreed, but I'd definitely make special exceptions for certain panciterias and tapsilogans where proximity to filth seems to be the secret ingredient. But for the most part, I'd think twice about returning to a resto where the bathroom is a scene straight out of CSI.

The only problem is that our society has come to the point that there's just too many of them. Those of us who have been sufficiently exposed to public restrooms know what I'm talking about: the non-existent flush, the mud, the moss, the tiles that look like high-school biology experiments, the floating brown objects and the unspeakable mixture of bodily fluids encrusting the lavatory rims.

Listen: I'm no delicate doily. The sight of scattered fecal constellations on a bathroom mirror will not make me scream (Not that I've tried, really). I've taken a dump on the some of the worst toilets in the planet (including some that are not technically toilets; but those were desperate times). Generations of humans have also lived and died without the kind of absurdly ultra-modernist washroom pleasures offered by the Japanese burger chain Sango. It's not even a matter of toilets being in the Western or non-Western-style. A number of Asian countries have become formidable economies while still lovingly crapping into a simple hole in the floor.

My point is, I've been living in this country for 36 years and don't you think it's about time we said to ourselves: enough of this shit. And f--k the pun.

Of course, in some parts of the planet, there is  a correlation between discipline, sanitation, and progress. George Orwell once asked, "Do the lower classes smell?" Does "poor" instantly translate into "squalid?" Of course, I have yet to see Forbes Park residents defecating into plastic bags that are conveniently hurled into rivers. But of course, efficient sewer systems cost money and it is much easier and cheaper to treat Manila Bay as your own personal latrine pit. Let us be, reminded, however, that dignity starts with proper disposal of our bodily excretions.

I mean, really, unless you're on 500 micrograms of LSD, how hard is it to shoot your crap or piss into the bowl? Is it so hard to shoot that damn wad of tissue into the trash bin? How difficult is it to fix a faucet, clean mirrors, and scrub tiles? Do you really need a Swiss bank account to afford a bottle of bleach or disinfectant? Just how expensive is a bottle of Zonrox? It is absurd to demand that all restrooms be equipped with a Toto automatic urinal and a goddamned bidet, but the least you can hope for is some semblance of civilization. That you can unzip without fear of being attacked by a squadron of cockroaches.

The phrase "public restroom" is an invitation to genuine horror. The first thing that comes to mind are those in bus stations. I have no idea what it is about transport terminals and the overwhelming fog of ammonia? But it's exactly the "public" part where it becomes problematic.

Thank God for graffiti in restrooms. At least they provide a humorous, if absurd distraction from the squalor. "LOOKING 4 GUD TYM 0921-4457876... JHUN" takes your mind off the nasty stuff floating right under the dark planet Uranus. Who could Jhun be and what sort of good time does he have to offer? What is it about such places that inspire artwork based on phallic iconography? Or instant installation pieces involving strands of pubic hair held in place by dried wads of gum? See? I've just distracted myself from the point just thinking about one goddamned wall I've seen recently. Thank God for these unacknowledged poets and artists.

I've always believed that human beings are divided into two kinds: those with the ability to crap anywhere and those with rectums of habit (a.k.a namamahay). And it's not just because they're afraid of using toilets that are smeared with shades of bright caramel. Even if it's a sparkling cubicle at the Edsa Shangri-La, they still can't unload.

The vilest toilet I've ever seen in my life was not in Manila but at a hospital in Sagada. Made of iron, it was all covered in rust-I sincerely hope to God it was rust-and looked like it had been crapped on by William Henry Scott and, I'm sure, all the other foreign missionaries of the pre-war era.  The worst part is this: I had to use it. Listen, I had no other choice. I had not moved my bowels for four or five days (I had joined a medical mission to Kalinga and found it impossible to uhm, unload on the edge of a rice field while warding off wild boars impatient to deal with your droppings). All the other toilets were occupied and I couldn't hold it any longer. My head and all other parts of my body were about to burst. So I held my breath, set aside my dignity, sat down and did my business. The texture, the coldness, and the smell of that toilet still haunt me to this day. Anything after that is a Toto Neorest 600.

In the sidewalks of Manila, this is usually an encouraging signage.

P2-IHI  (Sometimes P3 in certain areas of inordinate human traffic
P5-DUMI (Or the vulgarly optional "TAE.")
P15-LIGO


ADVERTISEMENT - CONTINUE READING BELOW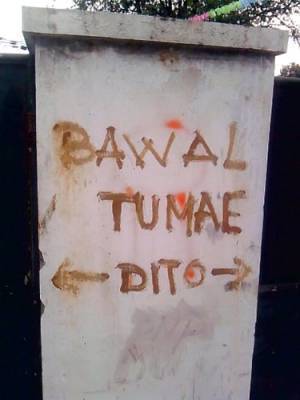 CONTINUE READING BELOW
Recommended Videos
From Lourd's "Meditations on a Sign" published in August 2009
The pecuniary element means that someone's cleaning the joint. You want clean? Pay up, fool. That's how it works. The five pesos means someone's sacrificing his or her dignity so you can crap in peace and purity. While normally guaranteeing that you won't be peeing into a virtual cesspool of brown and yellow-the aforementioned sign, however, does not mean freedom from odors that defy even muriatic acid. Oftentimes, I can live with the visual grotesquerie. But it's really the stench that turns the entire experience into a horror movie. Exhaust systems are a much more complicated matter. Oftentimes they are dictated by the physical layout of a place, and indeed there are restaurants and bars with toilets whose position and construction seem like an afterthought.

There are places that transcend the customary fecal and urinary aromas, offering an exploration of the deepest, darkest olfactory hells-ones that can only be described as the stench of humanity. It's the smell of sweat, indigence, and the occasional diarrhea. But wait: it's hardly "occasional." According to a study in the US, a large percent of all crap in public toilets is diarrhea. Indeed, why go through the torture of public toilets if you can still hold it? It's a symbol of utter surrender and helplessness. The public toilet is usually for people who've had too much Indian food.

At least most gasoline station restrooms have seen vast improvements. Stopping for gas and relieving yourself used to be both reassuring and disconcerting, kinda like Forrest Gump's box of chocolates: You'll never know what you're gonna get.  I've had nightmares caused by certain visits to restrooms of the so-called "minor players," especially the ones in the provinces.  Some of them are so sinister you'd think they  use it to slaughter livestock. They smell so sickening I'd much rather snort a pint of diesel fuel just to forget the damn smell. Now the sign "PLS GET KEY FROM CASHIER" has become a sign from heaven. That means, free from vagrants and hobos. But that doesn't necessarily mean free from specters of truly tragic digestive systems.

Toilet decorum tells us to avoid kicking down the flush handle with your foot. But, dammit, I really can't blame you if you do. You never know who, what, and what the f-k had last touched the thing. Unless, the lever-type flush was actually designed to be kicked (Giving new meaning to the phrase "kicking the shit in.") In which case, it's a badly designed implement. Modern etiquette advises us to give consideration to the next user. But no human in his right mind would want to have direct physical contact with that thing. I know that the foot pedal-style flush-along with an adaptor to be connected to the tank-- has already been invented. It is a simple, inexpensive device, with a kits sold online for less than US$20.  One inventor declared, "This is really a great product for germaphobes who detest touching toilet handles, even their own (I worked with a young lady who had never once cleaned her own bathroom because of the phobia)."

In many toilets in the Philippines, you see a hole where the flush handle is supposed to be and a few inches away is a pail, filled halfway with water of dubious provenance. The "buhos" system-or "gravity flushing" in sosi parlance-should be no problem, really. In fact, it's more economical and earth-friendly. But tell that to people with arthritis, gout, and carpal-tunnel syndrome. And, more often than not, it's the pail-usually recycled lard container-that looks like a prop from Texas Chainsaw Massacre.  And speaking of lard, why is it that most fastfood chains have soap dispensers that are always empty? And why do some of them have to place signs that say " BAWAL MALIGO DITO." Since we're on the subject of signs, there's got to be something wrong about a culture that still needs signage discouraging urinating and defecating in public areas.

The situation results into a cycle: You can't encourage clean behavior in a washroom that's already filthy. Unless you're a guest at someone's house, you can't expect people to lift pails that have dirty handles (If ever they do have handles). You can't expect people to flush if the bowl is choking with used napkins and cigarette butts.

Which leads us back to the question: do we really need money to get clean? Are we filthy because we're poor? Or are we poor because we're filthy? Does "rich" automatically mean "hygienic?" The answer is no. I know a lot of rich people whose houses become instant pigpens the moment their maids become absent or sick. Then again, you need money to hire helpers. But I've also seen modest homes with humble but luminously dignified toilets even without the benefit of automatic flushing systems and European tiles.  

But tell me, when was filth ever a deterrent to health? The emergency rooms of St. Luke's and Asian Hospital are overflowing with rich people who have clean toilets replete with Italian fixtures. In contrast, the streets of Manila are bouncing with grimy paupers. They are multiplying exponentially and the whole city is their bathroom.
ADVERTISEMENT - CONTINUE READING BELOW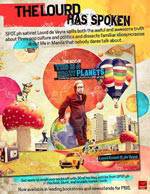 This is a Crazy Planets is available in newsstands, bookstores and supermarkets nationwide for only P195. For more information, click here.
Artwork by Warren Espejo
Share this story with your friends!
---
Help us make Spot.ph better!
Take the short survey
Load More Stories