Holy Haliparot!
Our SPOT.ph blogger calls this campy drama "truly awful."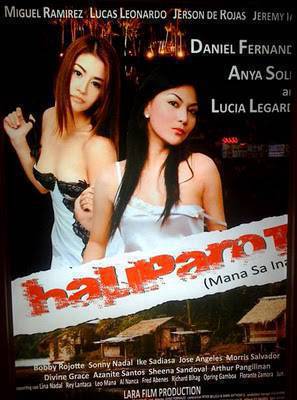 Noli Salvador's Haliparot
This is the last time I'm ever going to watch a movie because I like the title. In this case, the movie's title is Haliparot, which is a great word. Say it: ha-li-pa-rot. Roll it around your tongue and listen to all that it implies. In sound and in meaning, it is vaguely similar to the English word harlot and the French term salope. In Filipino, it means malandi or alembong, and is usually used to describe someone flirtatious, sexually aggressive, and easy. Isn't it fun? Unfortunately, the movie Haliparot (Mana sa Ina) is possibly the worst movie I've seen in my entire life. And I have sat through many bad ones.
ADVERTISEMENT - CONTINUE READING BELOW
Directed by Noli S. Salvador and produced by Lara Film Productions, Haliparot (Mana sa Ina) is the story of two little girls, Leslie and Karen, who live in a small town with their father, a hardworking fisherman and their mother Monica, who is apparently the original haliparot. One day, Monica's ex-lover (and father of her eldest child) returns from abroad, and with a single kalabit Monica begins an affair with him. Arthur, a policeman, spies on the lovers and reveals the cuckoldry going on behind the husband's back. In a fit of rage, the husband borrows the policeman's motorbike and gun-and despite the cop's warning to stay calm-shoots his cheating wife and her lover with the cheesy haircut. Then he turns the gun on himself. This murder/suicide is all committed in full view of Leslie and Karen, who cry like orphaned kittens at the corpses of their slain parents. And that's just the first act!
ADVERTISEMENT - CONTINUE READING BELOW
Twelve years later, the sisters grow up to look like tawdry starlets and continue to mourn their parents in mini dresses and heels. Karen (Lucia Legarda) is obviously the Bad Sister, inheriting her mother's haliparot quality, literally sending the local boys into seizures once she starts making out with them. She ends up seducing her sister's man which of course gets her thrown out (ipinagtabuyan, another incomparable word) by the jealous Leslie (Anya Soler). ("Lumayas ka, malandi ka!" is something I've long wanted to scream at someone. I mean, don't you?) Alone on the street, Karen ends up getting picked up by a rich old man with a super mysterious and deadly disease (apparently, he's dying of AIDS and is not allowed to have sex with anyone). Anyway, he treats her like a Whore with a Heart of Gold. Karen's Sugar Daddy Warbucks is determined to make her an honorable woman. He proposes marriage and she accepts. Cue song: "(Something's Telling Me) It Might Be You," piano version.
ADVERTISEMENT - CONTINUE READING BELOW
The End... or so you would think. Maybe now Karen will be happy with her new life as the much younger wife of a rich old man who is likely to croak at any moment, which he obligingly does, but not after changing his will and leaving everything to her.
Now Karen is a rich young widow! Watch out, world. She's definitely supposed to take up a new lover, sometimes it's a hot younger man, who might be the gardener or the driver or the waiter. Instead, it turns out that she's also dying of AIDS which she caught from her husband. Facing death, all Karen wants is to seek forgiveness from her sister Leslie and all the other people she has hurt, so she donates all her money to the little parish in the small town where she grew up. With the priest (Daniel Fernando, the only recognizable actor in the movie) as the executor of her will, Karen's money helps the town by giving random people wads of cash to start small businesses (garments and fish ponds) and renovate the shabby church. Her dying wish is to be buried underneath the church beside her parents, but the angry townspeople try to stop it. The priest is forced to tell the angry mob the truth. The town's unknown benefactress is actually the village slut, ang haliparot na si Karen. Close up of Karen in her coffin, she's obviously breathing in there. Last shot: the town mourns the passing of Karen, who is forgiven in their hearts. Cue song: this time, it's "Ave Maria" sung by Charlotte Church or some similar soprano. The End-for real this time.
ADVERTISEMENT - CONTINUE READING BELOW
Haliparot was truly awful-shot in the style of bad movies from the 80's coupled with the digital aesthetic-but it was also undeniably funny (in some parts) mostly because of the super campy dialogue.
Perhaps the only interesting thing about Haliparot (Mana sa Ina) is that it is a "sexy" movie which turns into a morality tale in the end. They employ a strange twist: the promise of redemption by way of financial generosity, a post-death indulgencia, a theological concept of "mercy for money" or "a more complete payment of the debt which the sinner owes to God". It's kind of old school, as if we haven't moved on from the 18th century. Karen goes from strumpet to martyr in a span of ten minutes, buying her sainthood with her rich dead husband's fortune. Unconsciously or not, Haliparot (Mana sa Ina) illustrates how deeply entrenched religion is in Philippine culture-and that even sluts can make it to heaven.
ADVERTISEMENT - CONTINUE READING BELOW
Recommended Videos
Load More Stories