Rumored pullout of Sharon Cuneta's "Before" and "After" billboards not true, says Marie France
Marie France denied on Friday the rumors that Sharon Cuneta's billboards will be pulled out, reports PEP.ph. According to an unidentified contributor, the controversial billboards were supposed to be taken down because the actress looks different in person and on TV when compared to the Marie France advertisements. Cuneta has previously said that the advertisement showing her slimmer body was not edited or Photoshopped.

NJ Torres, Marie France public relations officer, told PEP.ph, "I don't think she (Sharon) will put herself in (a) position just to sell a lie. Watch and see the new body soon." She added that the photographers and stylist who worked on the advertisement shoot were asked to do testimonials before they submitted the material.

The Ad Standards Council (ASC) told PEP.ph that there is a process to be followed before an approved billboard can be taken down. "We haven't received a complaint," ad specialist Raymond Nacino said.

According to the ASC Code of Ethics, "'Before' and 'After' situations must reflect truthful and factual comparisons. Comparisons of the 'antecedent' situation with the subsequent 'situation' must not be exaggerated or misleading."
ADVERTISEMENT - CONTINUE READING BELOW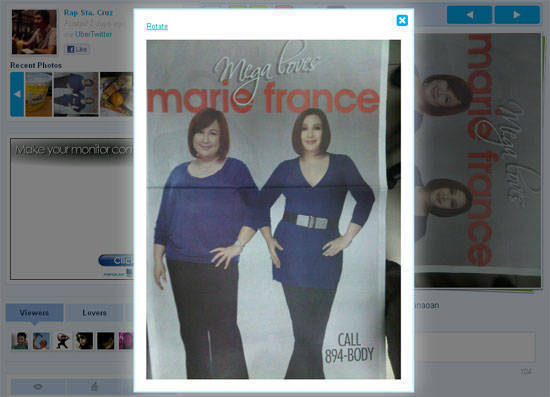 Screencap from Rap Sta. Cruz' Plixi account
For more on this story, log on to PEP.ph.
Recommended Videos
Load More Stories