Pinay producer and former Eat Bulaga host Stefanie Walmsley's God of Love nominated for Oscar Best Short Film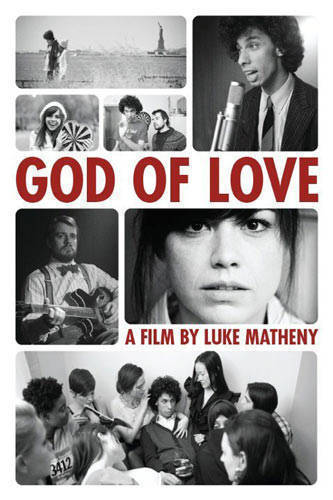 God of Love, produced by New-York-based Filipino producer Stefanie Walmsley, is in the running for Oscar Best Short Film (Live Action), reports Inquirer.net. "Sort of like Woody Allen and Wes Anderson's 18-minute love child" according to Walmsley, the film follows "a love-struck, lounge-singing darts champion (who) finds his prayers answered when he receives a package of passion-inducing darts." Brooklyn-based artist Luke Matheny directed, wrote and starred in the flick.

Walmsley, 28 years old according to IMDB, told Inquirer.net how she found out about the nomination. "I was terrified to look at my computer screen. I had my whole, 'It's alright Luke... you are still brilliant in all our eyes' speech prepared but when I looked online, with one eye barely open, I saw that it had been nominated and my liver has been paying the price for the never-ending champagne flow since."
ADVERTISEMENT - CONTINUE READING BELOW
Luke Matheny, God of Love director, writer and actor, learns of the film's Oscar nomination
According to Walmsley, the short won the gold medal at the Student Academy Awards of the Academy of Motion Picture Arts and Sciences. It was also recognized by the National Board of Review, the Telluride Film Festival in Colorado, the Flickerfest Festival in Australia, and the Angelus Student Film Festival in Hollywood.

The film is currently available with Blu-Ray copies of 127 Hours, Walmsley told Inquirer.net. "(Director Danny Boyle) picked us to be on it as a special feature."

ADVERTISEMENT - CONTINUE READING BELOW
Screenshot of Stefanie Walmsley's Linkedin profile
Walmsley, an actress who co-hosted Eat Bulaga while in high school, told Inquirer.net, "After God of Love, more jobs were offered to me, including a freelancing gig at HBO." She added, "Ultimately, I'd love to return to the Philippines to start a production company focused on cultivating local independent cinema and helping it thrive. That would be bigger than any nomination."
Stefanie Walmsley hosts Eat Bulaga in 1997
For more on this story, log on to Inquirer.net.
Recommended Videos
Load More Stories