It Was Complicated: EDSA 1 As Told Through Facebook
Your history lesson in the digital age.
What if Facebook were around during the 1986 EDSA revolution? The GMA News Online multimedia team found a way to re-tell the People Power story using a medium we know all too well by now.
Supposedly created to balance out the more serious EDSA 1 stories the news outlet had prepared for the People Power anniversary on Friday, EDSA 1: As Told Through Facebook was targeted at the social media-savvy generation. "Sana basahin ng mga bagets. That would be great," said Paolo Ferrer, GMA News Online's associate editor for multimedia. "When I was kid, history class bored me. But as I grew older I realized that history kicks ass."
Using various status updates and other Facebook-speak commonly used on the social networking site, the news team got into the minds of former Presidents Cory Aquino and Ferdinand Marcos, former First Lady Imelda Marcos, Cardinal Sin, former Armed Forces of the Philippines Chief Fabian Ver, and other EDSA 1 main players to recreate the EDSA revolution on Facebook in "real time."
ADVERTISEMENT - CONTINUE READING BELOW
"The events and the chronological order are based on fact," Ferrer said. "Yung status updates at comments lang yung kalokohan. We also tried to keep the main players in-character. Ginawa ko lang exaj para mas masaya."
Ferrer also noted that this story comes hot on the heels of Egypt's recent People Power victory. "It's clear now that dictators are obsolete," Ferrer said. "Freedom is viral. Gusto lang namin paalala na diyan lang nagsimula lahat yun sa EDSA."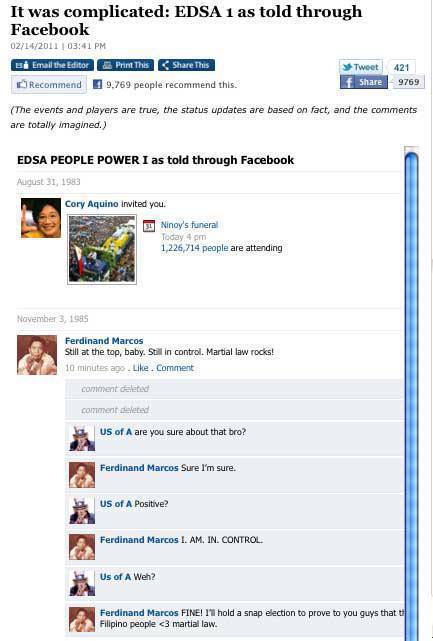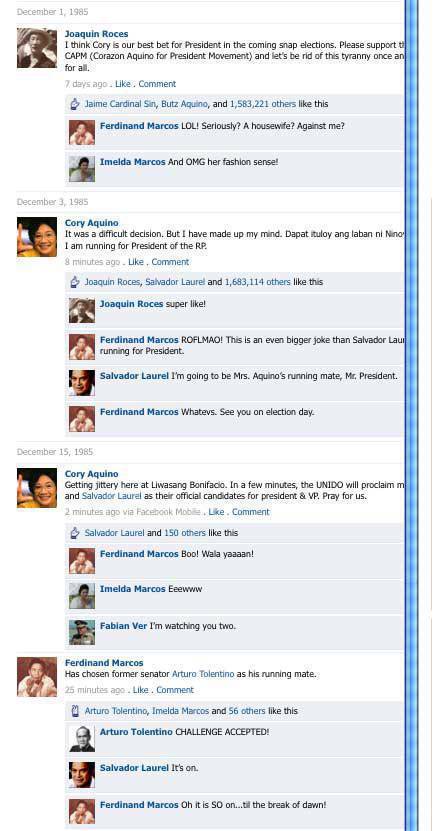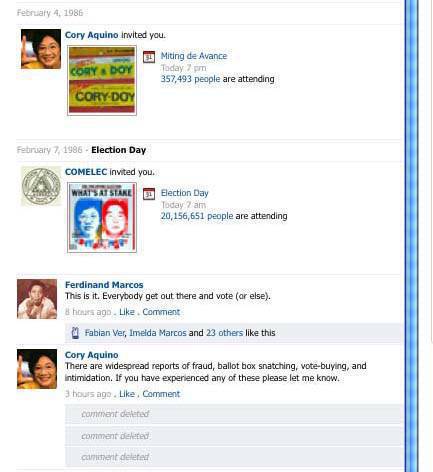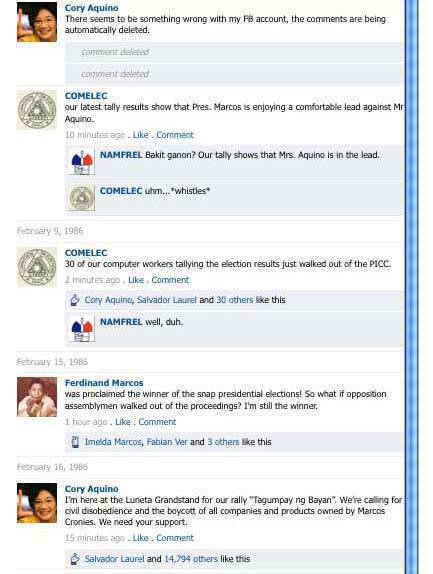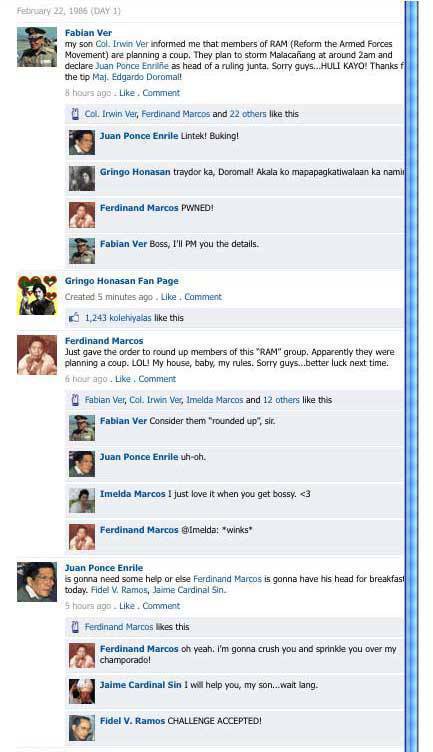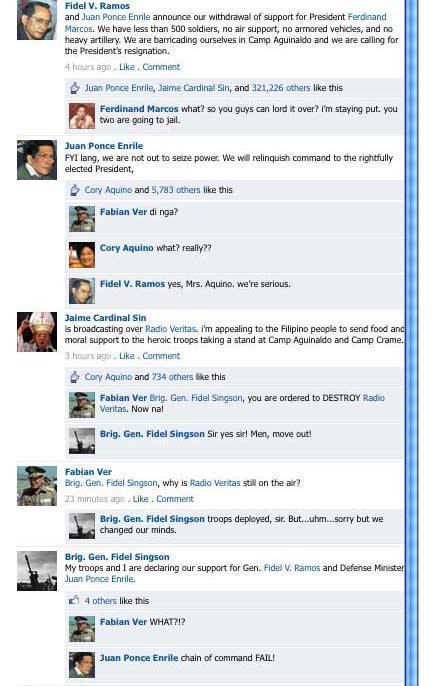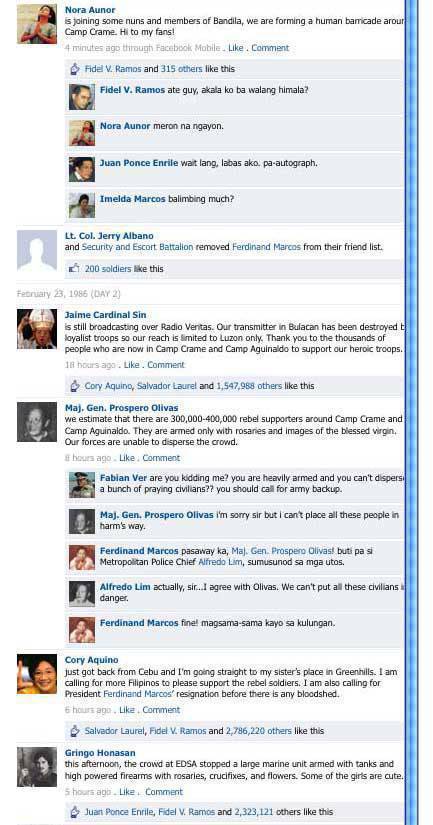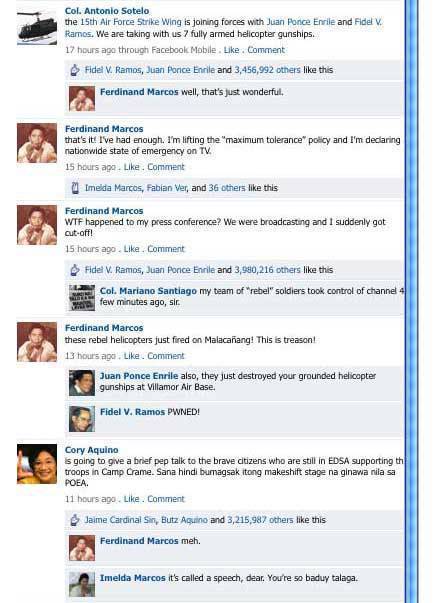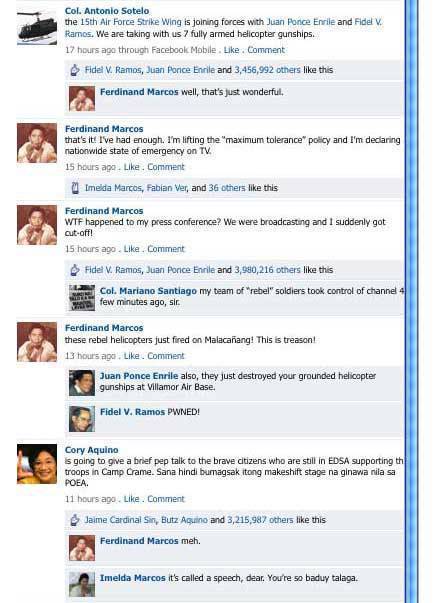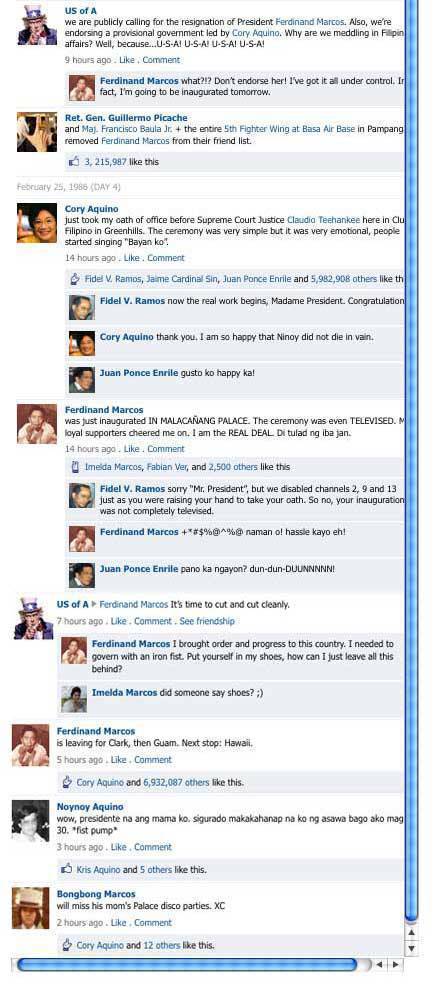 Screencap from GMA News Online
ADVERTISEMENT - CONTINUE READING BELOW
For more on this story, log onto GMA News Online.
Recommended Videos
Load More Stories