Local Saviors: 10 Pinoy Actors Who Could Play Jesus
SPOT.ph CLASSIC Circa 2011: Could Piolo, Dingdong, Aljur, Baron, or Tado play the Son of God?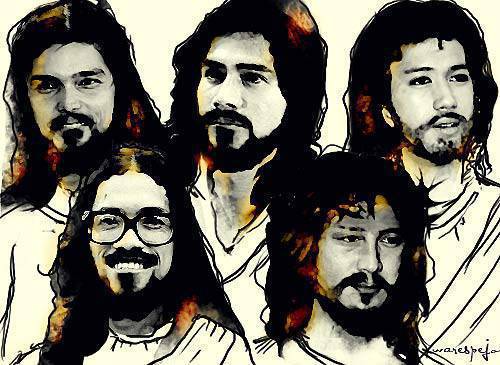 Clockwise from L-R: Dingdong Dantes, Piolo Pascual, Aljur Abrenica, Baron Geisler, Tado Jimenez-as Jesus. (Note: This article was originally published at 10 a.m. on April 20, 2011.)

Religion aside, there's no doubt that Jesus Christ has become one of the most recognized figures in pop culture. His life-which remains the subject of heated debates-has been dramatized numerous times in the movies and on television. But, while many foreign actors have made their mark playing the Son of God, very few Pinoys have played him.Heck, we can only remember Matt Ranillo in Kristo (1996) and Love Thadani in the ABS-CBN soap May Bukas Pa. (We're not counting the actors who played Jesus in stage plays, though.)

That being said, this year, we figured we'd come up with a list of Pinoy actors who could play Jesus (remember last year's 10 Actors Who Played the Son of God?). Mind you, we're not religious experts or anything. We just thought that the Lamb of God deserved more Pinoy representation.



PIOLO PASCUAL
ADVERTISEMENT - CONTINUE READING BELOW
Piolo Pascual in Don't Give Up on Us

If Mel Gibson could cast a beautiful Jesus in The Passion of the Christ, then surely we can cast the easy-on-the-eyes Piolo Pascual. He's got the dramatic depth and the physique for the role. We can see him with long hair and sandals. However, we're not sure if the audience will take him seriously when he preaches. He's just so good-looking that it's distracting.



JAY MANALO
Jay Manalo in Florinda
He may be one of the country's most talented actors-but no matter what Jay Manalo does, he just can't seem to shake off the Totoy Mola (1997) tag. Playing Jesus may help him lose the Mola moniker. He just has to lose that "bastos look" in his eyes so he can play the Savior effectively. Otherwise, people might say, "Holy, Mola!"



PING MEDINA
Ping Medina in a Kapuso short film
ADVERTISEMENT - CONTINUE READING BELOW
He may be too young for the role, but we've always believed in Ping Medina's talent...and his fabulous bone structure. Just age him a bit through makeup, get him a great wig, and he's good to go. The boy's already got the intensity of a religious leader.




JON HALL
Jon Hall in Survivor Philippines Celebrity Showdown
Who says Jesus has to be puny? Wouldn't it be great if he looked like he could kill centurions and demons with his bare hands? This is why we picked Jon Hall to be the Savior. If a religious leader looked as imposing as he does, then surely more people would see the light...whether they like it or not. We're tired of movies where Jesus always looks like an underdog. However, we're sure that we'll be laughing our heads off when Jon Hall says, "The meek shall inherit the earth."




RICHARD GOMEZ
ADVERTISEMENT - CONTINUE READING BELOW
Richard Gomez at the Men's Health & Women's Health press conference
In the Philippines, an actor who no longer has anything to prove has two options-he can play a drag queen or a misunderstood person. Richard Gomez would not look good in drag, so we suggest that he play Jesus. He's a bit older, but he can still pull off looking 33 (Jesus' age when he died) so it's all good. Plus, Richard Gomez's wife Lucy Torres would be the perfect Virgin Mary.




BARON GEISLER
Baron Geisler on The Buzz
Let's give this recovering alcoholic a shot at cinematic redemption by asking him to play Jesus. Baron Geisler can act so it's not much of a stretch to imagine him as an angst-ridden Son of God. He'll wow the crowd in the temple scene, where Jesus drives away the merchants obstructing the place of worship. Just make sure that there's not a drop of alcohol on the movie set when Baron Geisler plays Jesus. That means don't use real wine in the scene where he turns water into wine.




ADVERTISEMENT - CONTINUE READING BELOW
ALJUR ABRENICA
Aljur Abrenica in Machete
Though his soap Machete died a sudden death, Aljur Abrenica's career still lives on. If he undergoes more acting workshops, he may just surprise us all when he plays Jesus. Then again, if that doesn't work, just do prolonged shots of his killer abs. Because Aljur Abrenica's body is a damn miracle.




ENCHONG DEE
Enchong Dee in Magkaribal

It's high time we had a chinito Jesus with a swimmer's body. Enchong Dee has the look of a young man who will hit it off with the Holy Spirit. This guy has perfected the art of exhibiting a strong-but-silent vibe. Just make sure he gets the right Jesus wig so he won't look cheap.
DINGDONG DANTES
Dingdong Dantes as Tweetserye's Man of the Moment

Who would have thought that Dingdong Dantes would get as far as he has in show business? When he started out, he was just one of the multitudes of cute up-and-coming actors in his home network. Just as he had the courage to get naked for Cosmopolitan magazine, we're sure he'll take on the challenge of transforming himself into Jesus. This would involve a crash diet and watching The Passion of the Christ for 40 days. Though Dingdong Dantes' acting does not necessarily give you the chills, the man does work hard. Jesus loves that.



TADO JIMENEZ
ADVERTISEMENT - CONTINUE READING BELOW
Tado Jimenez

The life of Jesus is serious business in this part of the world-but who's going to stop us if we do a humorous take on it? As long as condoms are not in any of the scenes, we're sure that the Catholic bishops won't excommunicate us if we have Tado Jimenez portraying Jesus as a geeky wanderer in the streets of Metro Manila. Instead of preaching, he can just do meaningful graffiti on walls and on bridges. After all, faith is not confined to churches alone. (And we're hoping God has a sense of humor, too. Lord, we are not taking your son's name in vain.)
Artwork by Warren Espejo
CONTINUE READING BELOW
Recommended Videos
Share this story with your friends!
---
Help us make Spot.ph better!
Take the short survey
Load More Stories