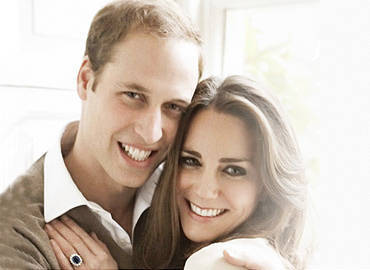 William and Kate. Photo from the royal wedding's official website.
(SPOT.ph) After eight years of dating, Prince William, 28, and Catherine "Kate" Middleton, 29, will finally tie the knot on April 29 in what has been dubbed as the Wedding of the Decade. Based on the many, many news reports that have surfaced since the couple's November engagement, SPOT.ph picks 10 things we're most excited to see on the big day.
ITN report: Did Kate Middleton design her own wedding gown?
1. The Wedding Dress. Middleton's bridal gown has been kept under wraps since the engagement was revealed but The Daily Mail reports that the bride-to-be has designed her own dress. Reportedly inspired by the Renaissance period, Middleton's dress is said to be a nod to the iconic meringue wedding dress of her fiancé's late mother Princess Diana and is rumored to be made of ivory-colored satin and lace, pearl buttons, and a 10-foot train.
ADVERTISEMENT - CONTINUE READING BELOW
Meanwhile, the house of the late Alexander McQueen and Sophie Cranston of Libélula have both been tagged as Middleton's designer but both camps have denied it.
Fab Sugar TV speculates on what tiara Kate Middleton will wear.
2. The Tiara. While Middleton's mystery wedding dress has sparked a whirlwind of speculation, it's her tiara that will steal the spotlight-at least according to E! Online's Buckingham Palace insider. E! Online quoted their source: "The Americans, really, are more interested in the wedding itself. We're actually interested in Prince William and his bride-after the wedding. Who they are as people." It is believed that Middleton will borrow a "dazzling tiara" from the Queen, reports The Daily Mail, but she is also said to be considering flowers in her hair instead.
ITN News report on the royal wedding guest list
3. The Guest List. The official list has finally been released after months of speculation, and the golden tickets go to music legend Elton John, power couple David and Victoria Beckham, soul singer Joss Stone, director and Madonna's ex-husband Guy Ritchie, and Rowan Atkinson of Mr. Bean fame, among others. No word yet about the 100 members of the public reportedly invited via random selection.
CBS News royal contributor Victoria Arbiter on Kate Middleton's wedding vows
4. The Vows. Like Princess Diana, Middleton supposedly won't promise to obey her future husband. Instead, she'll reportedly vow to "love, comfort, honor and keep" Prince William. According to The Daily Mail, the couple has decided on a version of their vows, which they're keeping mum about.
Sky News report on the traditional gold bands
5. The Ring. After accepting Princess Diana's 18-carat sapphire and diamond engagement ring from Prince William after he popped the question, Middleton will soon wear a wedding band made from precious Welsh gold, a royal tradition that dates back to 1923. No ring for Prince William, though, according to a palace official. ABC News reports that his father Prince Charles did not wear a ring when he married Princess Diana and that William's grandfather Prince Philip does not wear a wedding band either.
ADVERTISEMENT - CONTINUE READING BELOW
Prince Charles and Princess Diana kiss on the balcony of Buckingham Palace after their wedding ceremony in 1981.
6. The Kiss. Get this: the couple is said to be rehearsing the kiss they'll share on the balcony of Buckingham Palace after the ceremony. Us Magazine quoted a palace aid: "It's not the actual kiss that needs rehearsing; I'm sure they know how to do that. However, the angle that they come in needs to be correct, otherwise they could block the shot and the world will miss out on that momentous moment... It sounds crazy, but the balcony is their moment to greet the crowds and receive well wishes. They don't want to disappoint."
News on ABC report on the horse-drawn carriage that Prince William and Kate Middleton will use as newlyweds
7. The Ride. Breaking the royal bride tradition of using the horse-drawn Glass Coach-the same one Princess Diana rode to her wedding ceremony-Middleton will travel to Westminster Abbey in a Rolls-Royce. The newlyweds will leave the church in the 1902 State Landau, the carriage that the Prince's parents used on their wedding day. But if it's raining, they'll ride the Glass Coach, which has a roof.
ADVERTISEMENT - CONTINUE READING BELOW
ITN report in January: Elton John talks about the royal wedding
8. The Reception. Music legend Paul McCartney and pop star James Blunt are just a couple of the artists rumored to be the royal wedding singers, which both camps have denied. Another music icon, Elton John, has said he'll "probably" perform but quickly added, "I'll probably be outside busking." After the ceremony, an afternoon reception will be held at Buckingham Palace, followed by a more intimate dinner for the couple's friends and family.
Cake designer Fiona Cairns on Kate Middleton's preferred wedding cake
9. The Cakes. Both said to have a sweet tooth, Prince William and Middleton each chose a cake for their wedding day. Middleton asked for a multi-layered fruit cake decorated with edible flowers, while her fiancé went for his childhood favorite, a royal family recipe with dark chocolate and crushed Rich Tea biscuits.
ADVERTISEMENT - CONTINUE READING BELOW
To celebrate the royal wedding, a pottery company has a series of street parties planned.
10. The Street Parties. There are people that are intent on ignoring the wedding circus and then there are those that are whole-heartedly embracing the occasion. There have been about 4,000 filed applications for street parties in the UK, reports BBC News. UK Prime Minister David Cameron has given his blessing, urging people to "get on and have fun" and warning local councils not to interfere with the applications.
Watch the royal wedding on April 29 on local channels or on Youtube. Artwork by Warren Espejo, photo from the royal wedding's official website.
Share this story with your friends!
---
Help us make Spot.ph better!
Take the short survey
More Videos You Can Watch
Load More Stories