Prince William weds Kate, Aiko sued for libel + more lowlights
Plus, Ogie Alcasid is appointed Heritage Ambassador, Liz Uy styles Shalani Soledad's <em>Preview</em> cover + more lowlights.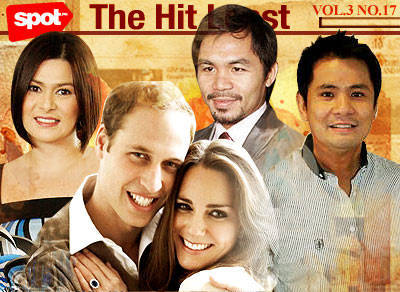 1. DSWD FORMALLY CHARGES WILLIE REVILLAME WITH CHILD ABUSE FOR THE "JAN-JAN" INCIDENT. The guy may be a jerk, but he wasn't the one who taught that kid to dance like that. (Sue them all, if you want to make a point.)
ADVERTISEMENT - CONTINUE READING BELOW
2. JOLO REVILLA SAYS HE IS NOW "A DIFFERENT MAN," SAYS HE'S TAKING A BREAK FROM LOVE. Lourd de Veyra said, "Umasal lamang ayon sa ganda." We say, "Mag-statement lamang ayon sa mga nagawa."
3. THE NCCA APPOINTS OGIE ALCASID AS A "HERITAGE AMBASSADOR." What does that even mean?
4. THE PLOT THICKENS IN THE PILAR PILAPIL CARJACKING CASE. And in the end, the carjackers will just strike again.
5. LIZ UY AND SHALANI SOLEDAD MEET AT A PHOTO SHOOT. Did they look at each other and ask, "What the hell were we thinking?"
6. INFORMAL SETTLERS OF THE LAPERAL COMPOUND IN GUADALUPE, MAKATI GET VIOLENT AS THEY FIGHT FOR THEIR RIGHT TO LIVE ON A LOT THAT'S NOT THEIRS. If a fire, water, or tear gas can't drive them away, nobody can.
ADVERTISEMENT - CONTINUE READING BELOW
7. AIKO MELENDEZ'S EX-BOYFRIEND SUES HER FOR LIBEL. Paging Kris Aquino, this woman may break your bad romance record.
8. PRINCE WILLIAM AND KATE MIDDLETON GET MARRIED. They're adorable but we have had enough of the royal wedding brouhaha.
Recommended Videos
Load More Stories