Top 10 Pinoy Political Mother-and-Son Tandems
In our political dynasty-infested country, do mothers still know best? Or do the sons have the edge?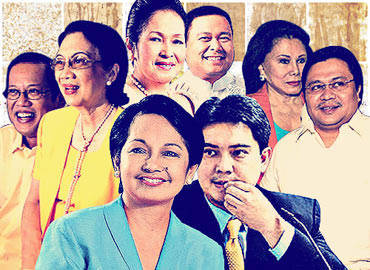 (SPOT.ph) Filipinos love their moms and they love politics. Sure, it's not the same kind of love-but who's to complain when they can emulate their moms and run for office while they're at it? To mark Mother's Day, SPOT.ph thought of coming up with a list with a slight twist-one featuring politician moms and their sons. In most cases, the dads introduced politics into the family and the mom and son just followed suit. In other instances, the moms are political icons in their own right. Do mothers still know best when it comes to politics? Or do the sons have the edge?
CORY & NOYNOY
"Remembering Cory Through the Eyes of Her Only Son" from PhilStar.com 

Mom-and-son stats: Corazon Aquino became the country's first female president when she was swept into power in 1986 via the EDSA I Revolution. In 2010, her son Benigno Simeon "Noynoy" Aquino III became the country's first never-been-married male president.

Political verdict: The mom was a reluctant politician-by-accident who was embraced by the world and tagged the "icon of democracy." Arguably, the son was elected president because of his mom's "magic." Right now, though, he is besieged by so many problems and hit by so many critics that he may just as well be known as "the nation's whipping boy."
GLORIA & MIKEY
Saksi report: COMELEC allows Mikey Arroyo to join Ang Galing Pinoy party-list
Mom-and-son stats: Gloria Macapagal-Arroyo was the country's president for nine years and is now a congresswoman of Pampanga. Juan Miguel "Mikey" Arroyo is currently a congressman as well, representing security guards and tricycle drivers.

Political verdict: Though they're both equally controversial, the mom handles political complications better than the son. She got through several much-publicized controversies such as "Hello, Garci" and the NBN-ZTE fiasco without embarrassing herself on national TV. Meanwhile, the son's infamous interview with Winnie Monsod became a viral hit-but for all the wrong reasons. The mom is perceived as a crafty strategist, while the son often seems to be considered er, a joke.
ADVERTISEMENT - CONTINUE READING BELOW
IMELDA & BONGBONG
Ferdinand "Bongbong" Marcos Jr.'s oath taking on June 29, 2010

Mom-and-son stats: Imelda Marcos' most memorable pseudo-political position was as First Lady to former President Ferdinand Marcos from 1965 to 1986. She is now an Ilocos Norte congresswoman. Ferdinand "Bongbong" Marcos, Jr. is a senator.

Political verdict: At the peak of her political power, the mom was in charge of "beautifying" the country. For her, that included having a lot of huge buildings such as the Cultural Center of the Philippines. In any case, the mom's reputation as a rabid haute couture and shoe addict has prevented her from being taken seriously as a politician. The son may have the academic credentials to be a politician-but he does not have his mother's maddening charisma.
CONTINUE READING BELOW
Recommended Videos
LOI & JINGGOY
Senator Jinggoy Estrada in Piddig with his mom Loi Estrada
Mom-and-son stats: Jinggoy Estrada became a politician before Luisa "Loi" Ejercito got into the game. At one point, they were both senators. Now, Jinggoy is still a senator while Loi, a
doctor, quit politics in 2007.

Political verdict: The son eclipses the mom in terms of masa appeal. She may be a physician, but he's played Panday. Plus, the son has gone through a makeover, while the public still remembers the mom's interesting hairstyle.
GUIA & JV

Babae sa Likod ng Trono Documentary by Sandra Aguinaldo
Mom-and-son stats: As part of former President Joseph Estrada's "extended family," Guia Gomez was, for a time, the informal First Lady of San Juan when Estrada served as the city's mayor. Now, Guia is the mayor of San Juan while her son Jose Victor "JV" Ejercito is its congressman.

Political verdict: The mom's patience and low-key style has served her well. She's no longer just the woman behind the man. Now, she calls the shots in her very own political turf. The son seems to be just as low-key-or maybe he just isn't getting as much publicity as his larger-than- life or stranger-than-fiction father.
ADVERTISEMENT - CONTINUE READING BELOW

ELENITA & JUNJUN
Oath taking of Vice President Jejomar Binay as HUDCC Chairman

Mom-and-son stats: Dr. Elenita Binay served as the mayor of Makati from 1998 to 2001. Her
son Jejomar "Junjun" Binay, Jr. now holds the position. Though Elenita's term was repotedly
marred by controversy, that didn't stop people from voting for Junjun.
Political verdict: The real political stalwart in the Binay family is really Vice President Jejomar
Binay. The mom and son have just followed suit. If there's any lesson that the son can learn from
the mom it's this: Listen to daddy.

LANI & JOLO
TV 5's Dokumentado feature on Jolo Revilla on his first day of office as Barangay Captain
Mom-and-son stats: Actress-politician Lani Mercado serves as a Cavite congresswoman, while
Jolo Revilla is a barangay captain in Bacoor, Cavite. They both still dabble in acting every now
and then.

Political verdict: "Charm" seems to be the mom's most effective political tool. Although the
son may not necessarily have it, the mom's sweet vibe may be enough for both of them. Besides,
there's always daddy Bong Revilla, who's a senator. In any case, we commend the son for not
being too ambitious in his first political post.

GLENDA & RUBEN, JR.
Documentary of Hon. Gwendolyn Ecleo, Mayor of Dinagat
Mom-and-son stats: Glenda Ecleo served as the congresswoman of Dinagat Islands, now her controversial son Ruben Ecleo, Jr. is its representative. The Philippine Benevolent Missionaries Association (PBMA)-a "spiritual" organization founded by the late Ruben Ecleo, Sr.-strengthens their political hold over Dinagat Islands. However, Ruben, Jr. is facing expulsion from Congress for graft cases.
ADVERTISEMENT - CONTINUE READING BELOW
Political verdict: Mom and son don't have to try so hard to win elections. The PBMA members
are so loyal to them. Enough said.

NIKKI & JULIAN
Nikki Coseteng exclusive interview posted by YouTube user jhase21

Mom-and-son stats: Anna Dominique "Nikki" Coseteng served as a senator and a congresswoman. Julian is now a Quezon City councilor. It is not clear if Nikki is just taking a break from politics or if she has kissed it goodbye.
Political verdict: The mom and son are pretty tight. In fact, the son recently tried to have his
birth name changed in favor of the mom's last name. As for political clout, these two still have
some-just not in Cory-Noynoy magnitude.

LETTY & RANJIT
Pangasinan 6th District Board Member Ranjit Ramos-Shahani on jueteng issues. Video by The Observer
Mom-and-son stats: Letty Ramos Shahani, sister of former President Fidel Ramos, was a
senator from 1992 to 1998. Ranjit Shahani served as congressman of Pangasinan. Both are no
longer active in politics, but we thought they're a nice blast-from-the-past pair.
Political verdict: Perhaps, both mom and son realized that life in politics was more trouble than
it's worth?
Artwork by Warren Espejo
Share this story with your friends!
---
Help us make Spot.ph better!
Take the short survey
Load More Stories