Artwork by young Pinoy artists and masters fetch skyrocketing amounts at Christie's auction in HK
(SPOT.ph) At the Christie's Southeast Asian Modern and Contemporary Art auction held on May 30 in Hong Kong, a number of Filipino artists sold their pieces for more than their estimated price.
University of the Philippines fine arts graduate José John Santos III's "Paper Dolls" was the most fiercely contested piece among fellow Filipinos who travelled to Hong Kong for the auction. The 2011 oil-on-canvas work which was estimated to sell at HK$ 120,000, realized a final gavel price of HK$ 1,100,000, roughly more than PHP 6 million.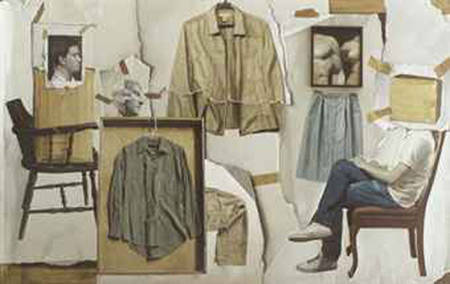 José John Santos III's "Paper Dolls"
First-time auction participant, and once upon a time fashion designer, Patricia Eustaquio's "A Bird in Cloud Country," a two-part oil-on-canvas painting depicting a dreamlike image of a bird and rose melding into one, sold for HK$ 300,000 (nearly P1.7 million), almost three times its estimated price, while auction favorite Ronald Ventura, who astounded the art world when his painting "Grayground" sold shy of P47 million pesos at a Sotheby's auction early this year, sold two paintings "Rainbow Punch" and "Head Study" for HK$ 1,004,000 and HK$ 437,500  respectively.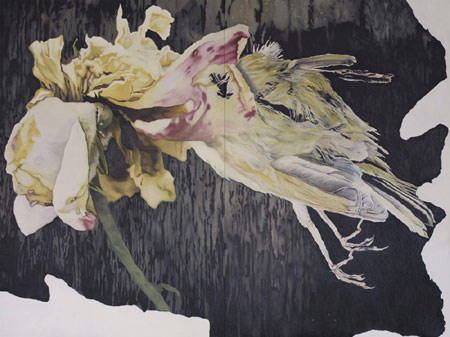 Patricia Eustaquio's "A Bird in  Cloud Country,"
Another hotly contested piece was Geraldine Javier's "Chopsticks on a Saturday Fun Machine Morning" which realized a final price of HK$ 920,000, three times its estimated price. The oil-on-canvas piece, with embroidery and tatting lace installed in a plexiglas box, shows a young girl playing the piano in a dark forest.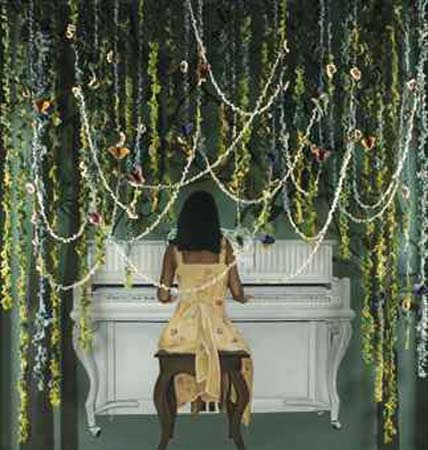 Geraldine Javier's "Chopsticks on a Saturday Fun Machine Morning"
Other young contemporary artists whose work got sold include, Tatong Rechata Torres, Kiko Escora, and Lynard Paras. While young Pinoy artists performed well, it was the masters who fetched the highest prices. Vicente Manansala's  "Luksong-Tinik" painted in 1973 went for HK$ 1,640,000, a little over nine million pesos, and Fernando Zobel' s "La Piedra IV" got auctioned off for HK$ 1,580,000. Renowned artists Ramon Orlina, Anita Magsaysay-Ho, Onib Olmedo, and Fernando Cueto Amorsolo's works were also sold.    

Seen at the auction were several Filipino art enthusiasts including businessman Paulino Que, stockbroker Louie Bate, entrepreneur and art collector Marcel Crespo, architects Jonathan Matti and Anton Barretto, Finale Art File's Vita Sarenas and Sylvia Gascon, Silverlens gallery's Isa Lorenzo and Rachel Rillo, and renowned Filipino artist BenCab, whose work "Edo Gesture" and "Anxiety" got auctioned off for a total of HK$ 1,420,000, nearly PHP 8 million.        



ADVERTISEMENT - CONTINUE READING BELOW
Load More Stories