10 Tunes to Listen to This Month
Add these picks to your playlist and gear up for the start of the rainy season.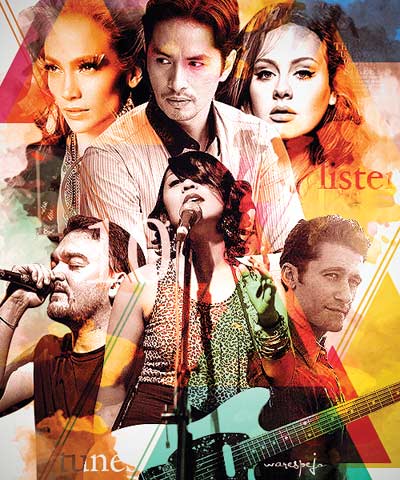 (SPOT.ph) On our playlist this month: homegrown tunes we love from Imago, Taken By Cars, Kjwan guitarist Boogie Romero, and singer turned Imortal star Rico Blanco, the  latest from J. Lo's comeback album, a classic song from one of the pioneers of Pinoy rock, plus the newest Death Cab for Cutie track.
Song: "I'll Carry You"
Artist: Boogie Romero
We chanced upon Kjwan guitarist musician Boogie Romero's Facebook band page and we loved what we heard.  Our favorite, "I'll Carry You," is an addicting ditty with a simple melody laced with guitars, an infectious beat, and moving lyrics. Does this mean he's going solo? Certainly not.  "This is just a different vehicle for me to release my work," he shares. Mind you, this cool song is a one-man production-from vocals to guitar and instrument programming.

Listen to his other songs here. Boogie's songs will be available on iTunes this June.

Fun Fact: Boogie was also part of two other bands, Dicta License, which disbanded in late 2007, and Quadro.
Song: "Someone Like You"
Artist: Adele

Stripped down to just a piano and Adele's powerful voice, "Someone Like You," showcases the young Brit's tremendous talent. Though the lyrics may be a bit too much for someone who's fresh from a breakup, the poignant song is strikingly beautiful because of its simplicity.    

Fun Fact: Part of  her album 21, Adele wrote the song immediately after splitting up with the man she thought she would marry. Shortly after their break up, he got engaged to someone else.
ADVERTISEMENT - CONTINUE READING BELOW
Song: "Neon Lights"
Artist: Rico Blanco

We've gotten so used to watching Rico Blanco play Lucas in the Twilight-inspired teleserye Imortal that we've almost forgotten what a talented musician he is. "Neon Lights," initially released for Singapore and Hong Kong, is a synth-heavy tune reminiscent of those 80's new wave songs we all love. It's one of those songs you can't get enough of.        

Fun Fact: When "Neon Lights" was released in Hong Kong, it topped the charts and beat other international artists to the number one spot.  


Song: "On the Floor"
Artist: J.Lo featuring Pitbull

With a brand new career as an American Idol judge, J.Lo makes a grand comeback with her newest album, Love? "On the Floor," the latest single from this album, has dance track written all over it. The song's thumping beat infused with the 1989 hit single "Lambada" is proof that J.Lo's gotten more experimental than ever-and, we like! The only way to enjoy this track is, on the floor, where you can dance the night away.

Fun Fact: Her latest album Love? was heavily inspired by her twin kids Max and Emme.
CONTINUE READING BELOW
Recommended Videos
Song: "Effect Desired None"
Artist: Imago
The second single from the album with the same title boasts a fresh pop sound that's very Imago.  "Effect Desired None" is a fun and catchy tune that cleverly uses a mix of English and Tagalog. It's one of those songs you wouldn't mind having an LSS over.    

Fun Fact: In 2008, Imago was invited to perform in Singapore's Mosaic Music Festival where vocalist Aia de Leon, shared the stage with indie favorite Broken Social Scene.


ADVERTISEMENT - CONTINUE READING BELOW
Song: "You are a Tourist"
Artist: Death Cab for Cutie

"You are a Tourist," the first single released from Death Cab for Cutie's latest album, Codes and Keys, is an easy listening track you can listen to for hours. Done exceptionally well by the talented foursome, "You are a Tourist," highlights the band's raw talent and reminds us why we love listening to them.    

Fun Fact: In 2009, Death Cab for Cutie vocalist Ben Gibbard tied the knot with Zooey Deschanel-a marriage made in indie heaven.
Song: "Halik ni Hudas"
Artist: Wolfgang
Let's face it, Wolfgang paved the way and inspired many of the local rock bands today. One of the pioneers in the local scene, Wolfgang's songs have now become classic anthems that we can totally rock out to. "Halik ni Hudas" from their self-titled debut album, which was released in 1995, is heavy metal in its finest form. With heavy guitar riffs, pounding drums, and frontman Basti Artadi's signature voice, how can you not head bang?  

Fun Fact: Wolfgang's first major solo concert this year is happening at The Metropolitan Theatre in Manila on June 18, Saturday. Get your tickets here.
Song: "Summer Rain"
Artist: Matthew Morrison

Mr. Schu takes the spotlight this time with "Summer Rain," a track from his self-titled debut album. An upbeat tune laced with rhythmic reggae beats, "Summer Rain" is an instant pick-me-up on any gloomy day. It's one of those songs that can make you feel young again.   

Fun Fact: This Tony-award nominated Broadway actor starred in the musical version of Footloose, The Rocky Horror Show, and Hairspray.
ADVERTISEMENT - CONTINUE READING BELOW
Song: "This is Our City"        
Artist: Taken by Cars

"This is Our City," the first single from Taken by Cars' much-awaited sophomore album Dualist, is proof that the three year wait was worth it. Though the quintet is back with a more mature sound, there's no doubt that elements such as singer Sarah Marco's casual and nonchalant vocal still make the tune distinctly Taken by Cars.

Fun Fact: "This is Our City" was shot in picturesque Intramuros and directed by Quark Henares.
Song: "Iridescent"
Artist: Linkin Park
"Iridescent" opens with a slow piano and subdued vocal that sets the temperament for the track-the mood starts off somber then slowly changes to a more hopeful one. With a strong message that's complemented by Linkin Park's cutting-edge music, this pick will surely move you.      

Fun Fact: "Iridescent" is part of the Original Soundtrack of Transformers: Dark of the Moon, which hits the cinema at the end of the month.


Artwork by Warren Espejo
Share this story with your friends!
---
Help us make Spot.ph better!
Take the short survey
Load More Stories