FOOD REVIEW: Hermanos Taco Shop
Of Tacos and Tamales: SPOT.ph food reviewer Alicia Sy weighs in on the buzzed-about Mexican hole in the wall.
Hermanos Taco Shop
27 Granada Avenue corner Jose O. Vera St.
(Petron Gas Station complex near Gilmore St.)
Tel. 570-8425
Monday - Sunday 11 a.m. to 11 p.m.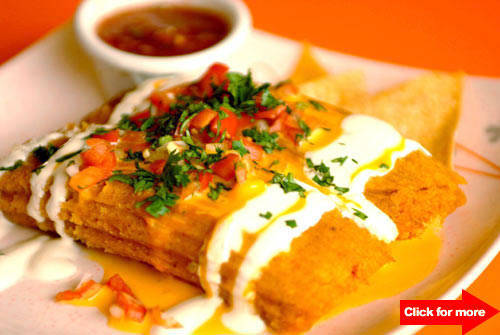 At Hermanos, the Tamales fall under the menu category of real Mexican favorites. Click for more.
I didnt think there was anything particularly strange about our dining destination as we pulled into the Petron gas station on Granada Avenue on what seemed like the hottest of Sunday afternoons. With my two daughters and husband in tow, I arrived at the taqueria I had been obsessing over since reading about it in one of my favorite food blogs.


"We are having lunch here? Another gas station?" my eldest questioned. It took a few seconds before I realized her point of reference. Recently we found ourselves enjoying a wonderful meal in one of the restaurants located inside a gas station complex in Makati. With that thought, my optimism surged.


Once inside Hermanos Taco Shop, a Mexican gentleman emerged from the kitchen whom I recognized as the owner from another article I read in a newspaper. After a cursory glance at the menu above the counter, I knew exactly what I wanted, and blurted out my order to a somewhat startled cashier. Fish tacos, beef tamales, rolled tacos with pork carnitas , a California burrito, and a single House Horchata too, please.


The owner shot me puzzled smiled as if trying to figure out if he had recognized me from a previous visit. It was at this point that I began to ponder the question on whether having too much information on dining choices beforehand took something away from ones experience or actually enhanced it.


As we waited for our food to arrive, we sat at one of the few tables in the dining area. The otherwise plain walls are interrupted by a rather large panel of wood that dominates the small room. The rest of the space is accented with laminated photos offering an express education on traditional Mexican ingredients : masa, hominy, and six different types of chiles- Chipotle, jalapeno,de arbol, habanero, ancho, pasilla.


The service was swift and pleasant. First out of the kitchen were the fish tacos (P150). The crispy fried dory, wrapped in a housemade tortilla, was laid on a bed of cabbage slaw and white sauce. A slice of lime was placed on top of each taco, ready for the essential squeeze of fresh citrus. Delicious! Lacking a little heat for my taste but nothing a few douses of Tapatio and the accompanying side sauce wouldn't solve, I took another bite, and another, and soon the first fish taco had dissapeared. I'll be bold here: This is the best fish taco I have had in Manila so far.


Almost simultaneously, the other three dishes arrived at the table. At Hermanos, the tamales (P320) fall under the category of "real Mexican favorites." After having tried these now on three different occasions, I can confidently say that the beef tamales are my absolute favorite as well. Corn husks are filled with seasoned corn masa and a meat filling of your choice then finished with a generous serving of melted cheese , a drizzle of white sauce, and topped with pico de gallo. We start eating one of the two tamales and nod to each other in agreement. I closed my eyes and savored every mouthful. This too, was delectable.


In between bites, I took sips (then gulps) of my milky iced horchata (P95), an agua fresca made of rice, cinnamon and sugar-a staple in every authentic taqueria. Enjoying this almost as much as my tamale, it has become my beverage of choice at Hermanos. I confess, I barely tasted the burrito (P285) and the rolled tacos (P195 for 3) that we ordered. What I was able to try was enjoyable and the servings were generous, but left little impression on me after the success that were the tamales and fish tacos.


Hankering for something sweet, we ordered a plate of churros sprinkled with sugar and cinnamon. On another visit, I had the Cinnamon Crisps (P95), a variation of fried dough also flavored with cinnamon and sugar, this time in the form of crisp triangles. I will concede that dessert is probably not Hermanos' strong suit, but do not let that minor detail keep you away. It would have been great to cap the meal with something cool and refreshing, but instead of letting dissatisfaction get in my way, I returned to my horchata.



A second visit in two weeks seemed warranted if only to try the Mexican Menudo (P320), a weekend special which I failed to order during my first visit. It was a weekday, however, when my friend rang and asked me to have lunch with him. He read a Facebook post I had written after my first Hermanos experience and now had Mexican food on his mind. Apparently my enthusiasm was infectious.


When we got there we were informed by the cashier that the menudo was no longer relegated to the original weekends-only menu. I was ecstatic! Within minutes of ordering, a large bowl filled with a fiery red stew, glistening with just the right amount of fat, made its appearance. The first spoonful revealed large chunks of tripe and morsels of hominy. The menudo was strongly spiced while not sacrificing flavor for heat. Menudo is a dish traditionally served on weekends because we Mexicans like to party on Friday and Saturday nights and this is served, the owner said as he set down our burrito. But he said it has become a bestseller so they now serve it all the time.


He beamed with modest pride and with good reason-the menudo was wonderful. Like most restorative stews, ingredients are of humble origin and recipes are passed down through generations. Yes, I see how this bowl of goodness could be the connsumate antidote for a hangover, except for the fact that it would go perfectly with a nice cold beer!


We chatted further with the Mexican proprietor, Chef Rene Rodriguez, a head chef for many years at a hotel in southern California. Married to a Filipina, his children had persuaded him to open a Mexican restaurant in Manila as their search for authentic Mexican cuisine in the metropolis did not satisfy their craving for the delicacies Rene introduced them too. To my surprise, he told us that his taco shop had been open for almost a year now this August and that his taco shop enjoys a regular clientele that includes showbiz personalities and PBA players.


On my most recent visit with another friend, I ordered the Carne Asada Fries (P320)-french fries covered with cheese, sour cream, diced sirloin, pico de gallo and salsa-which were good, but not great. A pitfall of the dishes of this sort was that they often resulted in soggy fries no matter how exceptional the trimmings may be. Next time I'll opt for the Carne Asada Chips (P320) instead.


I wanted to give the burritos another try so we ordered one filled with chorizo and egg (P250). I am a sucker for anything that sounds like it ought to be eaten for breakfast and the description promised authentic mexican chorizo marinated in spices and assorted chiles. Just as I had hoped, this was a burrito worth writing about. Chef Rene set the Tapatio in front of me and without a word I knew. A few dashes of heat and my burrito was elevated from very good to great. I am in Burrito heaven.


As we were finishing up our lunch, a large group walked in. I was within earshot when they placed their order: Menudo, Carne Asada Chips and the Tamales. I take it they have been here before. The only man in their party shouts out an order for a quesadilla, something I have yet to try at Hermanos. Maybe next week.




Rating: 3.5 Spots •••.



Photos by Alvi Siongco
ADVERTISEMENT - CONTINUE READING BELOW
CONTINUE READING BELOW
Recommended Videos
Load More Stories