From Screen to Stage: Sweet Charity
Our SPOT.ph blogger on this Nikki Gil starrer: "It's a fun show!"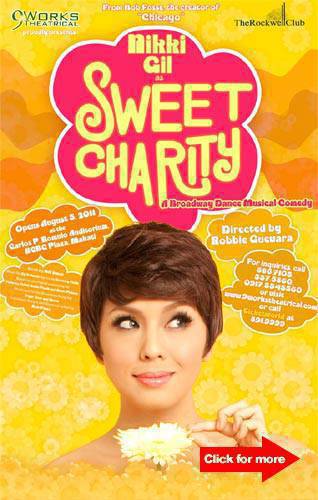 Nikki Gil plays the sweet but kooky Charity Valentine. Click for more.


Remember this number below?


Sweet Charity's "Big Spender"


"Big Spender"-full of classic Bob Fosse-style camp-is from a musical called Sweet Charity, which premiered on Broadway in 1966. The clip above is from the 1969 version starring Shirley MacLaine as "a girl who wanted to be loved."  Shirley MacLaine plays the cockeyed optimist and perennial doormat-the whore with the heart of gold-with such awkwardness, humor and vulnerability.
ADVERTISEMENT - CONTINUE READING BELOW
CONTINUE READING BELOW
Recommended Videos
"Someone Loves Me" from the Bob Fosse 1969 film


The film version was directed by Bob Fosse, and also features his insanely wonderful choreography. Check out the dancing in this clip, it's peerless fun.


Another scene from the Bob Fosse film
(Finally, I understand what Austin Powers is trying to do when he dances.)

One of the mysteries of the musical is that it's so much better to see it on stage, live. So here's your chance to see Sweet Charity on stage, live. 9Works Theatrical's production stars Nikki Gil as Charity, and she's quite winsome as a taxi dancer from the 1960s. Nikki and the rest of the excellent and diverse cast-including seasoned thespians like Miguel Faustmann as Herman the dance hall boss; R&B star Kris Lawrence as Oscar Lindquist the nervous lover; pop star Ciara Sotto as Helene the smart-mouthed dancer; and former Viva Hot Babe Sheree as Carmen the feisty Latina-danced and sang their way into my heart during preview night. It made me realize that I need more musical theater in my life: more Bob Fosse choreography, more breaking out into song, more showstoppers belted from the top of my lungs.
ADVERTISEMENT - CONTINUE READING BELOW

The big reveal of Sweet Charity is Kris Lawrence, who I once did a mall show with when I worked as a junior writer on the Sunday noontime musical variety show Party Pilipinas. Who knew he could do musical theater? Who knew he could do it so well? Kris Lawrence is not only the "heart" of R&B on Party Pilipinas-he's also a talented musician and a complete natural on stage. Watch Sweet Charity just for his performance, but be warned the rest of it is just as good. The dancing is wonderful and the music is live! It's a fun show and sometimes that's all I want to see.


After the preview, my friend and I headed to a chicken joint near the RCBC Theater-because what's a Broadway show without a chicken inasal dinner? We were deep into our inasal when the cast and crew of the show descended upon the tiny restaurant and filled every seat left. The energy was high after a successful show. There was much cheers-ing to the show and multiple orders of chicken. Miguel Faustmann, who had a beer and sat beside me, proceeded to explain the intricacies of regional kilawin. Kris Lawrence signed an autograph for my friend, although he was reluctant to do it. I shook the hand of Sheree and told Kris we did a mall show in Davao together. There's really no business like show business.

***

Sweet Charity runs until August 27 at Carlos P. Romulo Auditorium, RCBC Plaza, Makati. For tickets and information, call 557-6860, 586-7105 or email info@9workstheatrical.com
ADVERTISEMENT - CONTINUE READING BELOW
Load More Stories