10 Tunes to Listen to This Month
Kanye West and Jay-Z's kickass collab, Ebe Dancel's next big hit, Beyoncé and Nicole Scherzinger's latest, and more!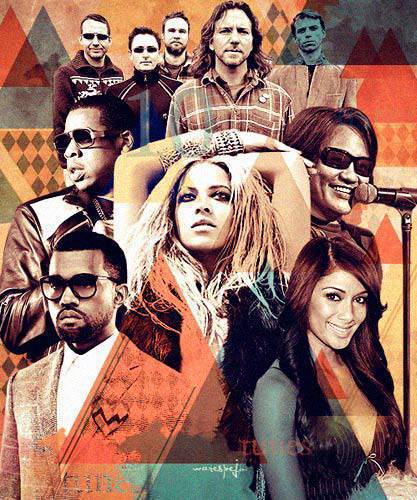 (SPOT.ph) This month, SPOT.ph recommends: rap masters Kanye West and Jay-Z's catchy collab, Pearl Jam's famed Mother Love Bone cover, Boyce Avenue and Tiffany Alvord's fresh take on a Maroon 5 hit, homegrown tunes from Boogie Romero, Ebe Dancel, Letter Day Story, and upcoming artist Zia, plus, Foster the People's next tune to put on loop.
ADVERTISEMENT - CONTINUE READING BELOW
CONTINUE READING BELOW
Recommended Videos
Song: "Otis"
Artist: Kanye West and Jay-Z
A hit made in hiphop heaven! This cool collab between two of the industry's prized hit-makers is the stuff of legends. With a throwback to R&B singer Otis Redding's 60s hit "Try A Little Tenderness," the song is all about swagger, and lots of it (something these two titans practically wrote a book on anyway). Grade-A lyricism and a fun-looking video that opens with the rap duo tearing up a Maybach? Yup, we're all about this one right now.
Fun Fact: Jay-Z and Kanye tapped Spike Jonze, the industry's so-called "go-to for high-concept videos" who also directed the Beastie Boys' "Sabotage," Björk's "Triumph of a Heart," and Fatboy Slim's "Weapon of Choice."
Song: "Unang Beses"
Artist: Boogie Romero
ADVERTISEMENT - CONTINUE READING BELOW
Kjwan guitarist Boogie Romero gave us the LSS a few months back with his song "I'll Carry You." Fresh from the launch of his solo album Photographs, he's got us raping the replay button again, this time for his song "Unang Beses." With still a few rainy days ahead, let this relaxing tune keep you company.
Fun Fact: The singer-guitarist actually likes to listen to "I Don't Know How To Let You Go" by Sarah McLachlan, "Un-thinkable" by Alicia Keys, and "I Love, You Love" by John Legend during the stormy season.
Song: "Crown of Thorns"
Artist: Pearl Jam
As legendary rock band Pearl Jam celebrates 20 years in music, it's time to look back at one of their greatest performances. This version of the Mother Love Bone original, recorded live at the MGM Grand in Las Vegas on October 22, 2000, is the first track to be released from the Pearl Jam Twenty soundtrack. Pearl Jam Twenty is a documentary about the band-from before they got started to their worldwide fame-made by Academy Award-winning filmmaker and music journalist Cameron Crowe. A book of the same title was also released.
ADVERTISEMENT - CONTINUE READING BELOW
Fun Fact: The band used to call themselves Mookie Blaylock in honor of the former American professional basketball player. Their first album, Ten, was named after Blaylock's jersey number.
Song: "Maligalig"
Artist: Ebe Dancel
We fell in love with this tune the first time we heard it and we're quite sure you will, too. Its upbeat rock tune, emo-poetic lyrics, and Dancel's signature soothing voice make this a winning soundtrack for your next solitary road trip.
Fun Fact: Dancel, who has played gigs at countless cramped bars, is actually claustrophobic.
Song: "1+1"
Artist: Beyoncé
A few weeks before her big VMA reveal, the proud momma-to-be released the video of her big ballad "1+1" via her website and it's pretty steamy. There's lost of glam shots in this one, lots of gold and glitter, lots of wind-blown hair (very Beyoncé). Clearly this was shot pre-baby bump because she looks stunning in that animal print loungerie. It's an emotional song, this one. Perfect for quiet, sad-bastard nights with just you, your iPod, and the rain.
ADVERTISEMENT - CONTINUE READING BELOW
Fun Fact: B eyoncé directed this video herself.
Song: "Save Me"
Artist: Letter Day Story (LDS)
LDS has certainly gone a long way since their Nescafe Soundskul 2008 victory and with this catchy single from their debut album Sama-Sama, we dare say they're an act to watch for.
Fun Fact: Dex Yu (guitars and vocals), NotNot Vinzons (guitars), Oli Agustin (bass and vocals), and Ej Arabit (drums) formed the band in 2002 while they were still schoolmates in the University of Santo Tomas' Conservatory of Music.
Song: "Houdini"
Artist: Foster The People
Following the American indie band's smash single "Pumped Up Kicks" is "Houdini," an infectious mix of dance-able electro beats, stylistic lyrics, and vocalist Mark Foster's trademark falsetto. FTP's signature sound is fast becoming a hit that you can't afford to not have it on your playlist.
ADVERTISEMENT - CONTINUE READING BELOW
Fun Fact: According to USA Today, the band's original name was supposed to be "Foster & the People" but after being misheard by many as "Foster the People," the band decided to go with the latter.
Song: "Simple Girl"
Artist: Zia

Here comes another star in the making-Zia Quizon just launched her first album this month featuring the bluesy track "Simple Girl" that shows off that rich, KT Tunstall-esque tone of hers. The song sounds fresh and that's what we love most about it-definitely not the cookie-cutter kind of hit we hear all too often.
Fun Fact: This bluesy crooner might be a music newbie but we've got a feeling she's not entirely unfamiliar with the limelight. Zia is the daughter of Zsazsa Padilla and Dolphy, and is Karylle's baby sister.
ADVERTISEMENT - CONTINUE READING BELOW
Song: "Right There"
Artist: Nicole Scherzinger featuring 50 Cent
This dance diva is probably just as known for that insanely hot bod (look at those abs!) than her vocal stylings but it doesn't stop Pinay ex-Pussycat Nicole Scherzinger from spawning groove-worthy, innuendo-laden hits club-goers like to grind to. The song was premiered on Idol earlier this year and her solo album Killer Love was officially released just last month.  We're a fan of this version with 50, just because he makes the girly-girly ditty sound more astig.
Fun Fact: Nicole won first place in ABC's Dancing With the Stars last year with partner Derek Hough. She was a shoo-in!
Song: "She Will Be Loved" (acoustic cover)
Artist: Boyce Avenue and Tiffany Alvord
Hot off Boyce Avenue's YouTube Channel is a cover of Maroon 5's "She Will Be Loved," which has already racked up more than three million views since it was first posted five days ago. The duet offers a stripped down version of the hit ballad with both Alejandro Manzano and Tiffany Alvord strumming their guitars to a much slower, harmony-laced, acoustic take. We love the original more, but we're fans of this version too.
ADVERTISEMENT - CONTINUE READING BELOW

Fun fact: Just like Boyce Avenue, 18-year-old Tiffany Alvord is known in YouTube land for her hit covers of popular songs like Maroon 5 and Christina Aguilera's "Moves Like Jagger," Lady Gaga's "Edge of Glory", and our favorite from the list, Cee Lo's "Forget You."
Artwork by Warren Espejo
Load More Stories