P-Noy's love life gets "fizzy," Miriam's out for blood + more lowlights
Plus, Carla Abellana makes peace with showbiz columnist Mario Bautista, Rufa Mae Quinto reportedly dating Boy 2 Quizon + more lowlights.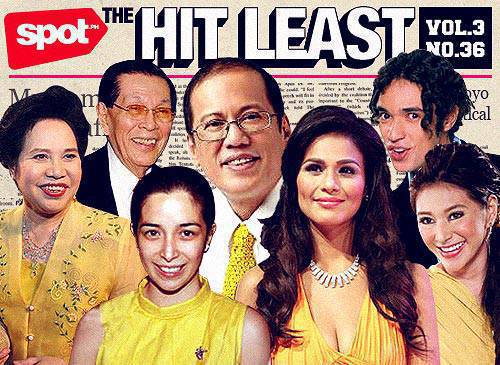 1. SEN. MIRIAM SANTIAGO IRKED BY BUSINESSMAN AT SENATE HEARING, CITES HIM FOR CONTEMPT, SAYS "YOU HAVE NO RIGHT TO TRY TO COW AND INTIMIDATE A SENATOR OF THE REPUBLIC WHO IS MERELY DOING HER DUTY! HOW DARE YOU DO THAT?" One more reason why she's so much fun to watch.
ADVERTISEMENT - CONTINUE READING BELOW
CONTINUE READING BELOW
Recommended Videos
2. THE ARROYOS GET CHARGED ANEW FOR THE NBN-ZTE DEAL FIASCO. Do we actually think that they're going to jail?
3. UP-AYALA TECHNOHUB SECURITY GUARD WON'T CHARGE CONGRESSMAN HE CLAIMS PUNCHED HIM. What's the matter, Congressman Mikey Arroyo can't protect you?
4. FORMER PRESIDENT FIDEL V. RAMOS DENIES WIKILEAKS INFO THAT HE GOT FINANCIAL SUPPORT FROM LIBYAN LEADER MOAMMAR GADDAFI. Mind being interrogated by Sen. Miriam Santiago?
5. MAN GOES ON TV TO DISCUSS WINNING P1 MILLION FROM MANNY MANY PRIZES. This is not what we could call a wise move.
6. SEN. PING LACSON RUNS INTO DOJ SEC. LEILA DE LIMA, EXPECTED FIREWORKS DO NOT ENSUE. Maybe they'll be nastier when they fight though Facebook Wall posts.
ADVERTISEMENT - CONTINUE READING BELOW
7. CARLA ABELLANA MAKES PEACE WITH SHOWBIZ COLUMNIST WHO BERATED HER DURING A PRESS CONFERENCE. Clearly, the girl is no Marian Rivera.
8. SEN. JUAN PONCE ENRILE HITS THE RH BILL. No need to speak, senator, you can scare RH Bill supporters just by standing there.
9. RUFA MAE QUINTO REPORTEDLY DATING BOY 2 QUIZON. Awwww, has someone moved on to new "hunting grounds"?
10. IZA CALZADO DENIES DATING P-NOY, WHO'S NOW LINKED TO A LADY MAYOR. (PLUS, HE RAN INTO EX SHALANI SOLEDAD AT THE AIRPORT.) To P-Noy: "Ang haba ng hair mo!" (This Coke Zero love life is very, very fizzy.)
Art by Warren Espejo
Load More Stories