Top 10 Outrageous Celebrity Outbursts
SPOT.ph rounds up the most memorable blowups in recent history.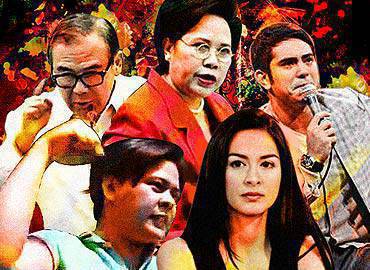 Caught on cam: Davao Mayor Sara Duterte punches a sheriff, Marian Rivera yells at an intruder on the Dyesebel set, Gerald Anderson breaks down at the Till My Heartaches End press con, and more.

(SPOT.ph) "Lalaki nagwala sa Mendiola." We've seen the headline all too often, plastered on broadsheets, lurking inside the pages of tabloids. The truth is, things can get emotionally intense whether you're a celebrity, politician, or just the average Juan dela Cruz. The only difference? Entertainment value.
ADVERTISEMENT - CONTINUE READING BELOW
As SPOT.ph rounds up the most memorable (not to mention, hilarious) celebrity oubursts in recent history, we're reminding everyone think twice before following the age-old advice: "Never bottle up feelings, set them free." You never know when the stealthy papparazzi-by profession or by habit-could capture your weakest moment on cam.

Take the SPOT.ph Poll: Which celebrity do you think had the most outrageous outburst?
Marian Rivera circa 2008 yelling at an intruder on the Dyesebel set.
10. Marian Rivera
If the rumors are true, then there's more to this doe-eyed beauty than meets the eye. While Rivera boasts one of the sweetest faces in local showbiz, there have been numerous reports of her alleged "diva" outbursts, the most recent of which was her rift with actress Heart Evangelista in June.
Rivera reportedly yelled at and threatened her Temptation Island co-star after the latter announced her excitement to work with Rivera's boyfriend, Dingdong Dantes. Just last year, Rivera also made headlines after reports spread that she allegedly locked rookie actress Bella Padilla in a bathroom and confronted her about pressing her breasts against Dantes during their scenes in the soap, Endless Love.
ADVERTISEMENT - CONTINUE READING BELOW
Rivera's first publicized tantrum was back in 2008 when a video of her screaming at an unnamed man on the set of Dyesebel went viral on the Internet. However, Rivera reasoned that the man had been rude and was recording the set without permission. In the video, the Dyesebel crew was blocking curious passersby from the ruckus and asking them to leave the premises.
Gerald Anderson breaks down as he apologizes to Kim Chiu and admits to receiving death threats after being romantically linked to another actress.
9. Gerald Anderson
Behind the beefcake is a sensitive young man bursting with emotion. At the press conference of Till My Heartaches End in October last year, Anderson suddenly broke down and cried as he apologized to then reel and allegedly real-life girlfriend, Kim Chiu. Blubbering and overcome with emotion, Anderson could barely make out his words: "Sa loob ng four years, opo, nagkaroon kami ng special relationship. We shared very happy moments together. We cared for each other, at times, siyempre we hurt each other, mas madalas, ako. Pero masakit kasi. Ang masakit doon ay ang dami kong binigay sa kanyang problema at heartaches, pero tinanggap niya pa din ako."
ADVERTISEMENT - CONTINUE READING BELOW
In the end, Anderson had to leave of the press conference because he started hyperventilating. Chiu, meanwhile, couldn't help but tear up at her love-team partner's confession.
Mario Bautista's enraged voice could be heard in the background as Carla Abella calmly tries to address the situation.
8. Mario Bautista
When a relatively new actress "criticizes" a veteran writer, sparks will fly-it's just that no one expected it to happen during an official press conference. Taking over the microphone at the My Neighbor's Wife press con on August 22 this year, entertainment columnist Mario Bautista berated actress Carla Abellana for an e-mail she sent correcting his story, "Geoff Won't Watch Carla's Daring Movie." Apart from defending his column (which he claimed was based on the movie's press release), Mario also launched into a five-minute tirade on Abellana's ungratefulness and compared her to co-star Lovi Poe.
ADVERTISEMENT - CONTINUE READING BELOW
"Minsan lang ako may naisulat sa iyo na parang hindi mo nagustuhan, magrereklamo ka..." he said. "I've been writing positive things about you that you never even acknowledge it or even said thank you, kahit minsan?" To diffuse the tension, Abellana invited the reporter to settle the issue after the press conference. Bautista, however, walked out.
Just last week, the two made  up.
Mommy D defends Manny Pacquiao and speaks about the RH Bill
7. Dionisia "Mommy D" Pacquiao
A mother's instinct is to protect her children no matter what, so when Sen. Miriam Defensor-Santiago criticized Dionisia Pacquiao's son, boxing champ and Sarangani Rep. Manny Pacquiao's involvement in the Reproductive Health Bill, it wast unsurprising that  Mommy D's maternal defenses naturally went up.
The Pacquiao matriarch, however, didn't just stop with Santiago; she unwittingly targeted the gay community, as well. While her flare-ups usually fall under the category of comic relief more than anything else, her recent anti-gay sentiments during the heat of the RH debates triggered the ire of gay activist group, ProGay Philippines. In an interview, Mommy D was quoted saying: "Tingnan mo, mga bakla, kaiinom ng pills, hindi na bagay inumin ng mga bakla kasi lalake sila. Ginagawa sila ng Diyos na lalake. Umiinom talaga sila ng pills para magsilaki ang dede. Bawal 'yan."
ADVERTISEMENT - CONTINUE READING BELOW
Cristine Reyes' hate-Tweet tirade made headlines last year

6. Cristine Reyes
In the age of oversharing and incessant up-to-the-minute online updates, the lure of releasing aggression via Twitter can sometimes be too strong. Reyes fell into the trap in December 2010. In a barrage of over 20 furious tweets, Reyes wrote, "Paka-bitter mo!" and "pakabait ng image mo Hindi nila alam Grabe ka Lang umarte! Nagpapatanggal ka ng artista sa asap kasi Di mo kaya makasama! Arte mo!"
While her posts held nothing back, Reyes was careful not to reveal any names, only tweeting telling clues like " IDOL pa naman kita!" and "DRAMA PRINCESS!!!!!!"-seemingly obvious references to her beau Rayver Cruz' ex, Sarah Geronimo. The Twitter blowout allegedly began after Geronimo hinted on ASAP that "Pag magaling sumayaw, habulin ng mga babaeng sexy" after Cruz's performance.
ADVERTISEMENT - CONTINUE READING BELOW
A staunch supporter of automated elections, Rep. Teddy Locsin cursed Smartmatic officials not once, but twice.
5. Rep. Teddy Locsin
"You sons of bitches!" became the catchphrase of the first-ever automated elections in 2010.
Infuriated, Makati City Rep. Reddy Locsin lashed out on Smartmatic official Heider Garcia after learning that ghost votes allegedly managed to slip past the promised cheat-proof election machines undetected. Locsin might have just been asserting a point (for the greater good of all Filipinos of course) but he might have come out just a tad bit too aggressive-even for his fellow politicians.
At the budget hearing of the Department of Communication, Rep. Mitos Magsaysay blew her top after Communication Secretary Ricky Carandang's seemingly sarcastic answers.
4. Rep. Mitos Magsaysay
A House committee hearing turned into a spectacle after Zambales Rep. Mitos Magsaysay launched into a 30-minute "verbal attack" on Communications Secretary Ricky Carandang.
ADVERTISEMENT - CONTINUE READING BELOW
Magsaysay, who was questioning the Communication Department's purchase of pricier Blackberry phones and Apple computers, was unimpressed by Carandang's seemingly snarky and aloof responses. "Don't be arrogant. I'm warning you... If you're going to be arrogant, don't be in public service," she said, adding, "You have a long way to go as far as maturity and wisdom is concerned... Kami pag upo namin dito hiniram lang namin ito wala kaming karapatan maging arogante. "Ikaw, appointed official ka lang, ano karapatan mong maging arogante? 'Yung pagiging arogante mo at pagiging spoiled brat mo, iiwan mo iyan sa bahay mo. Once pumasok ka sa Office of the President, matuto kang maging humble."
Magsaysay was inconsolable. After Carandang apologized for his sarcastic answers, she replied: "You know you don't have to be so showbiz about it. I don't know if the apology was sincere or not."
ADVERTISEMENT - CONTINUE READING BELOW
Pro-Life President Eric Manalang casting out Satan from RH Bill supporters at the Manila Cathedral
3. Eric Manalang
Desperate times call for desperate measures. Pro-Life Philippines president Eric Manalang decided that one way to stop the Reproductive Health Bill was to cast out the so-called demons possessing its advocates.
When pro- and anti-RH Bill supporters met at the Manila Cathedral on Nov. 20, 2010, Manalang exclaimed,  "Satan, get away from us! Walk out! Now! While you're still alive, change! Bastos! Damaso is just a fake; you are fakes! Satan, get out!" True story.
Sen. Miriam Defensor targets her political opponents in this speech, challenging them to "be men and come out of the bushes" for a "showdown."
2. Sen. Miriam Defensor-Santiago
Opinionated, provocative, and fearless, Sen. Miriam Defensor-Santiago has butted heads with practically every noted politician in the country. But first, a question: Is it still an outburst when every word that comes out of your mouth is dripping with passion and conviction? Though her overly zealous musings have Filipinos hanging on her every move, Santiago narrowly missed the top spot on this list due to sheer predictability-with her around, it's always a show.
ADVERTISEMENT - CONTINUE READING BELOW
While there's no official tally on record, Santiago is probably involved in the most number of debates in Philippine politics to date. Her most recent hyperbolic speech? Defending the "Mitsubishops" before the Senate. Her impassioned speech, was so, well, impassioned, that her blood pressure rose. Her other notable outbursts include: challenging boxing champ and congressman Manny Pacquiao to a boxing match, a verbal spar with Pacquiao's mother, Dionisia, and inviting her adversaries to shoot her.
Mayor Sara Duterte punches a court sheriff during the demolition of shanties in Davao.
1. Sara Duterte
In the Philippines, we applaud anyone and anything that puts us on the global map. This leads us to Celebrity Outburst No. 1, Sara Duterte. When we're stressed, we something do things we ordinarily wouldn't, like eating a tub of chocolate ice cream. But slugging the sheriff? That's priceless-and notorious. Duterte's infamous video of punching court sheriff Abe Andres went viral, eventually making international headlines.
ADVERTISEMENT - CONTINUE READING BELOW
The background: Weary from handling flood problems in Davao City, Mayor Sara Duterte was aggravated further when court sheriff Abe Andres insisted on serving a barangay with an eviction notice after she asked for a two-hour reprieve. To vent out her frustrations, Duterte punched Andres four times with her constituents ironically holding the distressed sheriff still.
"I was only asking for two hours. Two hours," she exclaimed as she punched. "Do you think the residents will just allow you to demolish their houses without them giving out a fight?" Duterte has since apologized but admitted she did not regret her rash reaction. Talk about rolling with the punches!
Artwork by Warren Espejo
[poll]120[/poll]
Are you sure you want to delete this list?

Recommended Videos
Load More Stories