The Vespa Lifestyle + How to Win a Limited-Edition Vespa from Yellow Cab
Get your hands on one of these scooters, a symbol of freedom and the good life.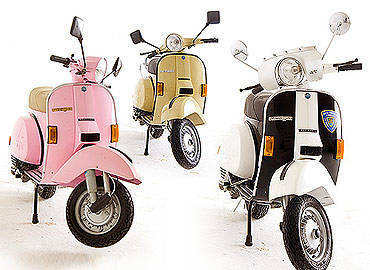 The Vespa scooter has become synonymous to freedom, adventure and imagination.
The origin of the Vespa can be traced back to Italy. Created by Piaggio, a company specializing in two-wheeled transportation,  the Vespa was the answer to the need for affordable yet modern transportation during the post-second World War era. When owner Enrico Piaggio saw the first Vespa, he reportedly said, "Sembra una vespa!" ("It resembles a wasp!"). Unknowingly, he had given the iconic scooter its name.
Through the years, the Vespa made waves not only in Europe, but also around the world. They became a metaphor for the Italian lifestyle-a passionate love for beauty, design, art and the good life. Riding a Vespa allows you to explore and get around fast. And anyone who remembers that scene in the old Hollywood film Roman Holiday with Audrey Hepburn and Gregory Peck on a Vespa with the wind in their hair knows why it has become synonymous to freedom, adventure and imagination.
ADVERTISEMENT - CONTINUE READING BELOW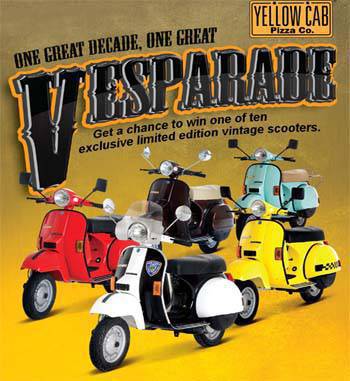 Yellow Cab is giving away ten limited-edition Vespas.
In Manila, you might have spotted these bright yellow-colored Vespas being driven by the Yellow Cab crew to deliver your pizza. Now, get a chance to own one of these Vespas-in limited-edition designs, no less-from Yellow Cab's One Great Decade, One Great Vesparade promo.  Here's how:  From July 1 to September 30, customers-whether for dine-in, take out, or delivery-get one raffle coupon for every P500 worth of purchase that includes at least one Coca-Cola product.  The remaining monthly draw is on October 10 (entries submitted from September 1 to 30) where four remaining limited-editon Vespas will be given away.
Click here to see the ten limited-edition Vespas up for grab.
One Great Decade, One Great Vesparade is co-presented by official partners Coca-Cola, Fonterra and 2GO. For more information, check www.yellowcabpizza.com.
Load More Stories