My Neighbor's Wife: It's a Small World After All
The moral of the story? "Never underestimate what a scorned woman and a cuckolded husband can do," says our SPOT.ph blogger.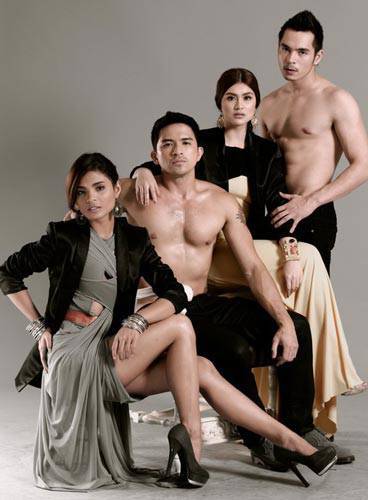 Lovi Poe, Dennis Trillo, Carla Abellana, and Jake Cuenca in My Neighbor's Wife

It is interesting to note the Filipino bourgeois code of ethics for marital infidelity in My Neighbor's Wife, the latest drama from Regal Films. Directed by Palanca-award winning Jun Lana, the movie stars Carla Abellana and Jake Cuenca as an upwardly mobile young couple with seemingly everything: he's rich, she's pretty, they have a precious and precocious son, and live in interior designed comfort in their high rise condo unit. Jasmine and Bullet socialize with another young married couple Giselle (Lovi Poe) and Aaron (Dennis Trillo), who are not quite as well-to-do, but are fun loving and good looking and like to party. On the surface, everything is rosy-never mind that Bullet is cheating on Jasmine with various tarts, and Aaron and Giselle fight all the time about money. Inevitably, their marital tensions lead Bullet and Giselle to have a one-night stand (after a night of clubbing and expensive whisky), which is the primary event that sends their marriages on a downward spiral.
ADVERTISEMENT - CONTINUE READING BELOW
Watch the trailer
Can you blame them? Evolutionary biology tells us that a female is more likely to be unfaithful when her mate suffers from a decline in status. In Giselle and Aaron's case, it's about financial worries. He can't provide her with a lifestyle that she craves. In Jasmine and Bullet's case, it's because he has already strayed and she has lost face. It doesn't help that they are young and foolish-as we all are-and haven't a clue. Anyway, it's always a free-for-all with these beautiful people, as a cousin of mine once said. If only Jasmine and Bullet, Giselle and Aaron knew the golden rule: Be Discreet. And do not leave your jewellery lying around.

While the screenplay of My Neighbor's Wife is full of quotable lines (Dimples Romana in a supporting role has some of the juiciest), it unfortunately looks and feels like a tedious two hour long TV soap. The movie is a lot fun-sampalan, sumbatan, and yes, sabunutan-but lingers too much on the iyakan. (This is, I suppose, the default setting for Filipino drama, but I don't want to watch each character cry for more than half a minute.)
ADVERTISEMENT - CONTINUE READING BELOW

Thankfully they cast the very simpatica Carla Abellana, who is gorgeous even when she cries, and looks every inch the proper young wife with her tasteful earrings and designer bags. Carla's slightly more restrained performance is perhaps the most authentic in this movie; she is the ideal good wife to Lovi Poe's believable portrayal of a free-spirited and passionate Cosmo girl. It's a good contrast between Carla and Lovi-one so pristine and the other one earthy-and both actresses are well-cast for the roles. As for the men: well, Jake Cuenca plays a good enough cad and dad, while Dennis Trillo's mannered performance could use a little refreshing.

In the end, My Neighbor's Wife is not really about plain old lust or even love-but revenge. Never underestimate what a scorned woman and a cuckolded husband can do. And oh yes, don't forget the useful and eternal virtue of forgiveness, which in real life is necessary for moving on.  

PS-They picked a great theme song: my favorite Pops Fernandez-Louie Ocampo one from the eighties!
ADVERTISEMENT - CONTINUE READING BELOW
Lovi Poe sings "Don't Say Good-bye"
***
My Neighbor's Wife opens in cinemas on September 14.


Recommended Videos
Load More Stories