Jejomar Binay's 2016 dream, Westlife wants Pacman + more lowlights
Plus, Sam Pinto on her "love scene" with Cesar Montano, Ehra Madrigal contemplates a "sexier comeback" + more lowlights.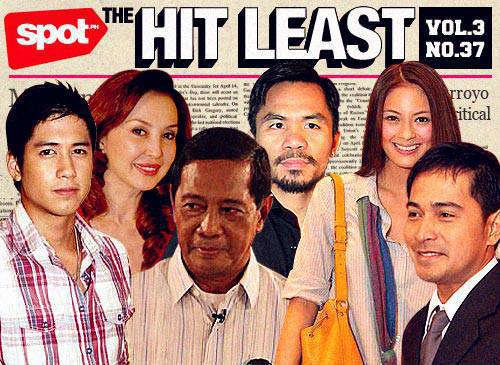 1. U.P., MISS PHILIPPINES SHAMCEY SUPSUP'S ALMA MATER, IS JUBILANT OVER HER PERFORMANCE IN THE 2011 MISS UNIVERSE PAGEANT. Because, let's face it, being smart works best when a woman also looks gorgeous enough to start her own religion.
2. SCARLETT JOHANSSON'S PHONE GETS HACKED, "HER PEOPLE" CALL THE FBI FOR HELP AFTER HER NUDE PHOTOS (WHICH SHE SEEMED TO HAVE TAKEN HERSELF) ARE LEAKED ONLINE. Now we truly understand why vanity is the Devil's favorite sin.
ADVERTISEMENT - CONTINUE READING BELOW
CONTINUE READING BELOW
Recommended Videos
3. MALACAÑANG IS ECSTATIC OVER P-NOY'S HIGH RATINGS. You know what they say about men who look good on paper? They easily get burned.
4. AGHAM PARTY-LIST REP. ANGELO PALMONES REVEALS HE UNWITTINGLY BOUGHT A FAKE BARONG TAGALOG. On the other hand, it may be the perfect gift for human "crocodiles." (Nothing expresses rage more than a fake barong Tagalog.)
5. EHRA MADRIGAL CONTEMPLATES A "SEXIER COMEBACK." That sounds good, but how exactly is she going to be "sexier"?
6. ANIMAL RIGHTS ACTIVITS CRY: "FREE LOLONG!" We're with you on the pro-animal drive, but you have to admit that it's very easy to say this when you don't live in Lolong's neighborhood.
ADVERTISEMENT - CONTINUE READING BELOW
7. VICE PRESIDENT JEJOMAR BINAY SAYS HE WANTS TO RUN FOR PRESIDENT IN 2016. Really, now, there's no need to state the obvious.
8. SAM PINTO SAYS SHE'S NERVOUS ABOUT HER "LOVE SCENE" WITH CESAR MONTANO. Just open your mind and let the sunshine in. (Sorry, we couldn't resist it.)
9. ALJUR ABRENICA SAYS HE ADMIRES CORY QUIRINO. Dude, did you just graduate from a Hayden Kho course or something?
Load More Stories