FOOD REVIEW: Tourné at the Fort Strip
Our SPOT.ph food reviewer weighs in on the new French resto with a local-ingredients-only rule.
Tourné
The Fort Strip, 7th Avenue corner 26th Street,
Bonifacio Global City, Taguig
Tel. 0926.742.1571 or 0917.827.5685
I don't have a great relationship with the tourné. As they say about relationships these days, it's complicated, and then some.
Basically, a tourné is a kind of vegetable cut done in very classic French kitchens-a seven-sided (yes, if it isn't seven it wasn't done properly), American football-shaped oblong done to root vegetables like potatoes and carrots. They are, and pardon my French, a b***h to make, at least for me. Out of every 20, I'd make, like four decent ones-and when I say decent I mean that they are, like pugs, beautiful in their ugliness. Some people can make them with their eyes closed-ask any French dude banging it out in a hotel kitchen, who are probably tourné Jedi masters.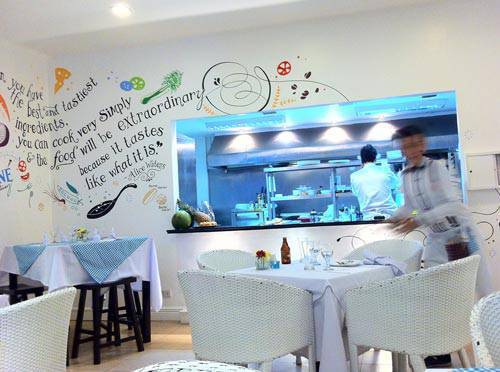 Tourné's white-walled interiors show off a quote from The Art of Simple Cooking chef-author Alice Waters
ADVERTISEMENT - CONTINUE READING BELOW


So it goes without saying that I wanted to get over my fear of it when I had dinner at Tourné, a new joint at the Fort Strip in Taguig. Walking in one weeknight proved to be a pleasant surprise. It immediately felt cozy and had a nice light vibe to it-always a good start, that is until we settled in: their air conditioner suffers from schizophrenia-it thinks it's a heater. Okay, I may exaggerate a bit, but crappy air conditioning is a common problem in a lot of outlets at the Fort Strip. Good thing it was raining a bit outside, so the air was generally cool.
CONTINUE READING BELOW
Recommended Videos

Browsing their menu, it was interesting to note that Tourné espouses all the things that I like to champion as well: buy and use local ingredients, cook from scratch using proper techniques, and just bring out good, solid food. On that point alone they win points from me. At least I know their heart is in the right place! It's also interesting to note that the menu items change every two weeks or so, so if you do see something you like, order it because you may not see it again.

As music wafted out of their sound system (nothing against Sitti, but I'm so happy it wasn't her warbling over the speakers, too often abused on heavy rotation all day long), we munched on some tortilla chips and salsa as the waiter brought out orders.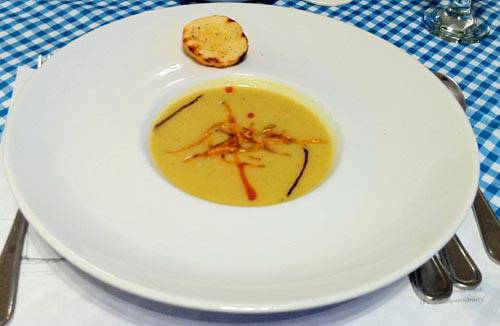 ADVERTISEMENT - CONTINUE READING BELOW
Sweet Potato Soup (P118)


First up for me was the soup of the day: a sweet potato soup (P118). It went down well, its warmth comforting-though I do think the kitchen went a bit overboard with the ginger, which was all I could taste as I went on draining my bowl. Strings of fried sweet potato added a nice bit of crunch to the soup. I also wish the soup had a bit more thickness to it, but that's just me.

A salad of mixed greens was tossed in a wild honey vinaigrette and topped with shredded green mango, dalandan slices and what I thought was breaded laguna cheese but was described as tuna nuggets (my guess is they ran out of tuna). I could see where they were going with this salad-thing is all I could taste was the tartness of the shredded mango.  You can't doubt its freshness, but all in all it didn't quite work for me or for my dinner companion, for that matter.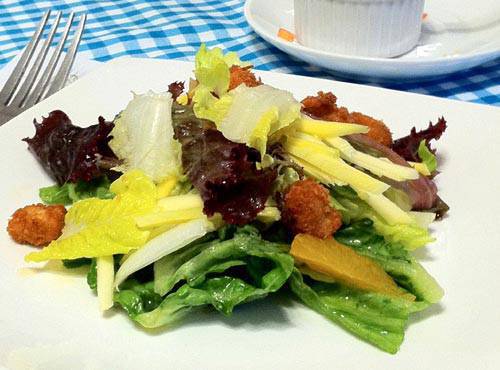 ADVERTISEMENT - CONTINUE READING BELOW
Salad of mixed greens was tossed in a wild honey vinaigrette and topped with shredded green mango, dalandan slices, and tuna nuggets

Soft shell crab is always an interesting proposition, in my book. Consuming a whole crab, legs and all has a certain creepy factor to it, but when it's done well, it can indeed be something special. It was on special at Tourné that night, Meuniere style-sautéed in butter and served atop turmeric rice with wilted greens and topped with sundried kamias and lemon confit. The turmeric rice was a great touch, as was the wilted greens. The crab, though properly seasoned, was a bit oily. The lemon confit and kamias did their job, cutting through it all, though it's a bit of a challenge to finish everything unless your tolerance for oily food is pretty high.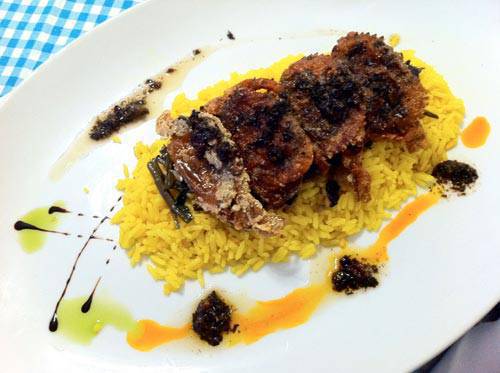 Soft Shell Crab
My main was a braise of beef shank, obviously cooked for hours with some citrus juice and served with a brown rice pilaf. This was the strongest dish of the evening, and an obvious top seller, as I can imagine many a meat-eating Pinoy tucking into this. Rich and tender enough, it was a belly buster indeed. However, I think it lacked a bit of something something, perhaps a pinch of spice just to give it a little bit of punch. Without it, it seemed a bit short of the mark. Yes, it had good flavor, but to me it didn't have (for lack of better term) "libog," one of the things I look for in restaurants these days.
ADVERTISEMENT - CONTINUE READING BELOW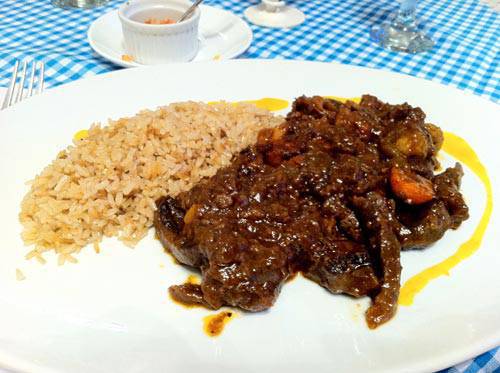 Braise of Beef Shank
Tourné is a new joint still finding its legs. It has a lot going for it-owners that want to make healthful food, give business to local purveyors, and not compromise on their cooking. For now, in my book, it still has a bit more to go to find its groove-but I am rooting for their success, and I thank them for making the idea of a tourné much more pleasant to me.

Rating: 3 out of 5 Spots •••
Photos by JJ Yulo
---
Help us make Spot.ph better!
Take the short survey
Load More Stories