CHECK IT OUT: New Diner Fare at Mr. Jones
The luxe diner welcomes a roomier space and an even bigger menu.
Mr. Jones
G/L Greenbelt 5
Makati City
501-3682 to 83
Open from 11 a.m. to 12 mn daily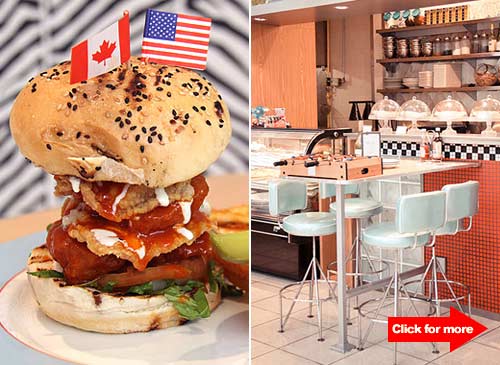 The luxe diner welcomes a wider space and an even bigger menu. Click for more.
(SPOT.ph) Mr. Jones is still very much the 1960s-type diner that it was two years ago. Like Pop Tate's, or how Pop Tate's would look if Veronica Lodge had her way-welcoming, but a touch luxe. Same snazzy, funky interiors evoked by big red booths, teal-colored retro chairs, and a bold zebra print wall. But it's bigger, much bigger, and with 30 or so new additions to the menu.
ADVERTISEMENT - CONTINUE READING BELOW
A mash of sophisticated eats with everyday comfort food, old specialties like the Challah French Toast (P395) and Truffled Mac & Cheese (P395) remain. A new must-try, however, is the "Truffled Disco" Beef, Gravy, and Cheese Fries (P395). Fat potato strips sprinkled with beef chunks and smothered with mushroom gravy, cheese, and truffle oil, this dish is a take on an 80s diner favorite of steak fries served with mozzarella and brown (chicken) gravy. For entrees, there's Messy Orange Soda Baby Back Ribs (P550)-ribs paired with saucy mac and cheese-or, Zorba's "Greek Diner" US Beef Souvlaki (P495) served with rice pilaf, salad, and pita bread.
If you're up for a hefty meal, try the "Wet" California Big Burrito Platter, a loaded treat of cheeses, rice, salsa, black beans, and chips, which should be enough to satisfy anyone's appetite. Mr. Jones also appeals to meat-free palates: go for  the Sizzlin' Butter Seafood Foil Broil (P420), a platter of squid, mussels, prawns, and clams, or choose from a variety of salads.
ADVERTISEMENT - CONTINUE READING BELOW
For dessert, standouts include the Warm Baked Brownie & a Blondie... So Good! (P350): a pair of brownie squares topped with scoops of mantecado and chocolate ice cream; the Maple Bacon Sundae (P295), and the "Tropical" Pineapple Split (P395).
Photos by Warren Espejo
Recommended Videos
Load More Stories