CHECK IT OUT: Fly Yoga at FTX Gym, Salcedo Village
Part yoga, part acrobatic-meet the newest fitness mashup.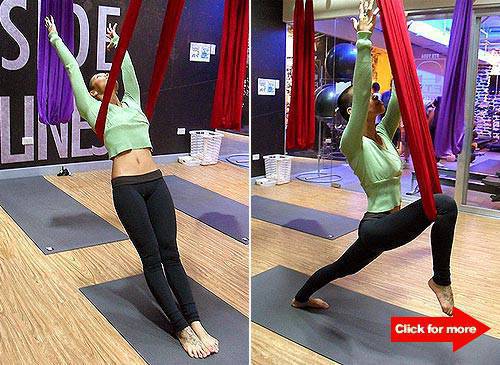 Manila, meet the newest fitness mashup. Click for more.
(SPOT.ph) The looped stretch fabric hanging above the yoga mats at the FTX Gym is a telltale sign that Fly Yoga is not your average limb-stretching yoga session. Fly Yoga, a one-hour low-impact class offered exclusively at this Salcedo Village gym, was derived from the Malaysian aerial yoga, according to instructor Isla Rosete. It's designed to build core strength and stability and makes use of a stretch fabric hung from the ceiling to help develop proper alignment and maneuver the body into more difficult yoga poses.
ADVERTISEMENT - CONTINUE READING BELOW

A Fly Yoga session starts on the mat where a series of traditional sun salutations and yoga poses are taught. Anyone who's tried a session of beginner's yoga will be familiar with poses such as the Upward and Downward Facing Dog, the Warrior Pose and the Triangle Pose. Half of the session entails using the stretch fabric to do the more challenging yoga poses like backbends and inversions. "You have to trust in the fabric, it can hold up to 3,000 pounds, " Isla said.  "In Fly Yoga, you have no choice but to surrender to gravity and gravity helps you lengthen your spine."
You bend, raise and stretch your legs, find your balance, and eventually do aerial poses and hoist your body up in the air, all with the help of the fabric. Poses progress from the simple to the more difficult with each class, pushing one's body out of complacency. "The first sessions will be about learning to use the fabric or the hammock and how to find your core when you do the poses," Isla shared.
ADVERTISEMENT - CONTINUE READING BELOW
Each class ends with yogis in their preferred state of relaxation while suspended in the air, inside the fabric fanned out as hammocks (you can either lie balled up inside the hammock or with legs stretched out). Classes are done in small groups to ensure safety from pose to pose, and are held every day except Fridays.


Fly Yoga classes are held at the FTX Gym located at the 2nd Floor, Three Salcedo Place, Tordesillas Street, Makati City (Tel. No. 822-3311/ 0916-270-1177).

Rates are priced at P950 per session or P4,750 for five sessions plus seven free Cirqfit gym passes. Check out www.gymftx.com to see the schedule of classes.
Recommended Videos
Load More Stories