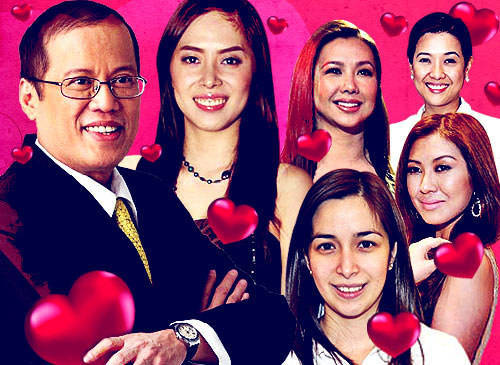 (SPOT.ph) When President Benigno "Noynoy" Aquino III was sworn into office, he wasn't warned that it would be tough being the bachelor-President of a nation that's fond of matchmaking. Then again, he should know that by now.
In an interview published in The Philippine Star on February 21, 2010, P-Noy revealed that he had his first girlfriend when he was 18. He said that since then he's been in many relationships, but, for one reason or another, he just hasn't gotten around to getting married. Well, he turns 52 today, February 8, and he's still (technically) single.  And, yes, we still think he may just surprise us one of these days.
For his birthday, we've decided to cut P-Noy some slack and, for a moment, forget the hardcore issues he faces. We figured it's time for some pointless fun. We know this won't change the world nor wipe out poverty in the Philippines, but, hey, we decided to list the women who have caught P-Noy's eye over the years.
ADVERTISEMENT - CONTINUE READING BELOW
Since he became President, it sure looks like P-Noy's love life is on overdrive. Aside from the women on the list, P-Noy has also been linked to TV5's Trish Roque, actress Iza Calzado, and Bais City Mayor Karen Villanueva. His sister Kris Aquino also pointed out that he and Thai Prime Minister Yingluck Shinawatra would make a good pair. In any case, click on to check out the 10 who made the list.
Korina walked downed the aisle with P-Noy's running mate, Mar Roxas.
KORINA SANCHEZ
The connection: For lack of readily available documentation, we date the P-Noy-Korina Sanchez relationship sometime in the late 1980s to the early 1990s. We're more or less sure of the break-up time frame as P-Noy himself said in a 2010 interview that they called it quits "two decades ago."
Armchair diagnosis: Broadcast journalist Korina-who is about five years younger than P-Noy-is a career-driven alpha female who also wasn't keen on settling down early. It's no surprise that they split and just became good friends.
Additional factoids: Korina ended up marrying Manuel "Mar" Roxas II, who was P-Noy's running mate in the 2010 elections. Mar had initially wanted to run for president-but he stepped aside when P-Noy decided to pursue the presidency as well. Unfortunately, Mar didn't get named vice president. In any case, P-Noy was tapped as one of the sponsors in Korina and Mar's October 27, 2009 wedding. P-Noy later named Mar as the secretary of the Department of Transportation and Communications.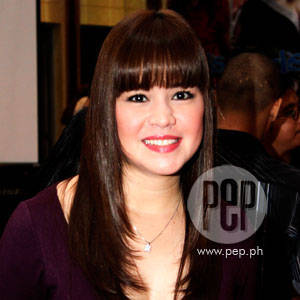 ADVERTISEMENT - CONTINUE READING BELOW
Maricel says P-Noy was gentleman, but she was already in love with Ace Espinosa when they met in 1998. (Photo by PEP.ph)
MARICEL MORALES
The connection: When P-Noy was newly elected, showbiz scribe Rey Pumaloy asked actress Maricel Morales about her involvement with him. Maricel revealed that she met P-Noy in 1998. That same year, she was shooting the movie, Talahib at Rosas 2 (with Joko Diaz), in Hacienda Luisita, Tarlac. P-Noy reportedly visited her on the set several times and they had dinner in Hacienda Luisita several times. According to Maricel, she and P-Noy stayed in touch for four to five months. At some point, he even sent food to her house in Angeles City, Pampanga.
Armchair diagnosis: It was Maricel herself who revealed why nothing ever came out of the P-Noy phase in her life. At that time, she admitted that she was already in love with action star Ace Espinosa.
ADVERTISEMENT - CONTINUE READING BELOW
Additional factoids: Maricel got married to Ace and they have two sons. Maricel joined the Mrs. World Pageant in 2000, where she finished second place. Unfortunately, Maricel and Ace split sometime in 2003. But she seems to have moved on with her life. She even got elected as a councilor in Angeles City.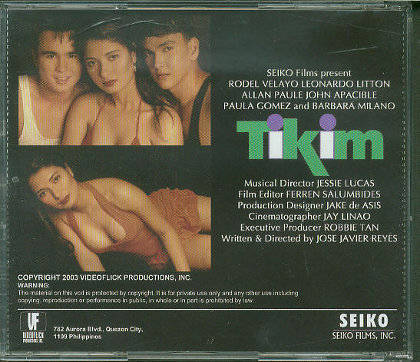 ADVERTISEMENT - CONTINUE READING BELOW
Just one of Barbara's racy-but-forgettable films. (Screenshot from Filipino-Music.com)
BARBARA MILANO
The connection: When "sexy actress" Barbara Milano was interviewed on The Buzz by Kris Aquino in 2002, she and P-Noy were no longer together. There's no available video clip of the said interview-but we were lucky enough to come across a discussion of the TV interview in an archived online forum thread. In it, a user who saw the interview revealed that according to Barbara, she and P-Noy got together sometime around the 2000 elections.  She said that they had broken up in the middle of 2001.
Armchair diagnosis: Barbara starred in racy-but-forgettable flicks like Masarap Habang Mainit, Tikim, and Eskort. As such, pundits speculated that P-Noy's family didn't really see her as a suitable partner for him. However, the Aquino clan's ever-bubbly representative, Kris, declared on national TV that she liked Barbara.
Additional factoids: After she was elected as councilor in Talavera, Nueva Ecija, Barbara's story was dramatized in GMA-7's Magpakailanman sometime in 2004. In it, there was a character that was very obviously P-Noy-although, perhaps to respect his privacy, they renamed the character as "Dondon." He was played by Ricardo Cepeda, while Barbara was played by Katherine Luna. To drive home the fact that "Dondon" was really P-Noy, there was a scene wherein the character was made to stand in front of a bank. In the background, there was a huge poster featuring a giant image of the P500 bill. At that angle, Ninoy Aquino's visage seemed to be looking down on "Dondon." The P-Noy-patterned character was very solicitous but he had commitment issues.
ADVERTISEMENT - CONTINUE READING BELOW
Pretty newswoman Bernadette ended up marrying Emilio Aguinaldo IV.
BERNADETTE SEMBRANO
The connection: In a 2006 article published in The Manila Bulletin, broadcast journalist Bernadette Sembrano revealed that her relationship with P-Noy ended sometime in 2003. Meanwhile, an article published in People's Tonight revealed that P-Noy and Bernadette were together for one year and a half.
Armchair diagnosis: In the Manila Bulletin article, Bernadette simply said that she and P-Noy broke up because they were "too busy" with their respective careers. She also said, "I'd really rather not talk about him because he may have a girlfriend now and it's not fair for her if I will talk about her boyfriend. Besides, I really want to keep my private life private. Plus, he comes from a respected and famous background and I don't want to be accused na nakikisakay lang ako (of taking advantage of him) for popularity."
Additional factoids: Bernadette ended up marrying Emilio Aguinaldo IV-the great-grandson of the country's first president-on June 12, 2008. According to PEP.ph, Bernadette met her husband on June 12, 2006 in Cavite, probably when she was covering the Independence Day festivities.
ADVERTISEMENT - CONTINUE READING BELOW
Shalani ended up with Pasig Rep. Roman Romulo.
SHALANI SOLEDAD
The connection: According to a GMA News Online article written by Sophia Dedace, "(Shalani Soledad) said she first met (P-Noy) in July 2005 during President Gloria Macapagal-Arroyo's State of the Nation Address. She was then a reporter for UNTV while Aquino was a congressman representing Tarlac province." They met again in 2008, when Shalani and other Valenzuela City officials met P-Noy at Alfredo's Steakhouse in Quezon City. In an interview on The Buzz, Shalani related how P-Noy struck up a conversation with her: "Twenty years ago, sinabi niya na it's a miracle na nabuhay siya dahil 20 years after makikilala pala ako (Twenty years ago, he said it was a miracle that he survived, because 20 years later he would meet me)." Their relationship became official on September 5, 2008. However, by November 2010, P-Noy's sister Ballsy Aquino-Cruz confirmed that he and Shalani had called it quits. We surmise that the actual break-up happened way before this confirmation.
ADVERTISEMENT - CONTINUE READING BELOW
Armchair diagnosis: We don't know what really happened. Perhaps, the P-Noy-Shalani relationship couldn't survive the "shock of the new." That is, the shock of P-Noy being a newly elected president. There's also the fact that Shalani is 20 years younger than P-Noy.
Additional factoids: After breaking up with P-Noy, Shalani became one of Willie Revillame's co-hosts on his show, Willing Willie, which was renamed as Wil Time Bigtime. Then, in September 2011, news broke out that she had gotten engaged to Pasig congressman Roman Romulo. They tied the knot on January 22, 2012. Roman invited P-Noy to the wedding. Unfortunately, the president couldn't make it.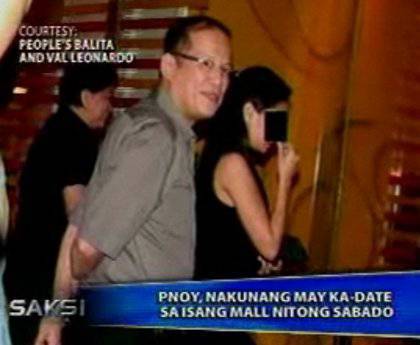 ADVERTISEMENT - CONTINUE READING BELOW
We hardly knew Barbie, who reportedly "didn't want to be the center of attention." (Screenshot from Saksi video clip)
BARBIE PALAGOS
The connection: On October 9, 2010, Saksi reported that P-Noy and a woman identified as "Barbie Palagos" were photographed together. The photograph was flashed in TV networks' news segments. Barbie's face was edited out in the photo. According to various reports, the two allegedly had dinner at the Nuvo Restaurant and Wine Bar in Greenbelt, Makati.
Armchair diagnosis: It just fizzled out. The public never even got to know Barbie. Heck, we don't even know if Barbie is her real name. She probably got scared of the spotlight. As P-Noy said in a Sun.Star Manila article, "We may not be able to meet again because she does not want to be the center of attention."
Additional factoids: Curious netizens found a Facebook account whose user was named Barbie Palagos. However, the profile image used for the account was actually a photo of Korean actress Lee Yeon Hee. Other unconfirmed accounts claims that Barbie is actually Barby Paragas.
ADVERTISEMENT - CONTINUE READING BELOW
Liz was fashionably low profile.
LIZ UY
The connection: Reports about Liz Uy being tapped as P-Noy's stylist first started making the rounds in May 2010. Liz couldn't really confirm the reports early on because she said she hadn't gotten any official word about getting the job. In any case, it became a done deal when she styled P-Noy for his first red-letter events like the SONA. By early November 2010, TV host Boy Abunda revealed that Liz and the president were "getting to know each other." However, later that same month, there were reports that Liz had already dumped P-Noy.
Armchair diagnosis: Perhaps the P-Noy-Liz match didn't evolve into a full-blown romance because there were just too many people who were getting ahead of themselves. At some point, rumors alleged that the two were engaged.
Additional factoids: It was actually P-Noy's sister Kris who suggested that Liz become his stylist. Kris had pointed out that P-Noy's fashion sense was not exactly updated. Liz is also the ex-girlfriend of actor John Lloyd Cruz.
ADVERTISEMENT - CONTINUE READING BELOW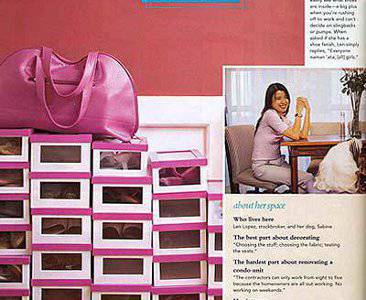 Len's condo was featured in the March 2006 issue of Real Living magazine. (Scanned page from the magazine)
LEN LOPEZ
The connection: On November 29, 2010, P-Noy was seen having merienda with Len Lopez-a Deutsche Bank stockbroker-at Myron's at the Power Plant Mall in Rockwell Center, Makati. They were spotted together once again at the Cultural Center of the Philippines watching a choral concert on the evening of January 8, 2011. Then, in a February 21, 2011 ABS-CBNNews.com article, P-Noy's sister Ballsy Aquino-Cruz revealed that Len was P-Noy's "steady date."
ADVERTISEMENT - CONTINUE READING BELOW
Armchair diagnosis: Sometime after P-Noy's sister identified Len as his steady date, things must have fizzled out between the couple. Len didn't issue any statements to the media.
Additional factoids: Len's condo unit was featured in the March 2006 issue of Real Living magazine.
Caught on PEP.ph's camera: P-Noy and Bunny at the Hotdog reunion concert (at 1:30 to 1;34).
BUNNY CALICA
The connection: On May 16, 2011, P-Noy was spotted at the Hotdog reunion concert with Bunny Calica, who was described in reports as "a 27-year-old teacher who works with Korean students." According to an Inquirer.net report, prior to the concert date, Calica had dinner with the P-Noy and his sister Kris Aquino's sons, Joshua and Bimby, at P-Noy's private quarters in Bahay Pangarap. According to the story related by Kris, Bimby had supposedly asked Bunny, "Are you my tito's girlfriend?" Before Bunny could answer, P-Noy had reportedly answered, "No, but I hope so."
ADVERTISEMENT - CONTINUE READING BELOW
Armchair diagnosis: They never made it past the dating stage. Maybe Bunny was also unnerved by the media scrutiny.
Additional factoids: The Inquirer.net report also revealed that Bunny and P-Noy had first met in 2007-but had only reconnected in 2011.
Well, they (P-Noy and Grace) really are seeing each other!
GRACE LEE
The connection: Grace Lee and P-Noy first met in Cebu in June 2011. Grace, who was a co-host at the inauguration of the Korea Electric Power Corp, had been wearing a traditional Korean costume. In his speech, P-Noy remarked that he found Grace-as well as the women of Cebu-beautiful. They ran into each other two more times-when Grace interviewed him for a Magic 89.9 radio show and when Grace was invited to Malacañang when South Korean Prime Minister Lee Myung-bak visited the country in November 2011. By January 31, 2011, P-Noy had admitted that they were indeed seeing each other.
ADVERTISEMENT - CONTINUE READING BELOW
Armchair diagnosis: Even if they're not "official" yet, people already assume that they're a couple. Grace has heaped praises on P-Noy in interviews, calling him the smartest man she has ever met and referring to him as a "walking encyclopedia." Grace has even said that their 22-year age difference doesn't seem to matter.
Additional factoids: Grace is Korean-but she may as well be Filipino since she's been living here since she was 10 years old.
Art by Warren Espejo.
Images used in collage from screenshots taken from various news video clips.
Share this story with your friends!
---
Help us make Spot.ph better!
Take the short survey
More Videos You Can Watch
Load More Stories