My Kontrabida Girl: What's Your Motivation?
Our SPOT.ph blogger dissects the highs and lows of this rom-com.
(SPOT.ph) This is a plum week for Pinoy movies: the new Star Cinema aswang movie Corazon and the latest GMA Films rom com My Kontrabida Girl are playing in theatres right now. The horror film is directed by Richard Somes whose latest work Tamawo was in last year's Shake, Rattle and Roll 13 and the comedy is directed by Jade Castro, of indie hit Zombadings fame.
I enjoyed Zombadings immensely, so My Kontrabida Girl won out and I went to see it on opening day at Alabang Town Center. Sandwiched in between a middle-aged misis who was snoring and a mid-twenties couple laughing at every single joke (even the lame ones). I sat for two hours wondering idly what all these people were on, and if they had some, would they please share it.
Rhian Ramos plays Isabel Reyes, the best bitch on television because she's a bitch in real life. One day a life altering accident magically turns her into a nice person and she loses her kontrabida mojo much to the detriment of her career. To find her motivation, she tries to find the secret to being a great kontrabida from the Great One herself (Bella Flores) who gives her the rules of finding motivation: remember the person who hurt you the most and channel that anger into your acting. Flashback to Isabel's junior provincial pageant days when her best friend Chris Bernal (Aljur Abrenica) abandons her as dancing partner in the pageant's talent portion. Ten years later, Isabel Reyes is a famous actress and Chris Bernal is a hunky gardener-and she still wants to destroy his life for hurting her. And get her kontrabida-ness back.
ADVERTISEMENT - CONTINUE READING BELOW
Watch the trailer here.
It's a bit confusing, the frothy plot that starts off promisingly but sort of fizzles out in the end. Part satire, part homage, the story isn't the tightest and the pace really drags in the last half hour of the movie. The sampal jokes turn stale quickly and sometimes the timing is off. The real comedy lies in the inherent campiness of the movie. But My Kontrabida Girl is not without its good moments. The sequence involving iconic kontrabidas doing good-Cherie Gil giving out relief goods, Maritoni Fernandez building homes for the poor, and good old Gladys Reyes fighting fire-is precious. There's a Marian Rivera spoof which is pretty spot-on. There's a classic tampisaw-in-the-beach montage. Plus lots of fun cameos: Jim Libiran as the harassed soap opera director, various GMA talents in non-speaking roles, and of course Ms. Bella Flores as herself-the greatest villain Philippine cinema ever saw and in real life, a happy old lady. Anyway, she had great cheekbones and a stellar career despite being typecast.
CONTINUE READING BELOW
Recommended Videos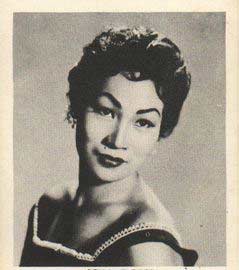 ADVERTISEMENT - CONTINUE READING BELOW
Thankfully, the lead stars Rhian Ramos and Aljur Abrenica are young and good-looking and have an easygoing chemistry that works in a romantic comedy. Rhian is leggy and tisay enough to look like the quintessential kontrabida-but despite her flair for physical comedy is the Queen of Stilted Dialogue. Meanwhile, Aljur Abrenica-whom I always associate with tuna hotdogs-seems like he's fresh out of drama workshop. He has the charms of a young Richard Gomez and when he takes off his shirt (obligatory for hunky gardener roles) no one is complaining. I'm certainly not.
Share this story with your friends!
---
Help us make Spot.ph better!
Take the short survey
Load More Stories